| | |
| --- | --- |
| Photo Credit: Ryan Wallace | Dan Mahon, with McMurdo's Field Safety Training Program, inspects a crack in the sea ice. Heavy storms and warm temperatures caused many cracks that stubbornly refused to freeze up enough for tracked vehicles to safely pass during September. |
Icy conditions
McMurdo personnel battle the elements to get station ready for summer
Posted October 21, 2011
If Hollywood were to make a movie about the month of September at McMurdo Station

, it would have to be a superhero film entitled "Fleet Ops versus the Weather."
Unseasonable weather morphed itself into an epic adversary and forced the Fleet Operations department personnel to don their capes for some real, late-night superhero work to help prepare the station for the summer field season, which began in early October.
September is typically one of the coldest months at McMurdo, as the winter tries to offer up its final blasts of frigidity before the sun's warmth can really be felt. But that classic chill was short-lived this year, and we only had a few token weeks of minus 20 to 30 degree Fahrenheit.
With temperatures regularly staying above zero, several major storm fronts moved in with snowy, blustery conditions that blanketed the station under an ever-deepening pile of snow.
While such snowy conditions add an element of beauty to the normally stark, volcanic landscape, the never-ending snowfall proved to be just as relentless and frustrating as a comic book foe, as the Fleet Ops department worked tirelessly to set up and clear the ice runway and to complete construction of the new ice pier.
Without pier
Construction of the new ice pier, which is used to offload and load cargo and fuel from the late summer vessels, was started over the winter. This is the second pier to be constructed in two years, as excessive ice melt and high wave action last summer caused the former pier, constructed in winter 2010, to crack and float away.
The bulk of the ice pier construction is normally completed during the dark, cold winter months; however, the above-average temperatures in June and July caused serious delays in the construction. Conditions did not improve much in September, as the continued barrage of warm temperatures and snowfall left the pier much thinner and slushier than desired.
Working around the clock, as conditions have allowed, the Fleet Ops department has fought doggedly against Mother Nature, and is gaining ground on pier construction. As of early October, the ice thickness for the pier was nearly 9 feet, with a goal thickness of 10 feet.
In the meantime, the Fleet Ops crew is maintaining a positive attitude. They have even gone as far as creating a Facebook profile, McMurdo Icepier, where they keep the community updated on progress through anthropomorphic status updates regarding personal hygiene (seawater baths on pour days) and health reports.
Cracking up
While pre-summer season flights in August traditionally land out at Pegasus airfield on the permanent ice shelf, early mainbody flights are generally directed to the sea ice runway, which is a temporary airfield set up on the seasonal ice sheet that surrounds part of Ross Island and is located closer to the station.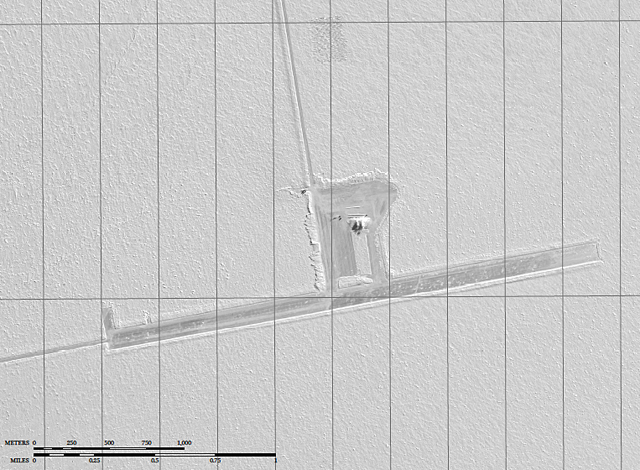 Photo Credit: Image copyright 2011, DigitalGlobe, Inc.; provided through the NGA Commercial imagery program; processed by Claire Porter and Cole Kelleher, PGC.
A satellite image of the sea ice runway near McMurdo Station.
This runway is generally constructed during the August winter fly-in, or WinFly, and used during October, November and early December, until warm summer temperatures thin the ice and require flight operations to once again shift to Pegasus.
The major benefit of the sea ice runway is its close proximity to station, requiring only a five- or ten-minute drive to reach town after a flight lands. This short commute saves time and fuel for passenger and cargo transports, unlike the one hour or more traverse to Pegasus airstrip.
This year, however, construction of the ice runway was almost stymied completely by storm conditions that created zero visibility conditions and heavy snow drifting, which caused Fleet Ops to suspend work for days on end, and then left them with endless hours of snow removal and runway grooming.
In addition, the sea ice itself, which formed late in the winter this year, has been problematic. The heavy storms and warm temperatures caused many cracks that stubbornly refused to freeze up enough for tracked vehicles to safely pass.
But always persistent, and working nonstop during the brief breaks in the weather, the heavy equipment operators saved the day, as they always do, and made sure the ice runway was ready and operational to receive the first summer flight on Oct. 3.