| | |
| --- | --- |
| Photo Credit: Peter Rejcek | Antarctic Heritage Trust conservator John Kermister gently taps a part of flue piping that ran through the Cape Evans hut back into shape. The Australian normally works at a war museum restoring tanks and heavy artillery. |
Page 2/3 - Posted January 20, 2012
Back to the original condition
Lizzie Meek escorts her visitor into the hut's semi-dark interior, scraping her heavy boots in the annex on an iron grating to clear any debris — standard protocol for anyone entering one of the historic structures that are protected under the Antarctic Treaty system.
Program manager of artifact conservation for the Trust, Meek speaks in hushed, reverential tones as she notes points of interest in the hut. She apologizes for the floodlights and other modern tools and equipment, which in her mind break the spell of the place.
Still, it is hard not to imagine that the men had only just left, boarding the ship for home in 1913, after discovering the frozen bodies of their companions. A pair of Apsley Cherry-Garrard's socks, his cloth nametag sewn into the wool, sits at the end of his bunk bed. His book, The Worst Journey in the World, is perhaps the most famous historical account of the expedition.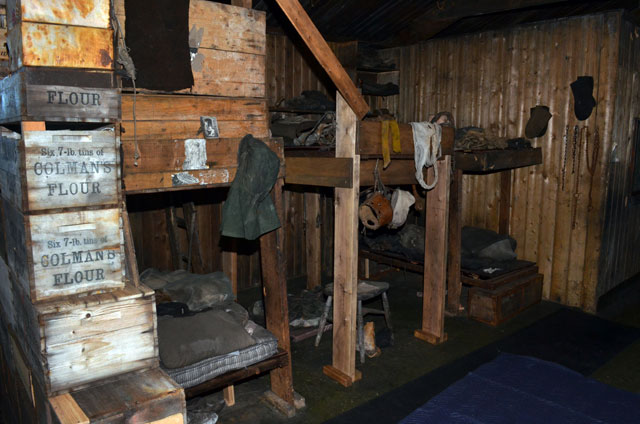 Photo Credit: Peter Rejcek
A bunk bed area in the hut that was used by officers and scientists in the Terra Nova party.
"I think it's the personal items you find that suddenly brings it home to you that these were real people living in a harsh environment just like you," Meek says. "You can relate it to your own life in the field here today."
Farther along the tour, in an alcove dominated by a large table that displays a Feb. 29, 1908, edition of The Illustrated London News alongside a freeze-dried emperor penguin used for scientific study, is Capt. Scott's bunk. Expedition photographer Herbert Ponting's darkroom, filled with unused glass plates and vials that read "poison," seems to await his return. Light through a double-paned window on the other side of the room illuminates a table of test tubes, glass vials, magnifying glasses and other scientific equipment.
"They had an incredibly sophisticated science set up," Meek notes. Indeed, if Scott had never attempted the Pole, his expedition would have been considered a success based solely on the research it accomplished. [See previous article — Birth of Antarctic science: New book documents how early explorers were driven by dual goals of discovery and research.] For instance, a small extant building at Cape Evans, built without iron fastenings, was used for magnetic observations — research that continues there to this day.
"Time and time again, I'm really struck by [Scott's] ability to describe things accurately, understand them, and pull together bits and pieces of knowledge, and draw a conclusion," says Meek, who is reading Scott's expedition diary every day. "He had that ability to really understand what his scientists were telling him."
Behind the scenes
Back toward the front entrance of the hut is the galley. Crates of sugar, flour, cocoa, salt, Coleman's mustard and Heinz vinegar reach toward the ceiling. The shelves are also crowded with condiments. Ceramic cups, many of which look as if though they've been repeatedly scorched, hang from a shelf loaded with bottles of pickled onions.
Most of the galley items, Meek points out, have already been evaluated, described, conserved, cataloged and returned to the hut.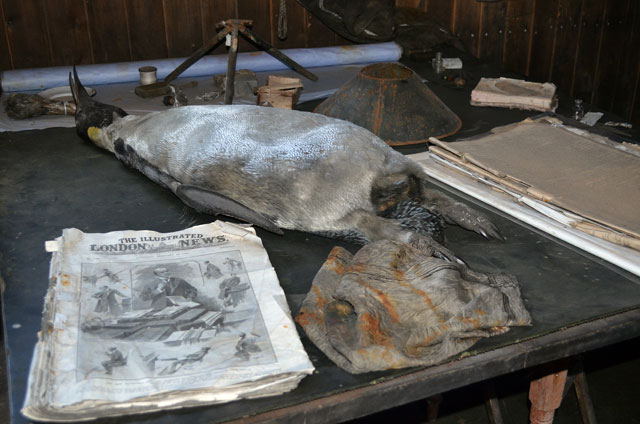 Photo Credit: Peter Rejcek
A table with a newspaper, freeze-dried penguin and other items, as they were in the hut a century ago.
"You shouldn't be able to tell, unless you look really closely, that we've been here," says Meek, who first worked on the project as a paper conservator in 2008 over the Antarctic winter at Scott Base before joining the Trust full time to manage the artifact collection.
"When people walk in … what they should see is old-looking objects but with more detail revealed, minus the corrosion or obvious mold That's the goal," she adds. "And, yes, I do obsess about it."
It's her job to hire the experts in textiles, metals, paper and other specialties who either work at a lab on site during the Antarctic summer months or back at Scott Base over the winter. "Luckily, the people I hire, that's their job to [obsess about] it as well, and they collectively out-obsess me."
Each year, a half-dozen conservators from around the world conserve about 1,500 artifacts.
"It's definitely not an easy process to try to find the right people to work down here, because it requires a particular kind of personality," she explains. Meek and Fastier are obviously looking for highly skilled workers, but also people whose personalities can mesh with the small team on the Ice.
And the days are long: six-and-a-half days a week, with Sunday afternoons off, for each six-month contract.
"The life down here has been completely different from my normal comfort zone, and the work has been incredibly hard physically," says John Kermister, a 63-year-old conservator who normally works at the Australian War Memorial museum

in Canberra restoring tanks and military machinery.
His job today is to cobble back together a stove flue, and he is outside gently hammering out a section of pipe, which looks like an oversized muffler that's been exposed to the elements far too long. The metal is extremely brittle, almost paper-like, and the new sections meant to fit inside the original pipe to reinforce it — another example of discrete conservation practiced by the Trust — aren't the correct size.
"I just discovered that we have three different sizes [of pipe flue], which complicates matters a little bit," says Kermister matter-of-factly.
Fidelity to history and conservation
Fidelity to history is something of a mantra among the Antarctic Heritage Trust crew. The conservation plan, developed nearly a decade ago, is as an important roadmap, nearly as inviolate as the Bible. Any changes to the plan must go through the nonprofit's Board of Trustees, which includes U.S. Ambassador to New Zealand David Huebner

.
Fastier estimates that more than 90 percent of the Cape Evans Hut will consist of the original materials after his team finishes its carpentry work this year. (Restoration of the artifacts collection still has another four years to go.)
Getting it right means loads of research, from studying journals to poring over expedition photographer Ponting's images, which have proven to be an invaluable resource over the years.
"Even buying the right nails may take two or three days of research to actually find them. If you can't, then we have them made. It's down to a fine detail," Fastier says. "On the logistics front, it's quite complex to get it right."
Even those charged with the restoration work are amazed at the level of detail.
"There's an awful lot of thought and work before the actual result comes out — an awful lot of time and effort. It's quite phenomenal," says carpenter Jamie Ward from Scotland, who generally restores big oak timber frames and doors in castles in his native homeland.
In many ways, he says, the jobs aren't much different.
"It's a mixture of repairing things and doing them in such a way that it will last 40 years," he explains. "It's an awful lot more than just restoring something. You're trying to restore it, but it's got to last. There's no point in doing this if in a few years time people have to come back and repair things. It's a very long-term thing, but it's very worthwhile."
For example, take the roof above the stable, which housed ponies used by Scott and his team for some of the southward hauling of supplies. Restoring it to its original condition wouldn't be enough to keep the snow load from crushing it again. The solution: Routing a channel out of the top of the beams and inserting stainless steel to reinforce the wood.Back 1 2 3 Next