| | |
| --- | --- |
| Photo Credit: Peter Rejcek/Antarctic Photo Library | A helicopter returns to McMurdo Station, the hub of the U.S. Antarctic Program. The proposed 2013 NSF budget contains about $250 million for infrastructure, logistics and transportation involved in running the U.S. facilities, camps and vessels. |
NSF budget 2013
Agency request boosts Antarctic research funding by 9 percent
Posted March 2, 2012
National Science Foundation (NSF)

Director Subra Suresh

presented President Barack Obama's

2013 budget request for the agency earlier this month, seeking about a 5 percent bump over last year's enacted budget, to $7.3 billion.
"This investment in science and engineering reflects an increase in core research funding and moves our nation forward by connecting the science and engineering enterprise with potential economic, societal and educational benefits in areas critical to job creation and a growing economy," Suresh said in a press release.
NSF's Office of Polar Programs

, which supports much of the fundamental research in the Antarctic and Arctic, would get a boost of about 3 percent from the previous year, to nearly $450 million.
Antarctic research looks to receive a proposed 9 percent increase over last year, from about $65 million to $71 million. Funding for Arctic research may go from about $58 million to $63.5 million. About 40 percent of research grant proposals to OPP are funded, with 305 proposals estimated to receive funding in 2013.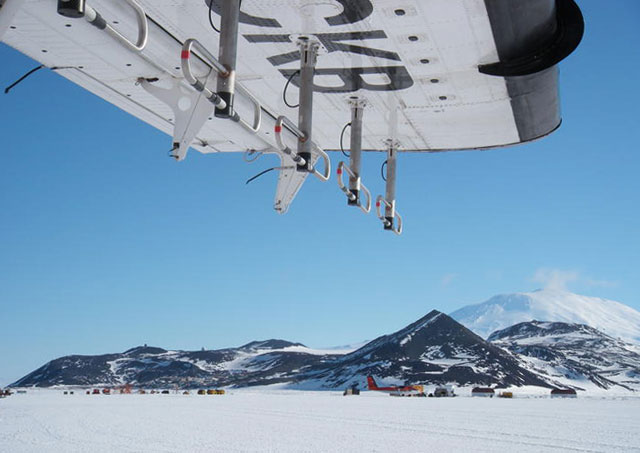 Photo Credit: Jilu Li/CReSIS
CReSIS radar on a Twin Otter wing while parked on the sea ice near McMurdo Station. Mount Erebus is smoking in the background.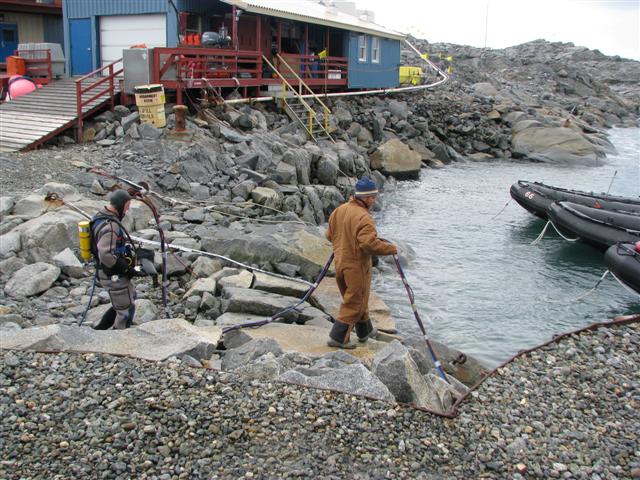 Divers Steve Rupp, left, and Rob Robbins work on repairs to the Palmer Station pier.
OPP has proposed adding $1.5 million, for a total of $6.75, to priority areas under NSF's Science, Engineering, and Education for Sustainability (SEES)

program, which promotes interdisciplinary research to address pressing societal issues of clean energy and sustainability.
For Antarctica, the money will target studies of ice-mass loss and sea level rise, as well as research into how the ocean and atmosphere interact, particularly in the exchange of carbon dioxide, and how chemical changes such as ocean acidification will affect the marine ecosystem.
Funding for the Center for Remote Sensing of Ice Sheets (CReSIS)

, based at the University of Kansas

, would be just shy of $3.8 million, a drop of about 15 percent from 2012, as the science and technology center (STC) enters its ninth year. NSF-funded centers like CReSIS are limited to two consecutive five-year awards.
CReSIS develops radars that are used for determining ice sheet thickness and the nature of the Earth's surface where it interacts with the ice. CReSIS-developed instruments have been used both on the ground and in the air, including by other federal agencies like NASA

. In the future, the radars will fly on remotely operated aircraft to acquire detailed ice sheet maps at times and places otherwise difficult to cover.
Nearly $250 million of OPP's budget is slated for infrastructure, logistics and transportation involved in running the U.S. Antarctic Program

.
That big-ticket line item is forecast to remain relatively flat from the previous year. The biggest chunk, about $85 million, goes toward operating three year-round research stations, with another $5 million for field camps. Two research vessels will cost about $32 million to operate, and additional $9 million is slated for small aircraft and helicopter support.
Operation Deep Freeze

, the Department of Defense

term for the various military support services, has been budgeted for $67.5 million in 2013. Most of the money is reserved for costs associated with flying aircraft to and from the continent, as well as across Antarctica in support of the South Pole Station

and deep-field camps.
There are several other specific projects targeted under OPP's Division of Antarctic Infrastructure and Logistics

budget request:
About $1 million would be used for smart-grid technology and alternative renewable energy systems at all three research stations. Funds would be made available for design and engineering studies to install wind and solar technologies to augment power production at the South Pole Station, as well as to replace the hybrid wind/solar power system for the Black Island telecommunications facility.
A total of $5.75 million would be used to expand McMurdo Station fuel supply capacity so that it would only need to be resupplied every two years instead of annually, which would save money on chartering a fuel vessel each year. Investments will include construction of additional fuel tanks, energy improvements to facilities and waste-to-energy technologies that reduce fuel usage, and additional fuel to increase on-station supplies.
And $3 million would be dedicated to design and buy materials for upgrades at Palmer Station , including improvements to the pier, fuel storage and fuel distribution systems.