| | |
| --- | --- |
| Photo Credit: Richard Keat | |
Fly away
Last plane for summer leaves McMurdo on March 6
Posted March 9, 2012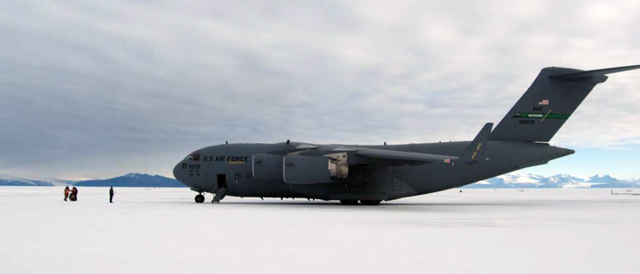 Photo Credit: Melanie Miller
The last U.S. Air Force C-17 for the 2011-12 summer field season sits at Pegasus airfield.
A Royal New Zealand Air Force

B757, above, departed McMurdo Station

shortly after 6 p.m. on March 6, bringing the 2011-12 summer field season to an end. The United States shares logistical support for its Antarctic research program with New Zealand and has a base of operations in the South Island city of Christchurch. The winter crew includes 153 people, who will maintain operations through the six months of darkness and cold, until flights resume around mid-August. The last U.S. Air Force

C-17 Globemaster III, at right, made an appearance on March 2. McMurdo is the logistics hub of the U.S. Antarctic Program

, serving as the launching pad to support the South Pole Station

and deep-field camps around the continent. South Pole Station went into hibernation on Feb. 15. The third U.S. research facility, Palmer Station

off the Antarctic Peninsula, will continue to operate into the winter months. The Antarctic Sun

will continue to post new stories about U.S. polar research and other topics throughout the year.