| | |
| --- | --- |
| Photo Credit: Peter Rejcek/Antarctic Photo Library | Fuel bladders ride on sleds from McMurdo Station to South Pole Station, seen in the distance. In 2011-12, the South Pole Traverse replaced the need for 72 flights by the LC-130 for various missions around the continent, including a trip to a remote field camp in East Antarctica. |
Page 2/2 - Posted May 4, 2012
Dartmouth engineer developing autonomous crevasse capability for traverses
The autonomous crevasse detection software is one aspect of a broader polar robotics program that Rebecca Williams and fellow engineering students at Dartmouth's Thayer School of Engineering

have been developing for the better part of a decade. [See related article — Beast of burden: Yeti robot tackles crevasse detection in polar regions.]
Her work involves creating higher-level intelligence and control software for a four-wheel robot dubbed Yeti

that pulls a GPR behind it to find crevasses. For now, Yeti simply collects the data that a person trained in radar analysis later examines. Eventually, Williams would like Yeti to learn and recognize patterns in real-time, with the ability to further explore an area once a crevasse has been detected.
"The goal is to make [Yeti] smarter and to make him completely autonomous," said Williams, who works under Laura Ray

, a professor of engineering at Dartmouth.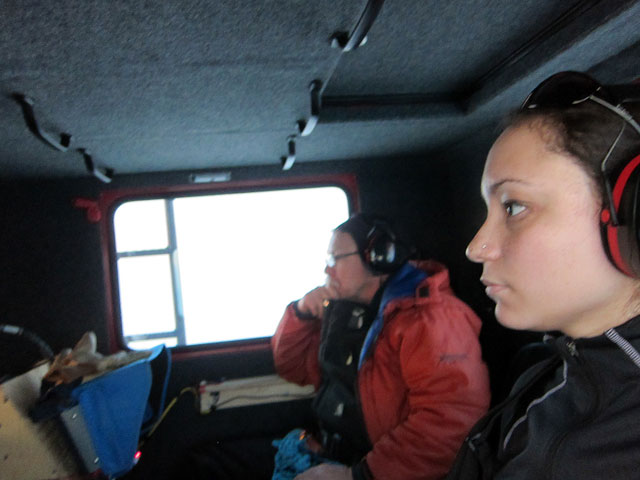 Photo Courtesy: Rebecca Williams
Dartmouth College engineer Rebecca Williams rides in the cabin of a Greenland Inland Traverse tractor to get firsthand experience that will help her develop autonomous crevasse detection software.
Yeti has been tested in both Greenland and Antarctica. Last year in March, Williams had a chance to see the conditions that Yeti works in firsthand during a trip to the Arctic, where the Greenland Inland Traverse (GrIT) operates in support of science there.
"I got to sit in the hot seat of the radar operator and feel what it was like to experience the hours of boredom and moments of terror," Williams said. "You're just staring at a screen for hours and hours, seeing nothing, and then all of a sudden you see something. You have about four-and-a-half seconds to react to it and decide whether or not it is [a crevasse] and let people drive over it."
Terry Billings has probably more hours of sheer boredom and moments of adventure driving across Antarctica than just about anyone around. For the last three years, he has led the SPoT on its annual supply run to the Pole, including being the first one out of the gate from McMurdo during the 2011-12 season when the Traverse Operations fielded two trains for the first time.
"It sounds so cool and romantic, but it takes a certain kind of individual who can handle the isolation, close quarters and gets along with people well," said Billings during a stop at the South Pole back in December. "You need to be able to handle the boredom of it, because it does get to be 'Groundhog Day.' You do the same thing day after day."
Though last year's mission had some added complexity. Instead of returning back to McMurdo Station, Billings and his crew pioneered a new route to East Antarctica to recover thousands of pounds of equipment, such as generators and tents, from a field camp that had been used to explore a subglacial mountain range a couple of years ago. [See previous article — Alps in Antarctica: International team maps subglacial mountain range.]
"There is still that sense of adventure," Billings said. "It's not [Roald] Amundsen skiing to the Pole, but we're kind of the modern-day version of that. Not a whole lot of other people are crossing the continent year after year and doing this."
Thur said that last year's two traverses, including the additional drive to East Antarctica, replaced the need for about 72 flights by the New York Air National Guard

, which flies the ski-equipped LC-130 for support missions around the continent, but especially to the South Pole for delivering fuel and cargo.
SPoT saves not just fuel and carbon footprint. It frees the LC-130 for other support missions, particularly to far-flung field camps currently in operation in West Antarctica. And weather at McMurdo or South Pole that would cancel a flight generally isn't a problem for the tractors.
Next season, Thur expects to again field two traverse trains, though one will primarily work in support of a field camp near the Ross Ice Shelf

where scientists plan to drill into a subglacial lake, an operation that will require more than a dozen tractors to haul enough equipment to the site.
That's in addition to making a trip to the South Pole and paying a second visit to the East Antarctic field camp to finish removing all of the material.
An audacious idea has become a full-time operation — and then some.
"Be careful what you wish for. It's really ambitious now," Lever said.Back 1 2