| | |
| --- | --- |
| Photo Credit: Jim Lever | Yeti conducts a systematic autonomous GPR survey across the site of the Old Pole station to determine whether any subsurface hazards remain at the site. Yeti can survey sites that could otherwise pose hazards to people. |
Beast of burden
Yeti robot tackles crevasse detection in polar regions
Posted May 4, 2012

During the 2010-11 field season in Antarctica, personnel at the South Pole Station

used a series of small explosions to collapse several old buildings, which had been buried under the ice for decades but that had become a hazard to surface travel.
The question this past season: Was it now safe to travel over an area known as Old Pole, the first research station built by the United States back in the 1950s?
The U.S. Antarctic Program (USAP)

enlisted Yeti

to find out.
No, not the 10-foot-tall creature with a serious hirsute problem. This Yeti doesn't come with hair — just four wheels, a metal body, a bunch of batteries and high-tech radar. It's the creation of Dartmouth College's Thayer School of Engineering

, specially designed to operate in the polar regions.
"It worked out great with Yeti," said Andy Martinez, a facilities engineer for the USAP who has managed the ongoing project to collapse and permanently bury some of the remaining buildings, which have created voids in the ice, making the surface unstable for operations. [See previous article — Blast to the past: Demolition of 'Old Pole' under the ice removes safety hazard.]
Rather than risk sending people in a heavy vehicle with a ground-penetrating radar (GPR) to survey the site, the lightweight Yeti robot was deployed to image the area.
"Yeti performed a task that would be very tedious and arduous for humans," said George Blaisdell, the USAP Operations manager in the National Science Foundation's Office of Polar Programs

. "It's far safer than a human-deployed survey."
The 160-pound robot, smaller than an all-terrain vehicle, found three additional buildings outside of the original blast zone that appeared to pose additional hazards.
"It was a good thing that the [National Science Foundation] chose to have the site resurveyed. In retrospect, we can see the value of the robot beyond the time savings of manual surveys," said Jim Lever, a mechanical engineer with the U.S. Army Cold Regions Research and Engineering Laboratory (CRREL)

who has collaborated with Dartmouth College on the development of Yeti and its predecessor, Cool Robot

.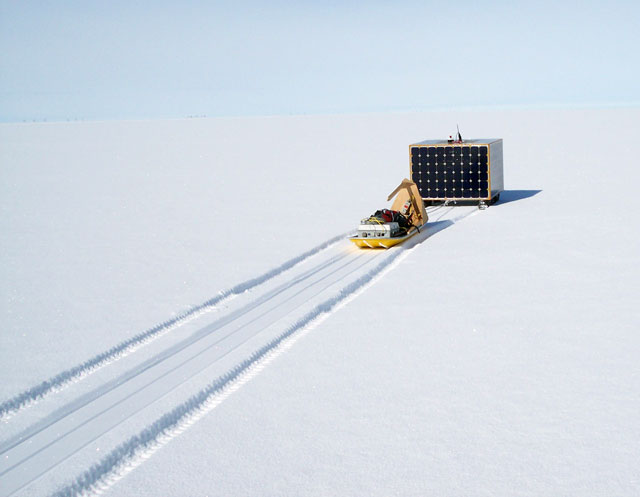 Photo Credit: Jim Lever
Yeti's solar-powered cousin, Cool Robot, tows science equipment during proof-of-concept tests at Summit Station, Greenland, in August 2005.
"When you're doing a survey, you just program the waypoints you want it to follow, and it will happily go about doing that. That's what we did at South Pole," explained Lever, who helped operate the robot during its three-day survey of Old Pole in December 2011.
The development of Yeti and Cool Robot — similar to its sibling but solar-powered and intended for long-duration science missions — began nearly a decade ago with a $100,000 Small Grant for Exploratory Research (SGER) from the National Science Foundation.
The original proposal was the product of a hallway conversation with a space weather scientist at Dartmouth, according to Laura Ray

, a professor of engineering at the college and principal investigator on the polar robotics program.
The SGER grant gave Ray, Lever and a team of clever undergraduate students enough resources to design, build and test a solar-powered robot capable of operating months at a time, roving across the icy landscape of Greenland or Antarctica collecting scientific data.
A lightweight chassis built from the same strong and stiff honeycombed material used for airplanes was important to the success of Cool Robot, Ray said.The lightweight 4WD rover can drive continuously at 4 mph during 24-hour polar summers to conduct long-endurance science missions with zero air emissions.
"It was completely original from the ground up for this given environment. I think that was the key," Ray said. "If you really want to minimize the energy requirements, you design it from the ground up — and that's what we did."1 2 Next