| | |
| --- | --- |
| Photo Credit: Bruce Raymond/Antarctic Photo Library | A U.S. Navy P2V flies over mountains during the 1960-61 Antarctic field season. (This is not the same airplane that crashed near Wilkes Station.) |
Page 3/3 - Posted May 11, 2012
Risks and rewards
So, what happened to Hand after that?
"The next year, I went down there and flew my fanny off," he says, mildly scoffing at the idea that the accident would keep him away from flying again.
"I was back in the cockpit as soon as I was able," he says from his home near Knoxville, Tenn. "If you have a wreck at the end of the street, you don't quit driving. Life goes on."
Life kept Hand in the Navy for almost 12 years, two of them in the Antarctic, an adventure that he still remembers fondly despite the tragedy.
"We did things that you wouldn't even think about doing here [in the United States]," he says. "We were good. We were dedicated to what we did. It was no slipshod operation, believe me."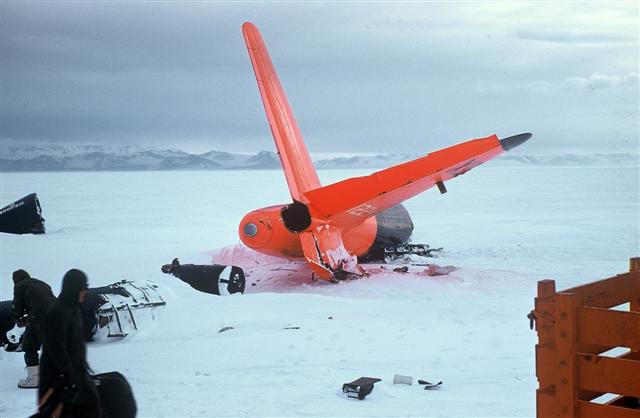 Four men were killed in a separate P2V crash during a whiteout near McMurdo Station on Oct. 18, 1956.
It was certainly a more dangerous time in those early pioneering years of the U.S. Antarctic Program

, then known as the U.S. Antarctic Research Program, which was managed and funded by the National Science Foundation

. Four men were killed in a separate P2V crash during a whiteout near McMurdo on Oct. 18, 1956. Six men died two years later when a U.S. Air Force C124 went down in the Admiralty Mountains. On Feb. 2, 1966, an LC-47 crashed and killed six VX-6 personnel.
In fact, more than 50 people were killed between 1955 and 1999, the years when the Navy was in operational control of Operation Deep Freeze

, the military's umbrella name for Antarctic support. Some died in helicopter crashes, others in crevasse accidents.
The OAEA has established a memorial fund for the placement of future plaques, according to Baker, though some areas are probably too remote, far from field camps or research stations.
"Some of them you wouldn't be able put a plaque up," says Baker, who visits Chastain's grave in the Barrancas National Cemetery

at the Naval Air Station in Pensacola, Fla., at least once a year. In addition, all of those killed during the Navy years are Memorial Members of the OAEA and their names are read aloud during the organization's bi-annual reunions.
Reunion and remembrance
In April 1997, Hand retired after flying with Delta Airlines for 32½ years. The whereabouts of the other survivors is unknown at this time.
Around the time Hand was preparing to retire, Darryn Schneider and some friends who were working at Casey Station visited the crash site near old Wilkes Station, itself mostly covered by ice, and discovered that almost the entire plane was buried by snow. Mother Nature would soon erase any visible signs of the tragedy.
"It turned out to be one of the last times the aircraft was visible," he says.
Schneider served as a physicist with the Antarctic Australian Division

in the mid-1990s, and later as a scientist and program manager for neutrino experiments under way at the U.S. Antarctic Program's South Pole Station

. He had become interested in Antarctic history while at Casey, and even started an Antarctic website

, with a section on the Wilkes tragedy

.
"With my connection to both [the] Australian and U.S. programs, I was able to put some of the right people in contact with each other, which was my very small contribution to the memorial," he says over email. "It is up to the people who live and work in Antarctica to document and preserve their own history, and any enduring memorials are up to us to establish."
Burch and Baker had hoped to have the plaque in place by Nov. 9, 2011, on the actual anniversary date, but things don't always work out as planned in Antarctica.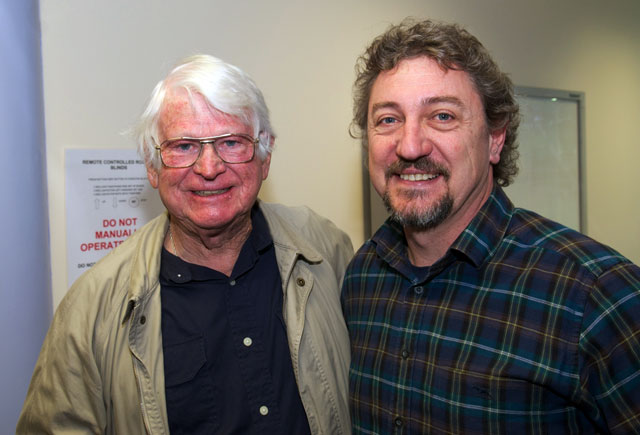 Photo Credit: Australian Antarctic Division
Ernie Hand, left, and Casey Station leader Mark Hunt pose for a photo during the 50th reunion of the 1961 Wilkes Station crew.
Meanwhile, Burch, Wilson and their fellow Wilkes veterans reunited for the 50th anniversary of the 1961 expedition in Hobart, Australia, in late October. Wilson had convinced a special guest to attend — Ernie Hand.
"I was absolutely floored, pleasantly surprised, when he replied, 'Yeah, I'd like to do that,'" Wilson says.
So, Hand joined the 11 Wilkes veterans and their partners for a three-day reunion in Hobart. They held their own special ceremony to unveil the plaque, which had been draped with an American flag. About 50 people attended the gathering on Oct. 25, including Hunt, the Casey Station leader.
"First, I screened the video I had made of the whole tragedy, then Stan Wilson conducted a small dedication ceremony, including a very emotional speech from Ernest, who then lifted the flag to reveal the plaque," Burch says. A moment of silence followed.
Six months after the Wilkes reunion, the plaque was finally put in place, with a brief ceremony.
"I'm glad the plaque is there. I hope it will be there perpetually, because it is part of history," Hand says.Back 1 2 3