| | |
| --- | --- |
| Photo Credit: Peter Rejcek/Antarctic Photo Library | Cargo from a U.S. Air Force C-17 is unloaded at Pegasus White Ice Runway. The first plane since early March is scheduled to land at McMurdo Station on Aug. 20, as part of a short series of flights to prepare the U.S. Antarctic Program for the summer field season, which begins in early October. |
Open season
Winter flights scheduled to begin Aug. 20 as McMurdo prepares for summer fieldwork
Posted August 17, 2012
The first flights to McMurdo Station

since early March are expected to land at Pegasus White Ice Runway

beginning on Aug. 20, marking the beginning of about a 10-day operation to prepare the U.S. Antarctic Program (USAP)

for the 2012-13 summer research season.
Winfly, for winter fly-in, involves six missions carried out by the U.S. Air Force

using a C-17 Globemaster III from Joint Base Lewis-McChord

in Washington state. More than 300 people and tons of cargo will be transported between Christchurch, New Zealand, and McMurdo during the end of the month.
The last flight will be on Aug. 28, and all of the missions will use night-vision goggles (NVG) for landing, a capability the Air Force established several years ago and retests each winter. Last year, a C-17 crew conducted an airdrop flight using NVG at the South Pole Station during Winfly to deliver medical supplies. [See previous articles — Night vision: Air Force successfully tests new capability to fly any time of year to McMurdo and Winter airdrop: Air Forces delivers needed supplies to South Pole using night-vision goggles.]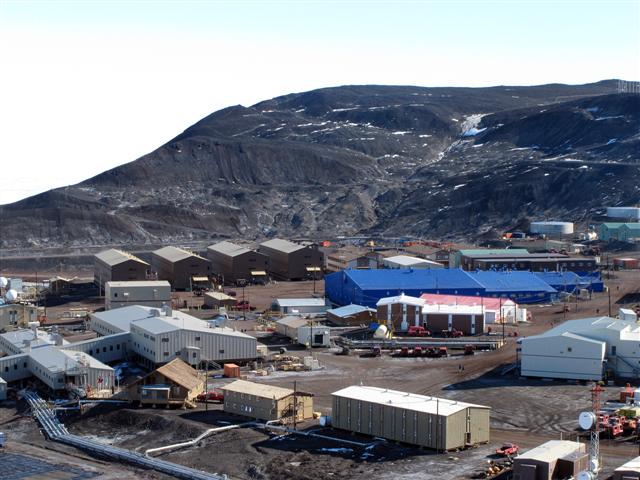 McMurdo Station was established in the 1950s.
Winfly is a standard part of the USAP operation, though this year promises to be a break with the past in many ways as the National Science Foundation (NSF)

prepares to address a report released last month by a Blue Ribbon Panel

. The committee, headed by former Lockheed Martin

CEO Norm Augustine

, offered a laundry list of recommendations on ways to improve operations and support more research in the future. [See previous article —Capital improvement: Blue Ribbon Panel recommends major investment in USAP infrastructure.]
The report is expected to serve as a springboard to improve the program's logistics operation and infrastructure, particularly at McMurdo Station, which was founded in the 1950s for the International Geophysical Year

, and Palmer Station, which is in need a new pier and small-boat ramp. A five-year project to renovate and remodel the station's dormitories, which house upwards of a thousand people during the summer field season, is already scheduled to begin next winter.
In fact, the project may serve as a paradigm shift in how the USAP normally operates. Currently, the first flight of the summer field season to McMurdo is scheduled for Oct. 1, with the last set to depart Feb. 28. But thanks to the Air Force's NVG capabilities, such flight deadlines may go away in the future, according to BK Grant, deputy program director for Lockheed Martin Antarctic Support Contract, the civilian company hired by NSF to run the day-to-day operations of the program.
"We'd like to look at what a logical breakpoint in the work is," she explained. "We can be more efficient with fewer restraints on planning, especially with the recommendations coming out from the Blue Ribbon Panel for some major infrastructure improvements. I think we're going to look at how we can best utilize the time when we don't have a large science population."
That time generally comes during the Antarctic winter, which runs from March through September, with a caretaker crew at McMurdo numbering around 150. In the summer, several hundred scientists from the United States and around the world travel to McMurdo, which serves as the gateway to field sites as close as a helicopter ride away to others more than a thousand miles across the continent.
McMurdo is also the jumping off point for the South Pole Station

, which won't see any new faces until Oct. 26, when the New York Air National Guard

is scheduled to make its first visit of the 2012-13 season aboard its ski-equipped LC-130 Hercules

.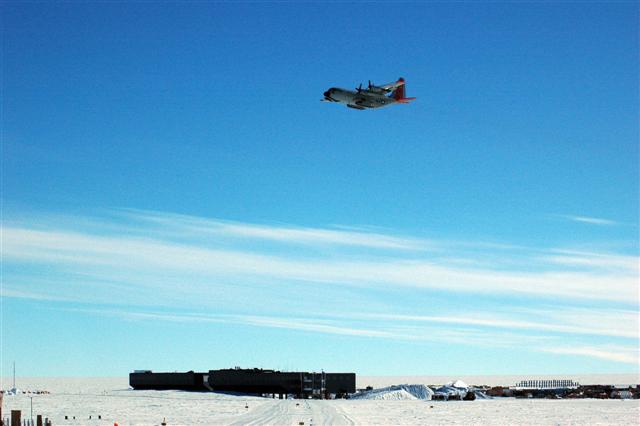 An LC-130 flies over South Pole Station, where a reduced population will require fewer support flights this season.
Operations at the South Pole are also expected to change with the times beginning this year, as the average summer population drops from about 250 to a maximum of 168 people. The new research facility, which was dedicated in January 2008, was designed for 150 people. The additional personnel have been housed mainly in a place dubbed Summer Camp, a collection of heated tent buildings called Jamesways.
Meanwhile, in McMurdo, one of the major projects this year will be construction of an additional two-million-gallon fuel tank, which will give the research station the needed capacity to operate for two years without being resupplied by ship. In recent years, resupply missions by vessel have been challenging for various reasons, from the lack of icebreaker support to cut a channel in the sea ice to McMurdo to uncooperative winter weather needed to build an ice pier. [See previous article — Without pier: Floating dock from McMurdo Station found locked in sea ice.]
In fact, another mild winter, combined with early storms that repeatedly drove the sea ice out of McMurdo Sound, has again threatened to leave the station without a reliable ice pier. Last year, the U.S. Army

came to the rescue with a deployable wharf that was brought to Antarctica aboard a cargo vessel. That could be the scenario again if the pier doesn't thicken in time to support offloading and loading dozens of shipping containers in mid-February 2013. [See previous article — Strong finish: Successful cargo operation completes challenging logistics season.]
Grant said that she expects a major facility assessment to take place this season at McMurdo, along with the development of a master plan that will direct capital improvement projects in the coming years, one of the key recommendations of the Blue Ribbon Panel.
"That's going to start driving more of what we're doing. Pretty much everything is going to be focused on meeting those objectives," Grant said. "People will see a lot of changes."