| | |
| --- | --- |
| Photo Credit: Peter Rejcek/Antarctic Photo Library | Dorm buildings at McMurdo Station. The National Science Foundation has announced that it will begin a five-year project to renovate the housing at McMurdo Station as part of a larger project to improve quality of life for residents and energy efficiency and maintenance of the buildings. |
Home sweet home
Housing infrastructure, policy at McMurdo to get makeover
Posted September 21, 2012
The National Science Foundation (NSF)

has announced it will begin a five-year project to renovate housing at McMurdo Station

as part of a larger improvement project intended to address the long-term needs of the U.S. Antarctic Program's

largest research facility. This year will also involve major changes to the housing policy to accommodate the upgrade project and to maximize bed space.
These initiatives, which had long been in the planning stages, were delayed by the prolonged contract transition of the Antarctic Support Contract (ASC). With the ASC contract transition complete, the project and policy changes can now be managed from start to finish by a single entity. Planned upgrades include both quality-of-life initiatives for residents, as well as infrastructure to improve energy efficiency and reduce long-term maintenance.
Upgrades to the dorms, which house up to about 1,100 people during the austral summer, will start during the 2012-13 season with improvements to Building 155, the 68,000-square-foot hub of McMurdo Station. In addition to 60 dorm rooms, the building contains the station's kitchen and dining hall, radio station, retail store, barbershop and offices. It was built in 1969.
Over the 2013 winter, rooms in dorm 210 will be converted to single rooms to house New York Air National Guard

aircrews with crew rest requirements. The two-story building, constructed in 1994, currently contains 34 two-person rooms. These rooms will be smaller, and the switch to single rooms will decrease housing density in other dorms. The overall plan is conduct a dorm upgrade each winter for the next few years.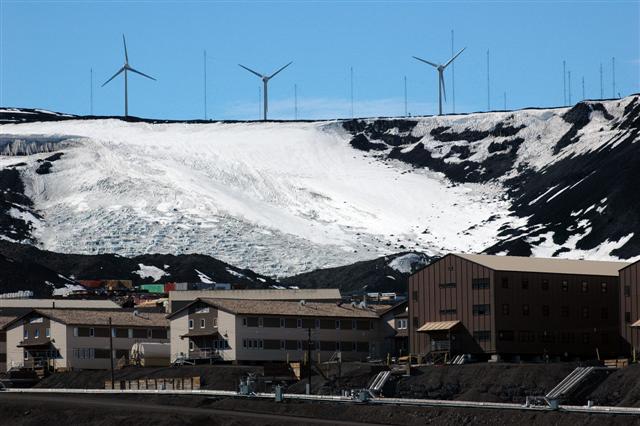 Wind turbines have helped increase McMurdo Station's energy efficiency. Planned renovations to the dorms, forefront, are also intended to improve station operations.
Under the new housing plan, room assignments will be based on the amount of time a deploying person is expected to spend at McMurdo, while specific buildings will be allocated based on the agency or company the person works for while on station. There will no longer be a point system based on "Ice time."
In the case of support personnel with ASC, along with employees of PHI, Inc. and Kenn Borek Air (KBA)

, they will be housed in buildings 155, 166, 188, 206, 207, 208 and 209. Room assignments fall into three categories, based on duration of stay:
Permanent Residents: Cumulative scheduled time on station for 98 days or longer.
Transient Residents: Cumulative scheduled time on station for 28 to 98 days.
Temporary Residents: Cumulative scheduled time on station for 27 days or less.
These categories are intended to help ASC better allocate bed space — the idea being that dorms 206 to 209 will house permanent residents, which will require less management once those buildings fill up during the early part of the season. The other buildings will house transient and temporary residents.
All NSF grantees will be housed in buildings 203A, 203B and 203C, regardless of their time scheduled on station, including principal investigators. Each room will contain accommodations for a third roommate when necessary. These dorms, built in 1980 with 77 rooms total, will have wired Internet access for researchers to use.
Military personnel under Support Forces Antarctica (SFA)

will be housed in buildings 202, 210 and 211, while SPAWAR

Office of Polar Programs (SOPP) personnel will be housed in Building 201. All these dorms will be managed by SFA.
Summer season residents may still choose a specific roommate, and those requests will be handled on a case-by-base basis.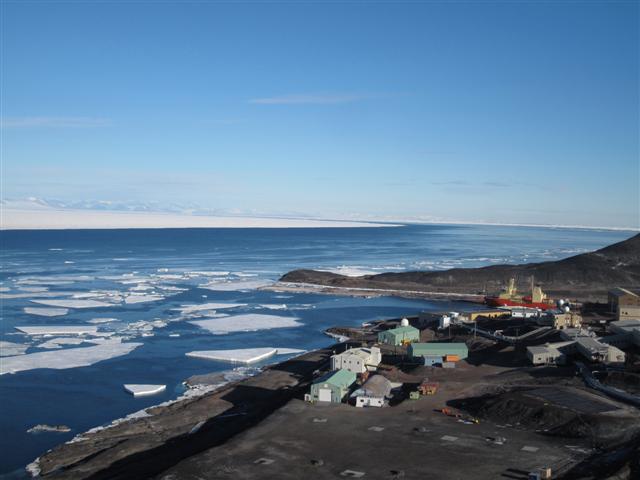 McMurdo Station with open water in McMurdo Sound in February 2011.
Residency criteria will not apply during the winter season. However, winter participants should plan and expect to have roommates at the start of winter fly-in (Winfly) or when arriving on station prior to the conclusion of the summer season.
"NSF will be taking a much more active role in management of McMurdo housing and focusing on the need to make long-term changes over the next five years, including creating more single rooms, which will require a renovation plan and thus relocation during renovation," said Brian Stone, division director of Antarctic Infrastructure and Logistics

in NSF's Office of Polar Programs

.
"The net result, NSF believes, will be an improvement in accommodations for all personnel," he added.
The planned renovations are taking place at the same time as the recent release of a report by a high-level external panel that assessed logistics and infrastructure throughout the U.S. Antarctic Program (USAP).
The Blue Ribbon Panel

, chaired by former Lockheed Martin

CEO Norm Augustine

, toured all three USAP research stations, as well as other facilities in the United States, New Zealand and Chile.
The panel's report, More and Better Science in Antarctica through Increased Logistical Effectiveness

, made a series of broad recommendations, focusing on renovations at McMurdo and Palmer Station

, a small research station off the Antarctic Peninsula.
The panel specifically identified inefficiencies in the existing McMurdo housing arrangements that could be addressed through policy changes. They pointed out that some dorms were overcrowded while others were under-used. Their report also called for NSF to consider grouping people whose jobs and hours were similar together and to consider establishing a "science dorm."
At the direction of NSF Director Subra Suresh

, a specialized team of NSF officials is currently reviewing all of the panel's recommendations, including those related to housing, and will develop the agency's responses to them. Those responses are expected to ready by the end of the calendar year.