| | |
| --- | --- |
| Photo Credit: Rob Jones/Antarctic Photo Library | The flags of the original 12 signatory nations of the Antarctic Treaty fly next to a bust of Adm. Richard Byrd at McMurdo Station. The United States and Russia, two of the original dozen, recently signed an agreement to expand their cooperation in Antarctica. |
Diplomatic ties
U.S., Russia ink deal to expand cooperation in Antarctica
Posted September 21, 2012
The United States and Russia signed a Memorandum of Understanding for Cooperation in Antarctica earlier this month during the Asia Pacific Economic Cooperation

Summit in Vladivostok, Russia.
The agreement will strengthen cooperation and significantly improve coordination of bilateral policies, science, logistics, search and rescue, training, and public outreach in Antarctica, according to a press release from the U.S. State Department

.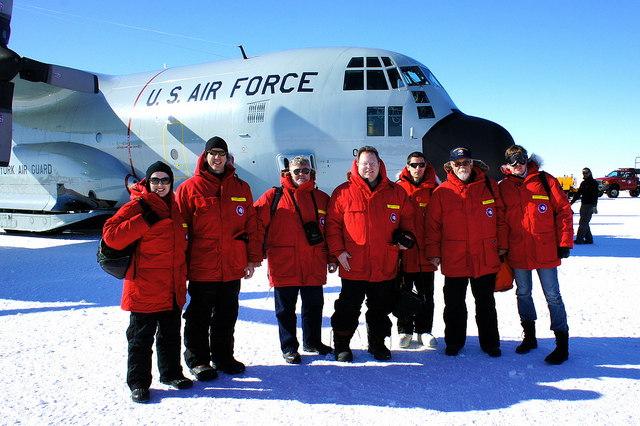 Photo Credit: U.S. State Dept.
The joint U.S.-Russia Antarctic Treaty inspection team in Antarctica earlier this year.
"We are formally deepening our scientific cooperation in Antarctica, a continent with vast opportunities for research," said U.S. Secretary of State Hillary Clinton during the signing of the memorandum. "Scientists from both our countries will work together to explore Antarctica's terrain, study the effects of climate change, and cooperate on a range of issues to better understand and protect our shared environment."
Earlier this year, the United States and Russia completed their first-ever joint inspection of foreign research stations, installations and equipment in Antarctica, as required by the 1959 Antarctic Treaty

and its associated Environmental Protocol

. The team inspected the French-Italian station Concordia

, Italy's Mario Zucchelli

research facility and New Zealand's Scott Base

during a six-day visit in January.
A second joint U.S.-Russia inspection is scheduled at the end of the year, according to Russian Foreign Minister Sergey Lavrov, who represented the Russian Federation for the signing of the memorandum between the two formal Cold War rivals.
"This document reflects a mutual interest in continuing inspections of the stations of our countries to demilitarize the Antarctic region and implement environmental requirements," Lavrov said.
The United States and Russia are among the most active countries conducting research in Antarctica, and were among the 12 original architects and signatories of the 1959 Antarctic Treaty.