| | |
| --- | --- |
| Photo Credit: John Baxter | The USS THOMAS J. GARY anchors at Campbell Island in October 1966. Between 1957 and 1968, the U.S. Navy deployed Destroyer Escort (DE) class ships to the region for navigation beacons in support of operations in Antarctica. A ham radio expedition, including one Navy veteran from those days, is headed to Campbell Island. |
First contact
Ham radio expedition heads to remote island once used by Navy in support of USAP
Posted November 2, 2012
An international team of ham radio operators will take part in an expedition to a remote island that was once a regular stop for U.S. Navy

ships that supported the U.S. Antarctic Program

.
I have been invited to join the adventure, which will take place at the end of the year, returning to Campbell Island

after almost 45 years since last setting foot there while a young sailor working aboard U.S. Navy radar picket ships.
Between 1957 and 1968, the U.S. Navy deployed Destroyer Escort (DE) class ships to 60 degrees south latitude for weather reporting and navigation beacons for the planes flying between Christchurch, New Zealand and McMurdo Station

on Ross Island. During those sailings, we stopped at Campbell Island to deliver and pick up mail, as well as to ferry the New Zealand scientists who lived on the island back and forth from Dunedin.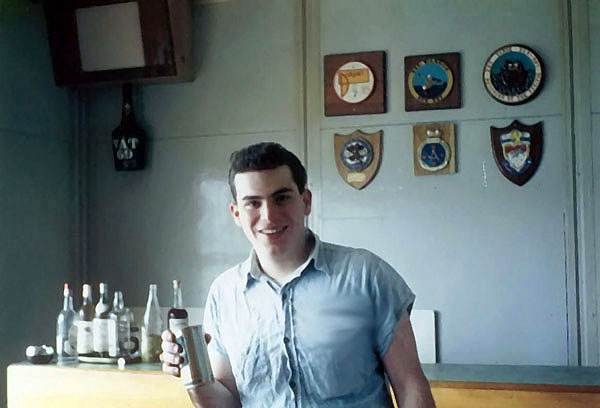 Photo Courtesy: Gene Spinelli
Gene Spinelli, ETR-3 USS CALCATERRA, DER-390, October 1965, enjoying a beverage at the weather station's bar.
[See previous article — Off the radar: Few people know the role Navy radar picket ships played in early communications.]
New Zealand's Campbell Island was a manned weather station from the mid 1950s until 1995. Scientists living on the island performed daily weather reporting duties and other scientific activities. Early in the program, these reports were integral to the then Operation Deep Freeze

aircraft flying between Christchurch and McMurdo.
In 1995, the weather reporting process was automated and the island again became uninhabited. Since 1995, non-native wildlife was eradicated and the island has since been designated a UNESCO World Heritage Site

. Landing on the island is controlled by the New Zealand Department of Conservation

.
The worldwide amateur (ham) radio community also has great interest in this part of the world, and that's where the ZL9HR Campbell Island 2012 Expedition

comes into the picture.
Within the ham radio hobby are many special interest groups. Two of these special interests are the DX Century Club (DXCC) and Islands on the Air (IOTA)

, which are sponsored by the American Radio Relay League (ARRL)

and the Radio Society of Great Britain (RSGB)

, respectively.
DXCC is Amateur Radio's premier award that hams can earn by completing a two-way radio contact with at least 100 countries (also called entities). The initial award is for making contact with 100 DXCC countries, and the highest-level award requires the applicant to contact all entities on the DXCC list, which today numbers 340 countries. The "Top of the Honor Roll" can take many years to achieve because of the infrequent activation of some remote DXCC entities.
While there aren't 340 countries in the world, under the DXCC rules, certain islands, reefs and rocks count toward the award. The Antarctic continent is considered one country (or entity) on the DXCC list. Antarctic and sub-Antarctic islands also individually count as one country if they meet certain criteria. For example, Heard Island, Bouvet Island and Campbell Island each count as a separate DXCC country, yet the Balleny Islands don't count.
Similar to DXCC, IOTA is an amateur radio activity designed to encourage contacts with island stations worldwide. The world's islands have been grouped into some 1,200 IOTA groups with varying numbers of "counters" (i.e., qualifying islands) in each for reasons of geography. The objective is to make radio contact with at least one counter in as many of these groups as possible.
Over the years, teams of ham radio operators have endeavored to reach remote locations in order to transmit their signals around the world. Some of these expeditions are relatively easy to conduct. Most all populated countries of the world permit some form of amateur radio operations, with the exception of North Korea, where ham radio operation is banned. Most of the countries with bases in Antarctica have amateur radio stations at their sites; thus contacting the Antarctic continent is relatively easy.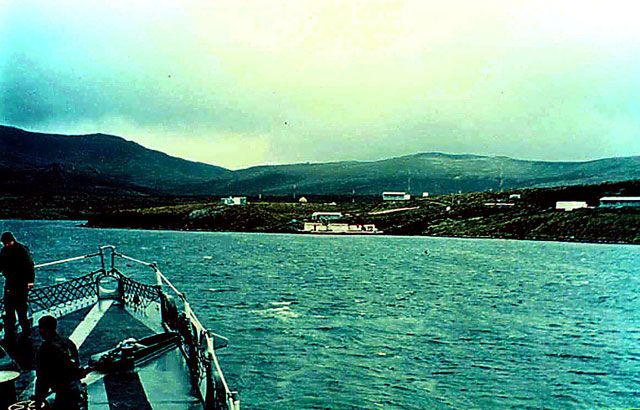 Photo Credit: Gene Spinelli
USS CALCATERRA DER 390 anchorS at Campbell Island's Perseverance Harbor. The weather station is in the background.
However, other DXCC and IOTA entities are uninhabited and/or have hostile environments, extreme heat and humidity or cold, and some are difficult to reach. Without natural harbors, airstrips or enough land area to erect tents and antennas — with some rocks and reefs only a few meters above sea level, if even that — the challenges begin to mount.
Campbell Island, while amply large at more than 40 square miles, is extremely remote. The last major ham radio expedition to Campbell Island was in January 1999.
That will change in November of this year when our team of 10 ham radio operators sail to Campbell Island from Bluff, New Zealand. The team will erect at least five radio stations and for 10 days transmit their signals around the world. Thousands of ham radio operators will attempt to make contact; we expect to make 60,000 contacts.
Radio expeditions require the team to transport their equipment to the island, erect the radio stations and upon departure remove all signs of ever being there. Our team will transport seven complete radio stations; amplifiers; antennas; more than 1.2 kilometers of cable; four generators; 1,100 liters of petrol; food; water and other essentials. The New Zealand Department of Conservation has graciously allowed us to use several of the island's few remaining vacant buildings.
The expedition is being supported, in part, with grants from the Northern California DX Foundation, the American Radio Relay League's Colvin Award committee, the German DX Foundation, The International DX Association, The Lone Star (Texas) DX Association and donations from amateur radio clubs and individual ham radio operators. While the team will fund the bulk of the expedition's cost, we appreciate the generosity of those who have already contributed. And, of course, we are indebted to the NZ Department of Conservation for granting access to this stunning wildlife and nature reserve.
Gene Spinelli has been an amateur radio operator for more than 36 years. He visited Campbell Island during his U.S. Navy enlistment, which ended in June 1967. He wrote about the U.S. Navy radar picket ships for an article in The Antarctic Sun

in 2009. He can be heard on the Amateur Radio bands as K5GS.