| | |
| --- | --- |
| Photo Credit: Kelly Speelman/Antarctic Photo Library | Debenham Glacier looking east toward the Ross Sea, where the United States and New Zealand had hoped to establish a marine protectd area at last month's meeting of the Commission for the Conservation of Antarctic Marine Living Resources. |
Still fishing
Establishment of marine protected areas around Antarctica eludes CCAMLR
Posted November 21, 2012
An international meeting to discuss marine conservation in Antarctica resulted in several measures to strengthen protections in the Southern Ocean, though much-anticipated decisions to create large marine protected areas (MPAs) around the continent eluded delegates.
The Commission for the Conservation of Antarctic Marine Living Resources (CCAMLR)

had its annual meeting last month in Hobart, Australia. The commission consists of 24 nations and the European Union (EU). The convention is an international treaty within the Antarctic Treaty System

designed to conserve and manage the marine living resources around Antarctica. It entered into force 30 years ago.
CCAMLR had considered several proposals to set aside vast swaths of the Southern Ocean as MPAs. The commission operates by consensus, meaning that all members must agree before a decision can be adopted, and delegates were unable to reach unanimity.
A special meeting of CCAMLR will be held in Germany in July 2013 to continue discussions and negotiations on the establishment of MPAs in Antarctica, according to a press release

from CCAMLR.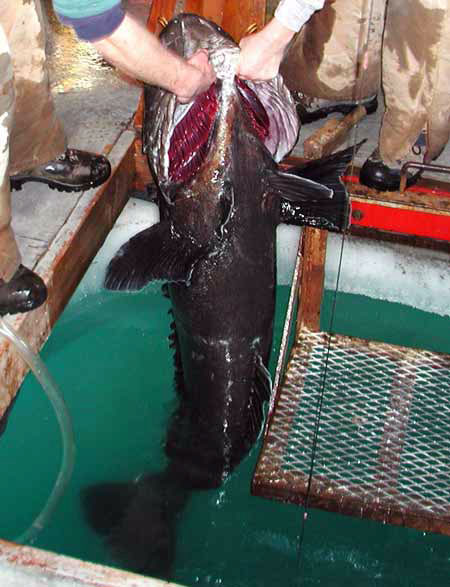 A toothfish is caught for research in 2003.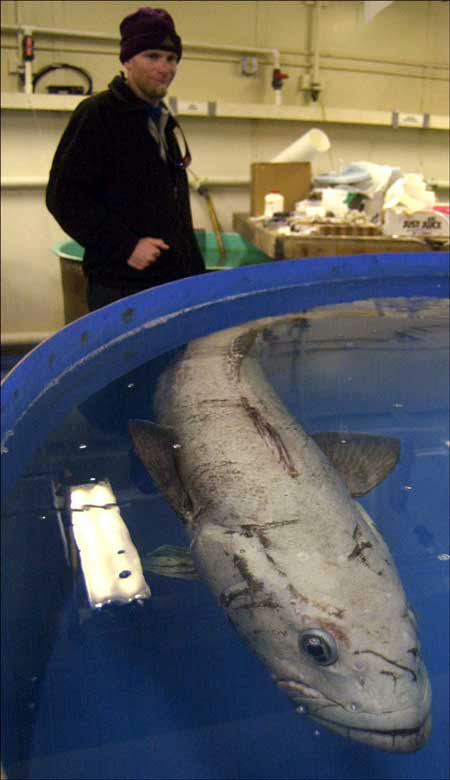 A toothfish specimen in the McMurdo Station aquarium in 2002.
Four MPA proposals had been brought forward to the commission.
New Zealand and the United States had each proposed to protect parts of the Ross Sea, which has become a popular fishing ground for Antarctic toothfish (Dissostichus mawsoni). During the meeting, the two nations, whose Antarctic research programs collaborate closely, merged their proposals, settling on an MPA of 2.27 million square kilometers.
"We hope to gain support from the international community as this important proposal moves forward," said U.S. Secretary Hillary Clinton

in reference to the joint MPA plan during remarks at the Partnership Meeting on Wildlife Trafficking in Washington, D.C., on Nov. 8.
The joint MPA proposal had four key goals: conservation of the Ross Sea ecosystem to ensure its current structure and function; creation of a reference area to gauge the effects of climate change and fishing; protection of a representative portion of benthic and pelagic marine environments; and protection of core foraging areas for top predators such as penguins and seals, as well as sites important in the lifecycle of the toothfish.
In 2010, the Marine Stewardship Council

certified the Ross Sea toothfish longline fishery as sustainable. However, some conservationists and scientists have argued that there is not enough data about the life history of the Antarctic toothfish to allow a fishery to operate.
Toothfish grow to a maximum length of about 1.9 meters, but most fish caught range from about 1 to 1.5 meters. They live up to about 35 years. Scientists have noted that in recent years few if any large toothfish have been captured for research purposes in the Ross Sea. One large specimen was caught this month near McMurdo Station

on Ross Island.
The other proposals included a network of seven MPAs in East Antarctica, brought forward by Australia, France and the EU, which also proposed an MPA in the Antarctic Peninsula.
In 2009, CCAMLR established a 94,000-square-kilometer MPA near the South Orkney Islands, which was the first MPA entirely located in the high seas in the area regulated by CCAMLR.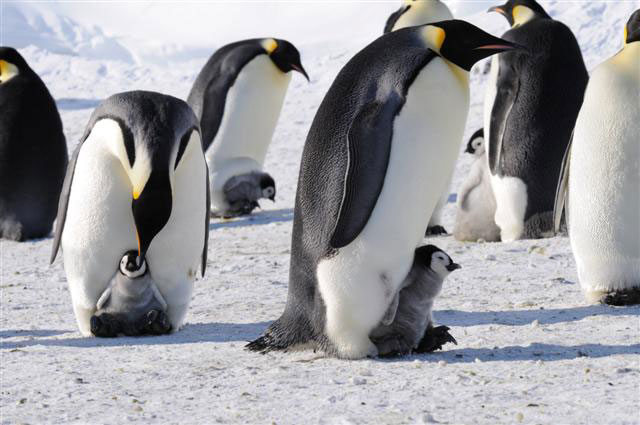 Emperor penguin adults and chicks at CApe Crozier, Ross Island, near the Ross Sea.
"Establishing MPAs is a complex process involving a large amount of scientific research as well as international diplomacy," the CCAMLR press release stated. " Agreeing on three major proposals for the establishment of marine protected areas, each involving 1.9 to 2.4 million square kilometers proved to be a task needing more time and consideration than was available during the Commission's eight-day annual meeting in 2012."
The commission did make progress on several other proposals during the Hobart meeting, including:
New procedures were adopted for estimating green weight (live catch) in krill fisheries. This refined way of measuring live catch will improve the accuracy of catch, which accordingly will improve setting catch limits.
A feedback management system for krill fisheries, using real-time abundance of krill catch data, is being developed. This management system involves commercial fishing vessels collecting acoustic and other data, which will be used for research and estimating krill abundance, status and trends.
After nearly a decade of deliberation, CCAMLR agreed to a compliance evaluation procedure, which will be implemented next year for consideration of member compliance.
CCAMLR agreed to strengthen measures for port inspections, an important deterrent to illegal, unreported and unregulated fishing.
The commission acknowledged concern about fishing occurring in Antarctic Specially Protected and Managed areas . It agreed to a measure that will help fishing masters be aware of and avoid fishing in these areas unless it is consistent with their management plan.
In the 30 years since CCAMLR was established, the commission has implemented a number of conservation measures. One such measure has reduced seabird by-catch mortality in CCAMLR-managed fisheries from nearly 7,000 seabirds in 1997 to close to zero over the past few years.
CCAMLR has also worked to combat illegal fishing. Fish catches taken by unregulated vessels has declined substantially, although estimates of illegal catch are now hampered by vessels using gillnets with unknown catch and effort.