| | |
| --- | --- |
| Photo Credit: Rebecca Reynolds | Rock band Monroe Monroe performs at a Denver venue earlier this year. Frank Abbatecola, center, formed an earlier incarnation of the band while working for the U.S. Antarctic Program at McMurdo Station. |
A different tune
USAP participant makes music a way of life away from the Ice
Posted December 21, 2012
A trip to Antarctica is often a dream come true for many who get the opportunity to live and work on the world's most remote continent.
Frank Abbatecola once made the annual pilgrimage to the Antarctic, driving big machines across the sea ice and the volcanic rock roads of McMurdo Station

. He compiled about 60 months of Ice time over nine years. But in 2010 he gave up the lucrative job in Fleet Operations to pursue an altogether different dream that first took root in such an unlikely place as Antarctica.
The New York native wanted to be a rock and roll star. Today, he fronts the Denver-based band Monroe Monroe

, an alt-rock foursome that has opened for acts like INXS and just released its fourth studio album in three years.
A lifelong musician since first banging on the piano keys in his parents' Italian restaurant on Long Island, Abbatecola initially traveled to Antarctica in 2001. A friend advised him to take his bass guitar to McMurdo Station, where a thriving music scene has spawned such events as the annual New Year's Eve festival called Icestock.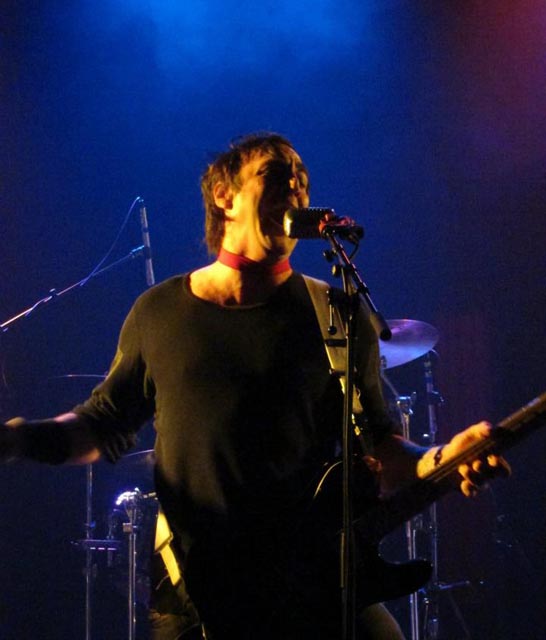 Photo Credit: Michael Thompson
Abbatecola performs at Denver's Bluebird Theater, opening for the band INXS.
The scene at the U.S. Antarctic Program's

largest research station was so happening that it was crowded with bass players. Abbatecola decided to switch instruments and move front and center of the stage as a singer of his Ice band, The Legendary Beep Beeps.
"Of all the places in the world to have enough bass players, it was McMurdo," he mused during an interview in a Denver coffee shop. Dressed in black, the first impression is reminiscent of Johnny Cash. The comparison fades however, when one realizes that Converse sneakers have replaced cowboy boots. It's also unlikely Cash would have gone for the pierced lower lip.
Abbatecola made the change during his second season on the Ice, figuring, "I'll sing and play guitar. I played guitar. I didn't sing vey well. .. I was horrible. I apologize to everyone who heard me."
He got better. A lot better. But it took years of practice and eventually lessons before his vocals matched the big-band, anthem rock sound the Denver musican has achieved with the current incarnation of Monroe Monroe.
"It's not like throwing a dog in the water, and he just starts swimming. Some people have [a strong singing voice] and some people have to work at it," Abbatecola said. "It's not worth it to stay here in the States and pursue [a music career] until you can actually do it. Otherwise, you're just making a bad name for yourself."
Writing his own music and singing on stage appealed to Abbatecola, despite his vocal struggles. He likens the switch to being a painter who suddenly discovers a richer palette of colors after being restricted to just shades of grey.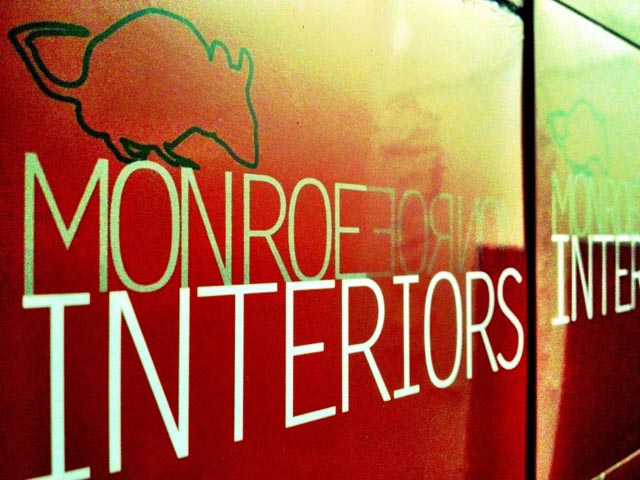 Monroe Monroe's latest release.
"You're painting all of these beautiful things. You get so inspired and your spirit is uplifted emotionally," he said. "There was no way I could just strum the guitar or just play the bass again. I had discovered something so new, rich and pure — the way it gives back in certain areas to my life and my soul and my heart."
In 2004, after wintering at McMurdo Station, he moved to San Francisco and joined a band and played bass. An ad on Craigslist inspired him to audition in Los Angeles for a group that featured musicians that had played in well-known acts like Cypress Hill. The opening was for a bass player, but after hearing him play, the band offered Abbatecola the guitar player gig.
"I had just sold all of my guitar gear to get bass gear again, so now I had to sell all of my bass gear to guitar gear," Abbatecola recalled.
The siren call of Antarctica reached him after that summer of 2004, and Abbatecola returned once again to the Ice, with a renewed sense of purpose. Still, it would be about another half-dozen years before the former semi-pro snowboarder would take the big gamble and devote all his energies to his band. In February 2010, Abbatecola returned from Antarctica and invested his savings in what would be Monroe Monroe.
He writes most of the group's music — his own riffs on love and life — and runs the business side of things as well. The albums have been self-releases, mainly recorded at Fort Collins' famed Blasting Room studio, sometimes funded by Kickstarter campaigns.
There's been success: Monroe Monroe has climbed to being one of the top-tier bands in the Denver scene. The group has played some of the city's main venues, including Red Rocks amphitheater and the historic Bluebird Theater. Each performance is physically and psychologically exhausting and invigorating, according to Abbatecola.
"It's hard," he said. "You're in an extremely vulnerable state. These are your words, they're your songs. This is your band. You've put this all together. It's a product of you. It's for the people to either like or dislike. Nobody likes rejection. Now you're being rejected by a room full of people if it goes that way, so it's even worse."
The band just premiered its latest EP "Interiors" to a packed house at one of the smaller, rowdier venues called Hi Dive. But the full-time job of musician doesn't pay the bills, forcing Abbatecola to run a gauntlet of odd jobs, from Chinese delivery guy to house painter.
"It's a lot of work. You don't get paid for it," he said of managing a band. Some days he longs to return to "A Great Field of Snow" (the title of his last Antarctic-themed song) that once inspired him to paint his life in musical lyrics.
"You never know. Maybe the Ice will see me again," he said.