| | |
| --- | --- |
| Photo Credit: Peter Rejcek | Dr. Bob Koff performs dental work at the McMurdo Station medical clinic. The well-traveled dentist has been on a number of humanitarian missions during his career, and spends many of his off-hours doing community service at the station. |
Community roots
McMurdo dentist provides services in and out of the medical office
Posted January 4, 2013
No one likes to visit the dentist. So Dr. Bob Koff makes it a point to spend as much time among the McMurdo Station

community as he can outside the dental clinic.
Quick-witted and jovial, Koff can be found volunteering his off-duty time in the kitchen serving steak, guiding outdoor tours of the pressure ridges that form near New Zealand's Scott Base

or organizing a Scrabble tournament. He may have the most volunteer hours at McMurdo, and it's rumored that he doesn't sleep.
McMurdo's sole dentist for the 2012-13 summer season, Koff learned about the U.S. Antarctic Program

while researching vacation plans to the southern continent. That was way back in 1998.
At the time, he couldn't get away for more than a month, and the job required him to be on the Ice for nearly half a year. His daughter was only 5 years old then, and he and his wife decided that once his daughter went to college he could go on this extended trip. He waited almost 15 years to apply.
Koff got interested in dentistry while working his way through college. He took a part-time job in a dental lab at the University of Florida. He made models with real teeth for the dental students to practice on before they started working on real people.
It turned out the faculty he worked for were on the admissions committee, so when it was time to apply to dental school, they knew of his interest and abilities. He also played racquetball with two dentists in college who encouraged him to go into the field.
Koff moved to Colorado Springs in June 1984 after school, working part time as an associate dentist for a year while he started his own office in December 1984. It has remained a small "boutique" practice ever since.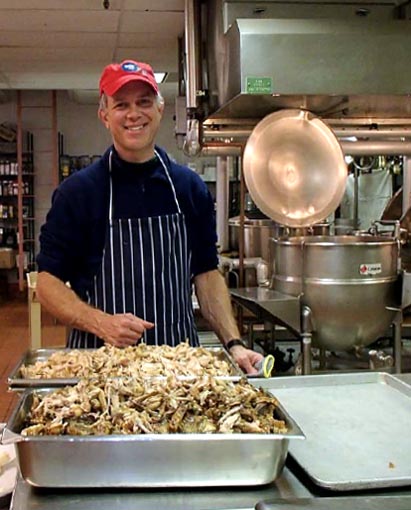 Photo Courtesy: Bob Koff
Dr. Bob Koff volunteers his off-hours around McMurdo Station, from helping in the kitchen to driving shuttles (below).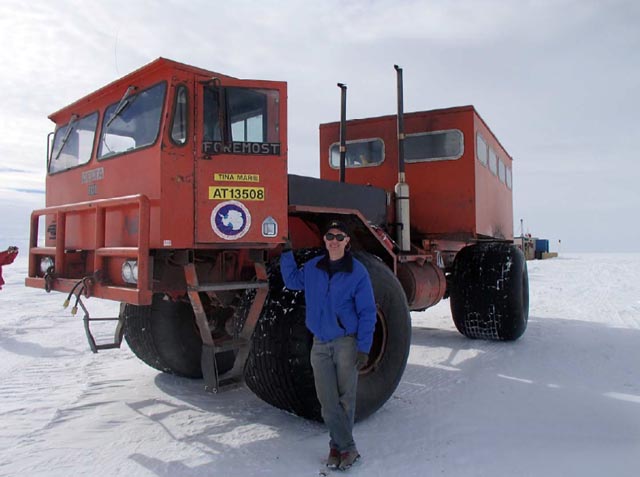 He has one full-time employee, and works on one patient at a time, which keeps the overhead low and allows him to take time off for various trips. Like many support personnel at McMurdo Station, Koff works to travel. He has been to more than 68 countries. Koff said he hopes to make it to 100 before he "kicks the bucket."
Many of Koff's travels are for humanitarian causes. He has volunteered his dental skills, as well as donated dental supplies, in 18 countries. In 1991, for example, he purchased an around-the-world ticket, providing free dental services in Belize, Honduras, Guatemala, Costa Rica, Romania, Bulgaria and Israel. Then, in 1995, he did a volunteer project in Tomsk, Siberia, which led to a job offer in St. Petersburg, Russia.
The following year, Koff, his wife Pat, and their daughter Lauren (who is 20 now but was 3 at the time), moved to Russia. He worked for nine months in a U.S.-owned medical/dental/pharmacy/lab clinic, much like McMurdo Station's hospital. The patient population consisted of ex-pats, U.S. corporate executives and Russian mafia, which made for an interesting time.
"I had a number of Mafia patients who always paid in cash in $100 bills," Koff said. "Our clinic paid our 'protection' money, and [we] were on good terms with the Mafia, since they and their families were medical and dental patients in the clinic, and it made for an interesting relationship."
The last extended trip Koff made before coming to Antarctica was in 2002 when he and the family moved to Barcelona, Spain. Pat worked at the University of Barcelona editing medical documents that had been translated from Spanish to English while Bob was "hombre de la casa."
He walked fourth-grader Lauren to and from American/Spanish school each day. He did most of the shopping and cooking for the family. He also worked part time as a ping pong/gym teacher while doing a little dentistry on the side for a few friends, including dentists he met who hadn't sat in a dental chair themselves for 10 to 15 years.
Fortunately, Koff shares an office in Colorado Springs with Dr. Jack Matthews, who takes care of the well-traveled dentist's patients while he is away. Koff keeps in touch with his patients through email and a website he recently set up called frozendentist.com

. He will resume his practice again in April, with the hope that patients will return to him as they have in the past.
"If you develop an ongoing relationship with patients, they will stick with you, even if you go away for a year at a time," Koff says.
Through the years he has developed a good relationship with several dental manufacturers. They have been generous about giving him all sorts of supplies and materials to take on his goodwill trips.
This has even helped him provide a higher level of dental care here on the Ice. For example, he brought a bag of real teeth to help show the winter-over medical clinicians how to do some dental procedures, because there is not a dentist during the winter months at McMurdo. He also trained field camp and South Pole Station medical staff on some basic procedures.
In keeping with his mischievous side, the teeth even came in handy for his Halloween costume. His sense of humor also comes through when asked for some closing dental advice: "You only need to floss the teeth you plan on keeping."