| | |
| --- | --- |
| Photo Credit: Clive Oppenheimer | Members of the Mount Erebus research field team stand on the volcano's summit on Dec. 12, 2012, after reenacting a historic climb. Two century-old campsites used by the expedition were recently found on the volcano. |
Repeating history
Scientist discovers century-old campsites on volcano, reenacts historic climb
Posted January 11, 2013
In the end, it only took Clive Oppenheimer

about 15 minutes to find a piece of history on the flanks of Antarctica's southernmost active volcano.
The volcanologist from the University of Cambridge

, using historical photos and journals from an early Antarctic expedition, found two camps occupied by a team of British explorers and scientists who summited Mount Erebus on Dec. 12, 1912.
"I set off feeling optimistic but not really knowing what to expect," said Oppenheimer only hours after returning to McMurdo Station

from the field camp on the volcano known as Lower Erebus Hut, about a 15-minute helicopter ride away.
Oppenheimer is the co-principal investigator at the Mount Erebus Volcano Observatory (MEVO)

, an ongoing program run by New Mexico Tech

and funded by the National Science Foundation's Office of Polar Programs

. Led by New Mexico Tech's Phil Kyle

, scientists at MEVO have been studying the volcano and its unique lava lake since the 1970s. [See previous article — Neverending story: Mount Erebus offers endless possibilities for research into volcanoes.]
Oppenheimer has traveled to Mount Erebus every year since 2003, studying the witch's brew of gases that emerge from the volcano. As a Briton, he was familiar with the history of its exploration. It was exactly a century ago when six of Robert Falcon Scott's men ventured up the 3,794-meter-tall volcano to collect geological specimens and to conduct other scientific work and surveys of the region.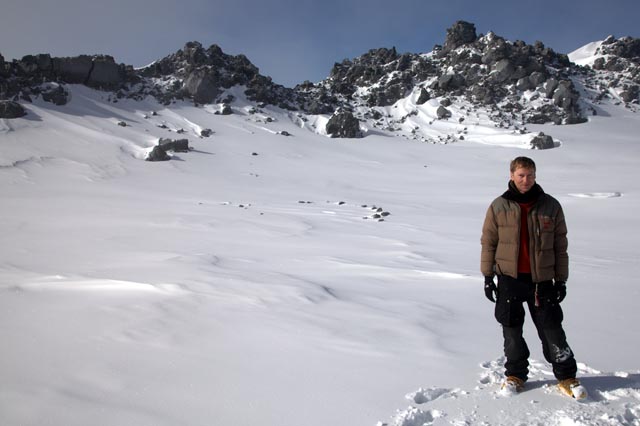 Photo Courtesy: Clive Oppenheimer
Volcanologist Clive Oppenheimer, above, stands at the site of Highest Camp, used by British explorers, below, to Mount Erebus a century ago.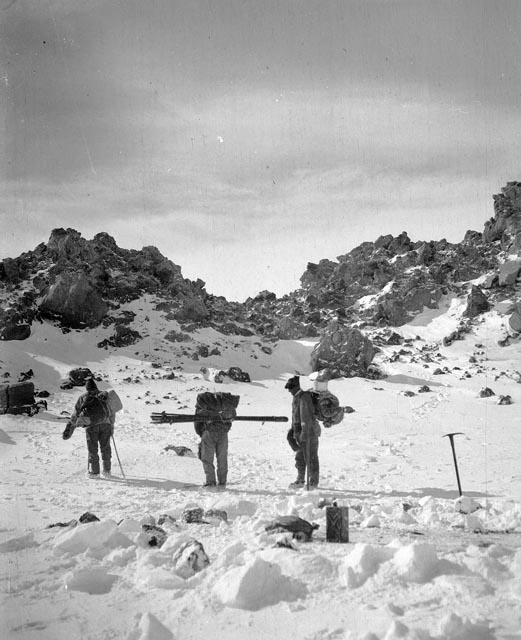 Photo Credit: Scott Polar Research Institute
Scott and four of his companions had perished earlier that year on the return from the geographic South Pole. They had lost the famous race to the bottom of the world against Roald Amundsen and his Norwegian team.
The two-week expedition up Mount Erebus had been led by Raymond Priestley. Priestley himself had suffered nearly seven months of deprivation after he and five others had been forced to winter in an ice cave at Inexpressible Island after being stranded by their ship the Terra Nova. The Northern Party, as it was known, was one of several teams that had been organized to explore other regions of the Antarctic while Scott made his bid for the South Pole.
Also on the Mount Erebus adventure was fellow geologist Frank Debenham. The two men would go on to found the Scott Polar Research Institute (SPRI)

at Cambridge in 1920. In fact, it was while on Mount Erebus 100 years ago that Debenham reportedly first conceived the idea of SPRI.
"It was a scientific mission, with the crater as a sort of side objective," said Oppenheimer, who is also an adjunct faculty member at New Mexico Tech. "I daresay they always wanted to go up and climb it."
Oppenheimer had been aware of the upcoming centennial for several years prior to the 2012-13 summer field season. He read through Priestley's journal about the exploration of Mount Erebus. The adventurers had set out on Dec. 4 from Cape Royds, where the famous explorer Ernest Shackleton had built an expedition base in 1908. Priestley's notes describe at least two camps on Erebus.
One was set up at what he referred to as the "old crater," where Debenham and seaman Harry Dickason would remain behind to conduct a survey of the area. Meanwhile, Priestley and the rest of the group climbed farther up the volcano and established what one photograph in the SPRI collection referred to as Highest Camp. They started the final climb at 1 a.m. on Dec. 12, 1912.
Oppenheimer memorized the prominent rock features in that picture and other digitized photos that showed a tent and a low lava cliff. "I figured it was part of the ancient caldera rim of Erebus. That narrowed it down to 10 kilometers of rocks," he said.
Less than a kilometer from the modern-day field camp, Oppenheimer found an area where he had never been before. "It looked sort of interesting. It looked like an enchanted area, in a way, because it was between these two ridges."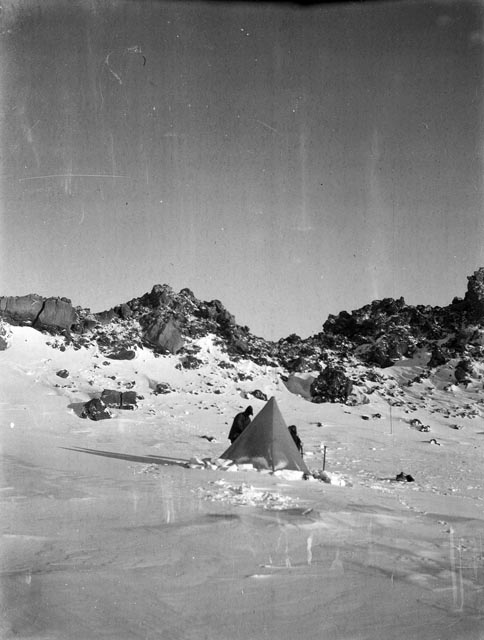 Photo Credit: Scott Polar Research Institute
Highest Camp in December 1912 from which Priestley and company left for their ascent of Mount Erebus.
He hiked to where the two ridges met and made a systematic sweep of the area. He quickly recognized the rock formations from the pictures, especially a distinctive diagonal fissure and another boulder that resembled a castle turret.
"That keyed me in," he said. "I lined them up [with the picture], and there was no doubt it was the location. I got pretty excited about that."
A semicircle of rocks that had to have been assembled by hand was the final piece of evidence. "It looked like the footprint of their camp," Oppenheimer said.
On the evening of Dec. 11, Oppenheimer told the rest of his companions on Erebus about his discovery. They agreed to accompany him from the site of Highest Camp to the summit to re-enact Priestley's historic climb.
While marooned on Mount Erebus for a few more days due to weather, Oppenheimer located the camp where Debenham and Dickason had stayed. Emboldened by his first discovery, Oppenheimer employed the same technique, using the rock formations pictured in the SPRI photo collection as his treasure map. Again, he lined up the rocks and found evidence of the camp footprint.
The lower site, found at about 2,700 meters, was not far from Fang Camp, where the researchers go to acclimatize before heading up to Lower Erebus Hut at 3,450 meters.
"Both of our camps are pretty close to both of their camps. We all chose [our sites] well," Oppenheimer noted.
Coordinated international action between the United States, United Kingdom and New Zealand is already under way to ensure the camp site is protected, according to a press release from the University of Cambridge. An archaeological survey has been proposed to record the area and search for any items that 1912 party may have left behind.
Priestley's team was not the fist group to summit Mount Erebus, however. Members of Shackleton's party claimed that feat in 1908 during the Nimrod expedition.
Oppenheimer's discovery is the latest news from the so-called Heroic Age of Antarctic Exploration. In 2010, conservators with the New Zealand Antarctic Heritage Trust

discovered a crate of intact whiskey bottles under Shackleton's expedition base at Cape Royds

. A sample was later analyzed and the recipe recreated by Whyte and Mackay, which owns the distillery that made Mackinlay's Rare Old Highland Malt Whisky.