| | |
| --- | --- |
| Photo Credit: Harry House | An iceberg calved from the Erebus Ice Tongue floats in McMurdo Sound, not far from McMurdo Station, in early March. The calving is a natural event. The last time an iceberg broke off from the ice tongue was in 1990. |
Tip of the tongue
Large iceberg calves off Erebus glacier into McMurdo Sound
Posted March 8, 2013
A large iceberg broke off from the Erebus Ice Tongue at the end of February.
The iceberg is currently floating in McMurdo Sound where the U.S. Antarctic Program's McMurdo Station

is located on Ross Island. There is no danger to the research station or New Zealand's Scott Base

, which sits near McMurdo on Ross Island.
However, there is a small risk to operations next summer season if the massive iceberg freezes close to the island when the sea ice forms in the winter, according to Al Martin, McMurdo area manager for the USAP. Each year a temporary airfield is set up on the sea ice near McMurdo Station. Researchers also do work on the sea ice, from studying Weddell seals to collecting snow samples for chemical analyses.
Paul Morin

, director of the Polar Geospatial Center

at the University of Minnesota

, said he analyzed the iceberg from satellite imagery. It measured 3.5 kilometers by 6 kilometers, with an area of about 18 square kilometers.
New Zealand scientists reported in local media that the iceberg will likely drift to the other side of McMurdo Sound based on previous calving events.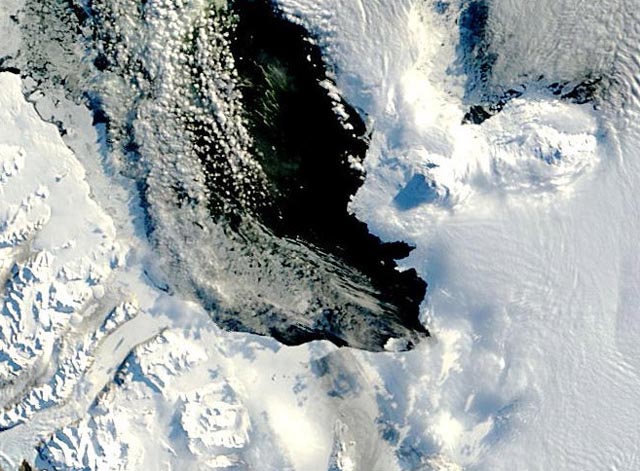 Photo Credit: NASA LANCE-MODIS and Polar Geospatial Center
Satellite view of McMurdo Sound on March 4, 2013. The iceberg is near the bottom of the image.
There were three recorded calving events in the 20th century. The first occasion was witnessed by members of Robert F. Scott's Terra Nova expedition

in 1911. It was thought to have calved again in the 1940s, with a third calving event recorded in 1990.
Historically, Erebus Ice Tongue protrudes more than 10 kilometers into McMurdo Sound. An ice tongue usually forms when a valley glacier moves very quickly into a lake or ocean. In this case, the ice tongue is fed from the western slope of Mount Erebus, an active volcano on Ross Island. The thin glacier is protected from the open waters of the Ross Sea to the north by Cape Royds.
Photos of the iceberg shot from McMurdo Station appear to show several ice caves. News reports estimated the iceberg to carry about 15 million tons of ice, though those estimates were based on more conservative calculations of the berg's size.