| | |
| --- | --- |
| Photo Credit: Devin Castendyk | Artist Larissa Min assists with an experiment in the McMurdo Dry Valleys during her visit to Antarctica in 2012-13. Her project proposes to tell a story that merges nonfictional Antarctica with a fictional narrative of a girl living in the Amazon. |
Developing new perspectives
Writer tackles themes of conservation, economics for Antarctic project
Posted March 15, 2013
Larissa Min's

family is originally from Korea. She was born in Brazil. At age 12, her family migrated from South America to the United States.
The creative writer naturally tackles themes of identity and displacement, with the double vision of someone who has lived and learned about both First World and Third World problems. Her first major project, Breaking English

, is a creative nonfiction memoir of her family's migration across those three different nations.
It shouldn't be too surprising, then, that Min has chosen to juxtapose what would at first appear to be two very different landscapes — Antarctica and the Amazon — for one of her next major writing projects.
The working title, Wondering Gondwana, hints at the past geographic connections between these two disparate places. Min's keen political and social sensibilities provide the tectonic tools to push the supercontinent back to together in a story that merges nonfictional Antarctica with a fictional narrative of a girl living in the Amazon.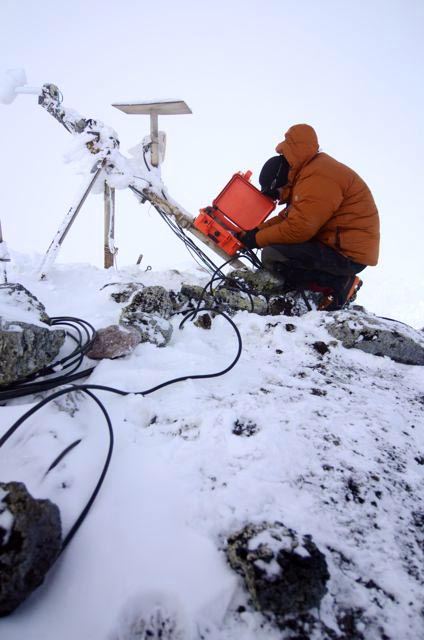 Photo Credit: Larissa Min
Scientist Nial Peters works on an instrument on the rim of Erebus volcano.
"I'm interested in the world, the issues of the world. I'm experimental because I like to push genres," explains Min, just back to McMurdo Station

from Mount Erebus

, Antarctica's famous volcano.
She has a brief pause before travelling to her next location. One of her first experiences was jumping on a helicopter to the northern end of the McMurdo Dry Valleys

to join a group of geologists studying Antarctica's Jurassic period — plants and environments that existed more than 150 million years ago.
Min is on a whirlwind tour of the U.S. Antarctic Program

, an opportunity funded through the National Science Foundation's Artists and Writers Program

. The two-month immersion in Antarctic culture and science fulfills a decade-long desire to visit the southernmost continent.
The spark that would eventually ignite her trip flared up in 2008 during a return visit to the country of her birth. On a bus journey, she met a young girl whose whole extended family was traveling across the vast breadth of Brazil to the Amazon to find a better living. One of the world's largest remaining wild places is something of a final frontier in the still-developing country.
"I could almost identify with the sort of continental shift she would have to go through from southern Brazil to the middle of the Amazon," Min says. "I could imagine the hardship and the adjustment."
One of Antarctica's most hallowed explorers, Roald Amundsen, helped provide the polar connection. Min had come across a book that had a photo of an Eskimo boy who had been hired by Amundsen during his adventures in the Arctic.
She wondered what the boy thought of this European coming to his land to explore. How would Amundsen's story read if told by this child of the developing world?
A bigger question emerged: Could she do a similar portrayal of the Antarctic? Instead of an Eskimo boy, Min would embody that girl headed to the Amazon.
"The perspective I could bring into it was the developing world's perspective," Min explains.
In the Amazon, economic interests compete against conservation. The Antarctic Treaty System

currently protects the continent from exploitation — but how might those ideals change if it was economically feasible to extract resources? The treaty will come under review in 2048. Themes of conservation and commercial development naturally intermingle.
"This is a situation that is contingent upon compelling economic interests," Min says. "There's so much going on that I can make connections with."
Min connected with her adopted home in New York through books, particularly Upton Sinclair's portrayal of immigrant life in The Jungle. Science fiction and fantasy novels offered an escape growing up and her primary means of learning English. And Shakespeare helped hone her love of words — and her own literary style.
"I love language, so my writing is lyrical. It's very often image-driven," Min says.
The early-career writer says she hopes to develop a both a book and multimedia website with sounds and pictures from her trip to Antarctica that will appeal to a larger audience than might read the book alone. She anticipates a three-year timeline before publishing her mixed-genre narrative.
"Is it going to be a challenge? Definitely yes. I'm used to challenges. I wouldn't want to write something that's going to be easy," Min says.
NSF-funded research in this story: Larissa Min, Antarctic Artists and Writers Program, Award No. 1158961

.