| | |
| --- | --- |
| Photo Credit: Sean Bonnette | The new small-boat pier at Palmer Station in front of the main pier, where the research vessel POINT SUR is docked. The new pier improves safe operation of the inflatable Zodiacs. |
Docked
New pier built at Palmer Station for small boat operations
Posted March 22, 2013
Palmer Station

is located on Anvers Island, where there is no airfield for supply planes to land. Instead, Palmer has a pier, used primarily by the research vessel Laurence M Gould

, which serves as the station's cargo, fuel and personnel transport.
The marine-based research station, located off the western edge of the Antarctic Peninsula, also relies on Zodiacs for scientific work around the region. The small inflatable boats now have a home of their own at Palmer.
Zodiacs are much too small to be loaded and unloaded using the station pier. Until recently, equipment and science samples would be put in the Zodiacs by hand, across the rocky, wet and uneven shore. This left anyone who was doing equipment and sample transfers open to slipping on the rocks.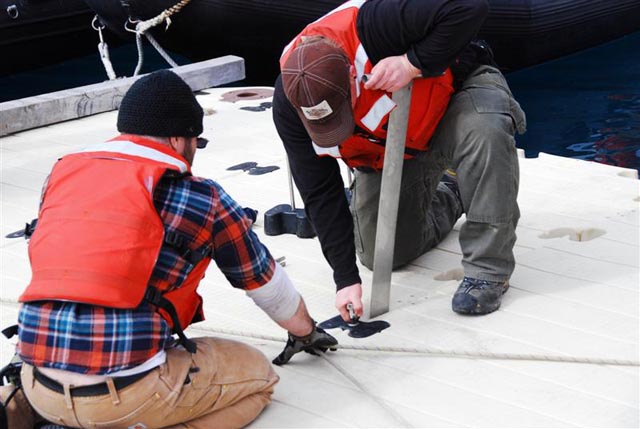 Photo Credit: Dan Bronk
Palmer Station personnel Bill Burns and Sean Bonnette work on the Palmer Station small-boat pier.
That changed this year following a review in 2012 of the station by a panel appointed by the National Science Foundation

and the White House

, as part of a larger initiative to evaluate the operations and infrastructure of the U.S. Antarctic Program

. [See previous article — Capital improvement: Blue Ribbon Panel recommends major investment in USAP infrastructure.]
During January, station personnel put a new floating dock system into place. Rather than install the dock in place of the usual loading area, referred to as rock star, the dock was installed next to the boathouse below a set of existing stairs.
Before the dock could be installed, some of the rocky shoreline needed to be altered. In November, station personnel used air-powered drills and jackhammers to remove rocks and install support posts.
The dock is constructed of several sections of plastic about the size of a sheet of plywood and about a foot thick. In order to connect each piece together, they were launched at rock star and held in place with ropes while the connecting ties were secured.
Once the main section was complete, a SkyTrak was used to lift the massive support arms into position. The project had a few snags, but in the end, thanks to the ingenuity of the Palmer crew, we were able to finish and secure the dock.
Science groups returning from Zodiac expeditions — whether collecting ocean water for sampling or visiting nearby penguin colonies — are now able to unload onto a flat, level surface after a day's work. The boathouse and station lab are just steps away, turning a once tricky maneuver into a much simpler and safer operation.
The floating dock was just the first step of the project. Also part of the recommendation from the panel is to install a boat ramp, which will be completed over the 2013 winter season. Once the boat ramp is in place, loading the Zodiacs into the water will also improve safety.