| | |
| --- | --- |
| Photo Credit: Peter Rejcek | Fuelie Laurel Nelson confirms that a clamp on the fuel line to Pegasus Airfield has been opened. One of the main jobs of the Fuels Department at McMurdo Station is to transfer 100,000 gallons of fuel to the airfield at least once per week in the summer. |
Riding the line
Fuels department at McMurdo Station keeps USAP running
Posted March 29, 2013

There's not much to distinguish the Fuels Department from the other 1960s-era, corrugated metal buildings scattered across McMurdo Station

. Except the smell.
The gas station odor punches one in the nose on entering the barn-like structure. Nearly 20 people are squeezed into a small suite of offices — the fuels operators, better known as fuelies.
Most are outfitted in worn and tan Carhartt jackets or jeans, patched puffy jackets, Swiss-cheesed fleeces. Heavily duct-tapped gloves stick out of pockets as the assembled fuelies wait for the morning meeting to begin.
Today is Transfer Day. About 100,000 gallons of fuel will leave McMurdo and snake through 14 miles of soft hose laid across an ice shelf to the station's main airfield

known as Pegasus.
"Anything that runs on fuel — we move it," says Fuels supervisor Alex Morris, a ginger-haired and bearded man who has worked in the department for about a dozen years, the last five as the U.S. Antarctic Program's

go-to guy on everything fuel-related.
"We're sort of the unsexy side of the program, but nobody misses fuel until it's not there. There's a lot of magic that has to happen in order to get fuel where it needs to be," says Morris, whose philosophical bent comes legitimately from a bachelor's degree in philosophy.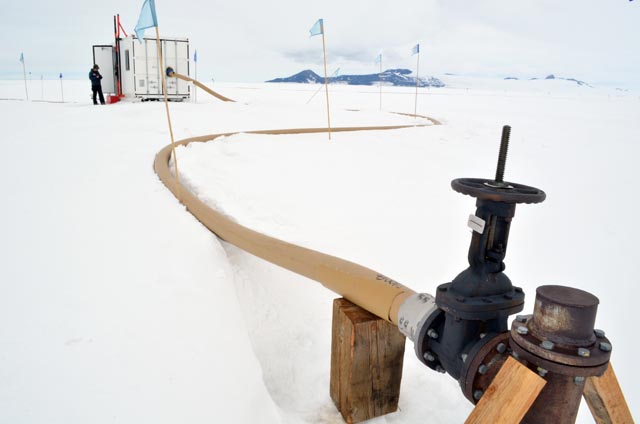 Photo Credit: Peter Rejcek
A hose snakes its way from the Halfway House, where fuelie Phil Jacobsen monitors the progess of the airfield transfer.
The quick-witted head fuelie is all business on this particular morning. Transferring fuel to the airfield is the most intense of the department's weekly duties. A faulty connection or busted hose could turn into an environmental disaster.
"This job has a lot of responsibility. If something goes wrong here, they read about it in the newspapers back home," drawls Phil Jacobsen, a second-year fuelie, a fraying baseball cap on his head, the bill low across his forehead.
This is later at the so-called Halfway House, a secondary pumping station located midway between McMurdo and Pegasus Airfield.
Jacobsen likens the Halfway House to an additional train engine that helps push the fuel the remaining seven miles to the airfield. Two fuelies — Laurel Nelson and Diana Wendt — are riding snowmobiles along all 14 miles of hose, making frequent stops at each connection to ensure there are no problems.
"Pegasus is kind of our big show," says Nelson, a fresh-faced, first-year fuelie who was working for the Forest Service before trading pine-scented woods for gas fumes and frost nip.
It's a tough job to be a fuelie. Most of their time is spent outdoors. The sun may be shining 24 hours a day in the summer, but it's still Antarctica. Early and late season work usually means wind chills well below zero. The main job, of course, is handling fuel throughout the day. One foot of hose filled with gas weighs about nine pounds.
"Basically, we work hard and we play hard," Morris says. "I try to make it fun, because a lot of what we do is miserable."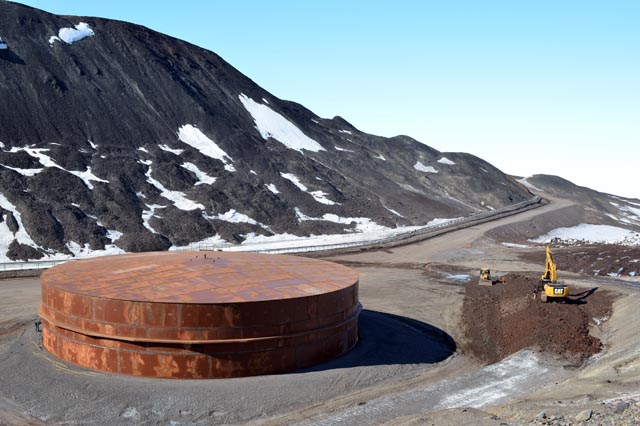 Photo Credit: Peter Rejcek
A two-million-gallon fuel tank was recently constructed at McMurdo Station in 2012-13 to increase capacity.
One could imagine a job ad for the Fuels Department not dissimilar to the one Sir Ernest Shackleton ran for his famous Endurance expedition. Just substitute a few words: "Men and women wanted for hazardous duty. Small wages, bitter cold, long months of completely hard work, constant exposure to fuel and physical labor. Honor and recognition among your peers in case of success."
"It sounds really fun to be on a snow machine every day, but it gets really tiresome," Morris continues. "It's a very physically demanding job. I think people enjoy the outdoor aspect of it — the physical challenge, as well as the mental challenge. You have to be on."
Indeed, there's usually no dearth of candidates for the 20-odd fuelie jobs. There are perks: Many get an opportunity to work at field camps or take a rotation at the South Pole Station

offloading fuel from turbo-propped military aircraft. A stint at the Marble Point helicopter fueling station across McMurdo Sound at the foot of the Dry Valleys

is also a coveted assignment.
The close-knit department even embraces the fossil fuel stink. The fuelie motto: "You can smell us coming."