| | |
| --- | --- |
| Photo Credit: Charles Hood | A South Pole Station airfield worker directs an LC-130. NSF Artist and Writer Charles Hood's South x South celebrates Antarctica's aviation history and unique culture through a series of poems, from the playful to the meditative. |
Airy words
Hood's book of poetry pays homage to aviation in Antarctica
Posted April 12, 2013

Writer and photographer Charles Hood's canon of work is small but diverse, ranging over topics as diverse as the Enola Gay and the Los Angeles River, with an obvious love of history and a poetic sensibility that defies easy categorization. His latest work, South x South, celebrates Antarctica's aviation history and unique culture through a series of poems, from the playful to the meditative.
Hood was the recipient of a 2010 Antarctic Artists and Writers

grant from the National Science Foundation

. He currently teaches photography and writing at Antelope Valley College

in California. He recently responded to an email interview about his new book of poetry, the first of what he hopes will be several projects to grow out from his NSF-sponsored trip to the ice. (Any opinions expressed in this material are those of the author and do not necessarily reflect the views of the National Science Foundation.)
1. Your original project was to write a history on Antarctic aviation. How does a poetry book fit in? Did you start writing these while you were in the ice?
One thing that many people mistakenly assume is that poetry can't contain accurate history, or that a collection of creative writing can't assert and defend a thesis as readily as a book on geology. From the Langewiesche epigraph (which comes from Inside the Sky) to the rather sci-fi, flight-gone-wrong ending, this book is simultaneously a history of aviation, a celebration of it, and a meditation on the sheer ecstatic strangeness of moving through Antarctic airspace.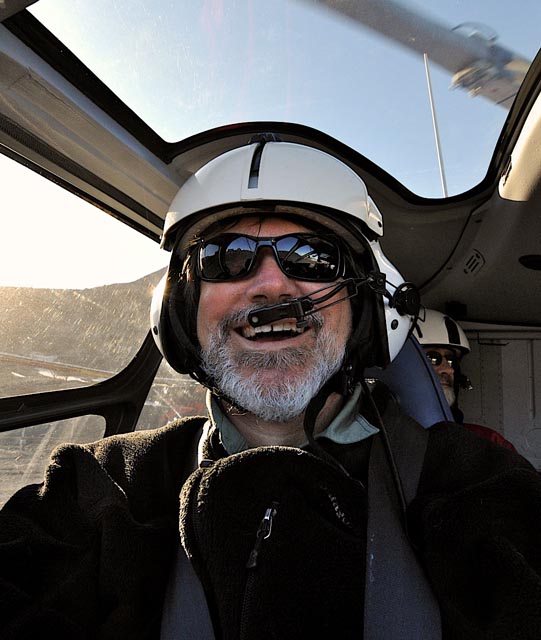 Photo Credit: Charles Hood
Charles Hood inside a helicopter during the 2010-11 field season in Antarctica.
In the end, most books are a compromise between an imagined ideal and a quotidian and commoditized reality. In my case, there was a three-year lapse between my NSF proposal and my fieldwork, and then after that, it took a year to write the book, and then another year before the book came out. In that time the publisher who had initially encouraged me to write a prose book had backed out, and meanwhile I had won a national poetry contest that came with guaranteed publication. This is normal; even at the large trade houses, editors come and go, and projects come and go with them. To me, truth matters more than genre.
A related fact was that it took me a long time to find a voice and pace for this book. It's such a hard experience to process, don't you think? While still at McMurdo [Station]

, one idea I was playing with was an online-only book, one that could alternate between historic photographs (especially from the late 1950s and early 60s) and straight text. That's on hold for now. While South x South is the first project to have been released based on work facilitated by my NSF grant, I certainly hope it's not the last. I have about ten other things still cooking.
2. The subtitle of the book says "poems from Antarctica." Where else are these poems from? There are references to your childhood, history, even a fellow Antarctic poet, Kate Coles.
The subtitle came from my publisher, and that's just simple marketing. They need to let the clerks at a bookstore know which shelf this goes on. For me, the blend of topics makes sense. I can't imagine a single person who voluntarily works in Antarctica who has not been influenced in some way by the legacy of previous explorers and scientists, and by the romantic notion of the "sublime" in landscape. Indeed, for many workers — scientists, support staff, pilots, and artists, all equally — to be on the Ice is to fulfill a childhood dream. Some of us want to play in the Super Bowl, some of us want to be prom queen, and some of us (who knows why!) need to go south — all the way south.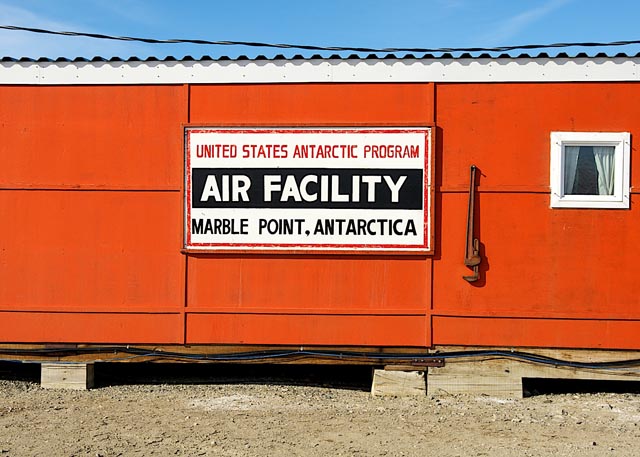 Photo Credit: Charles Hood
The air facility building at Marble Point at the McMurdo Dry Valleys provides a place for helicopters to refuel.
I do want to give a special shout to [Artists & Writers participant] Kate Coles

, who teaches at the University of Utah

. She is a very smart writer and a very wise and kind soul, and she was based at Palmer [Station]

when I was at McMurdo. Initially, neither of us knew about the other's proposal; I benefited greatly from being able to work with her before, during, and after my field time. Our collaboration represents the best of Antarctic studies: I've never been around such a group of hard-working yet open-hearted people, people at all pay grades who always are willing to lend a hand, no matter what the job is. It's a very special tribe, one I feel blessed to have gotten to get to know.
3. What attracted you to Antarctica in the first place?
My wife keeps asking me that — she thinks we're all bonkers to like it there. And for me, it was hardly preordained. I grew up in a working-class household, one without many books. Nobody in my family went abroad unless they had been drafted. Yet one year by accident I was placed into a fast track enrichment program, and once a month we all got bused to a regional science library. In a National Geographic compendium of adventures, I actually read about Adm. Byrd's flight before I knew about Scott and Amundsen. From then on, I was hooked, or perhaps I should say doomed. That was in fourth grade. In time, I left the barrio, and I've never looked back.