| | |
| --- | --- |
| Photo Credit: Anthony Powell | Sound engineers at Park Road studio in New Zealand perform the final sound mix for Anthony Powell's documentary, 'Antarctica: A Year on Ice.' The film will be released this summer after a decade in the making. |
Final countdown
Powell wraps up Year on Ice documentary about Antarctica
Posted May 3, 2013
Anthony Powell has been working on his documentary about the world's coldest continent for about a decade now. Finally, Antarctica: A Year on Ice will start hitting movie theaters this summer.
"It's been quite an experience. It will be weird when it's finally done and out there. It's been an ongoing project for so long," Powell says. "I doubt I'll ever get tired of taking photos, images of Antarctica, even if I wasn't working on this movie."
That was the end of January of this year when Powell was in Wellington, New Zealand, completing the final edits to the film, a labor of love that began during his seven straight seasons of wintering through the dark months of Antarctica shooting time-lapse photography and film.
The project gained additional traction in 2007 when Powell received support from the National Science Foundation's Antarctic Artists and Writers Program

. [See previous article — A year in the life: Powell's time lapse film offers unique look at Antarctica.]
Before then, he had worked as a satellite communications engineer at McMurdo Station

, where he met his wife, Christine, who has helped with the project and is credited as the "second unit" in the film. The Artists & Writers' support offered him access to additional locations around McMurdo Station and to the South Pole

— and to gather footage during the austral summer when the sun shines 24 hours a day.
"There's been more than a sprinkling of Providence" in getting the documentary finished, according to Christine Powell.
Help came last year thanks to an online Kickstarter campaign

that raised more than $50,000 to create a soundtrack with Plan 9 Music

, a Wellington-based company that scores music for film, television and other media. Among its credits is the music for director Peter Jackson's Lord of the Rings trilogy.

Photo Credit: Anthony Powell
Tracked vehicles traverse across McMurdo Sound in the winter to reach the telecommunications facility at Black Island.
In fact, Powell has enlisted some of his country's biggest names in New Zealand's homegrown film industry, based in the capital on the North Island. In April, he began post-production work at Park Road Post Production

in Wellington, which was also involved in the Lord of the Rings films, as well as The Hobbit and District 9. Professional editors and sound engineers have also gotten involved.
"We've basically got some of the top talent in the country. They caught on to what was happening and wanted to be a part of it," says Powell, who already has an Emmy to his credit for his footage that appeared in the BBC documentary series Frozen Planet.
"I've always known [the film] would need outside eyes to look at it and make the hard decisions that I wouldn't be willing to make myself," he adds. "That's the only way it's going to be accessible and easily understood by people who haven't been to the Ice.
"Things that seem common to me may leave other people wide-eyed."
The film focuses on Powell's stunning time-lapse photography, weaving in a narrative that tells what life is like over the course of one year in Antarctica.
"I'm trying to capture the imagery and the impact it has on you — to put people in the experience as much as I can," he explains, emphasizing that the story is told from the perspective of the people who work on the Ice.
Powell created the time-lapse scenes by taking individual still photos on a digital SLR camera, then converting each individual photo into one frame of film. The effect is a time warp. Trailers of the film

show smoke pouring out of the cone of a volcano like foam from a shaken bottle of soda or the Milky Way rotating across the horizon as in a planetarium.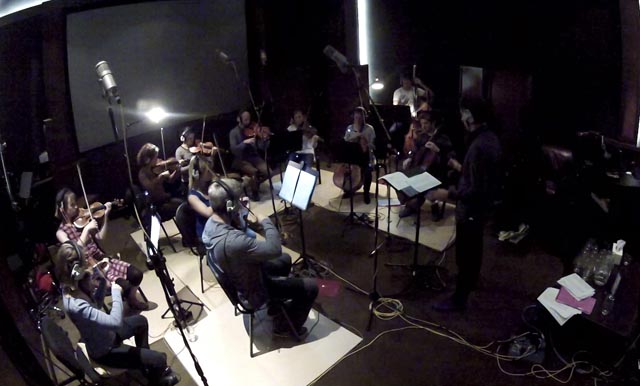 Photo Credit: Anthony Powell
An orchestra performs at Post Road studio to create the musical score for Powell's documentary.
"[Time-lapse] was the only way to actually photograph anything in winter because the technology doesn't exist even today to do anything decent that can capture the winter down there," he notes.
A rough, two-hour version of the film appeared at the first annual Ice Fest

in Christchurch, New Zealand, last year. Powell and his team eventually chopped a half-hour of footage before heading into post-production, partly based on feedback from the audience.
A Year on Ice has already been accepted for the New Zealand International Film Festival

, which will tour the country over the summer. There is some interest in Europe to do a television miniseries, according to Powell, who plans to begin submitting the documentary to other international film festivals.
The film will begin appearing at film festivals across the world from late July onwards, and will also be available through a website called Tugg.com

later this year, which allows communities anywhere in the United States to request a screening at a local theater if enough people reserve tickets.
The Powells were last on the Ice during the 2011-12 austral summer, taking time off to finish the documentary. Powell says he expects the next year of promoting A Year on Ice will continue to keep them off the Ice — for now.
"We're both keen to go back again," he says.
NSF-funded research in this article: Anthony Powell, Antarctic Artists and Writers Program, Award No. 0637614

. For more information about the documentary and Powell's other projects, see his website Antarctic Images

and blog Frostbytes

.