| | |
| --- | --- |
| Photo Courtesy: Christina Hammock | Frost covers Christina Hammock's face in Greenland. The former USAP participant also spent a winter at the South Pole Station in 2004-05. Both she and Jessica Meir seem to thrive in extreme environments. |
Page 2/2 - Posted July 13, 2013
Hammack, Meir thrive in extreme and remote environments
Her career orbit remained not far from NASA in the ensuing years.
After getting a Master of Space Studies degree from the International Space University

in Strasbourg, France, she spent three years at Johnson Space Center

in Houston where she worked for Lockheed Martin

supporting NASA's Human Research Program

facility. Experiments involved physiological studies on how the human body responded to life in space, from muscle atrophy to microgravity effects on the cardiovascular system.
"That was a really interesting time, because we weren't doing the same thing every day," Meir said.
During that period Meir also became an aquanaut, spending five days in Aquarius

, an undersea research laboratory as part of the joint NASA-NOAA NEEMO (NASA Extreme Environment Mission Operations) 4 Expedition

.
"That reinvigorated my interest in marine biology," said Meir, who learned to scuba dive while an undergraduate at Brown. "I became literally immersed in the marine environment."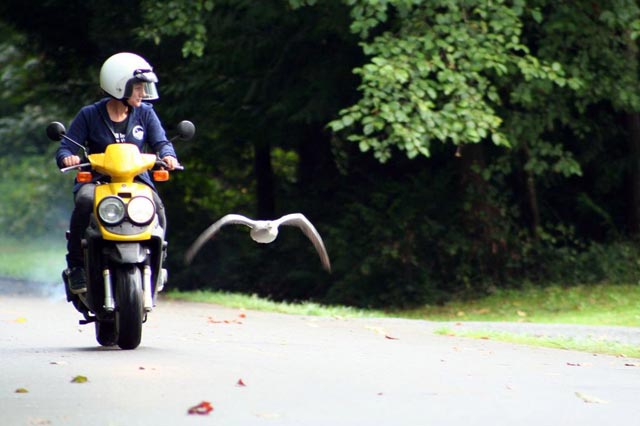 Photo Courtesy: Jessica Meir
A bar-headed goose flies alongside Jessica Meir during a training exercise for a project studying the waterfowl's ability to migrate across oxygen-starved environments.
That led her across the country to the University of California-San Diego's Scripps Institution of Oceanography

where she worked under Paul Ponganis and Gerald "Jerry" Kooyman

, two of the world's leading experts on emperor penguin physiology.
"I've been very lucky to have these amazing mentors in my life, and Paul Ponganis and Jerry Kooyman — two legends of the Ice — really played that role for me. They're not just top-notch scientists but amazing people," Meir said.
She made four visits to the Ice between 2004 and 2008, focusing on blood oxygen depletion in diving emperor penguins. Her research included similar work on elephant seals in California. Emperor penguins are able to dive almost 30 minutes at a time without surfacing, while elephant seals can hold their breath for about two hours.
"We started looking at those animals because they're most likely to have the most extreme physiological responses and adaptations, because they really are the extreme of the extremes of the diving world," Meir said.
She also returned to the Ice in 2009 on a 10-day trip as part of a dive team with the Smithsonian Institution

to evaluate and test scuba regulators and other diving equipment for the under-ice diving environment.
Post-doctoral work sent her north to the University of British Columbia

in Vancouver and to yet another extreme, studying bar-headed geese, which are capable of flying at high altitudes while migrating over the Himalayas. Meir and her team wanted to learn how the waterfowl maintained flight in such an oxygen-starved environment.
Those experiments required Meir to be more than just a scientist. She would need the cooperation of a wild animal that she couldn't follow across the world's highest mountain range. Instead, the controlled experiment would require a wind tunnel and the need to instrument a cooperative subject to measure its physiological responses.
Meir took advantage of an evolutionary quirk in which waterfowl like the bar-headed goose imprint on the first thing they see. "They imprinted on me. That was one of the coolest parts of the project — becoming mother goose," she said.
Now the scientist who has spent much of her career studying biology in extreme environments hopes to go to the edge of human endurance herself — outer space.
"When I'm the most stimulated and personally fulfilled is when I'm in an environment with both this mental and physical challenge," she said. "I can't imagine a career that would encapsulate that better than being an astronaut. That's overwhelmingly attractive to me."
Hammock expressed a similar sentiment. Many of her assignments have included long months of isolation in both Greenland and Antarctica. Those experiences encouraged her to apply to the astronaut program.
"I was sure I could thrive in situations with few people and in isolation. I mainly learned that in Greenland. We had only five people for three months [at Summit Station

]," she explained.
Both women and the rest of their class have about two years of training in front of them before they become flight eligible, which will require yet more work before they can launch into outer space. Where will they go? The International Space Station

? An asteroid? Mars?
"I'm really excited about the potential to contribute to research on the space station," Hammock said.
Added Meir, "I'm really just incredibly excited to play a role in NASA's human space flight program."