| | |
| --- | --- |
| Photo Credit: Gareth Weaver | Cargo is unloaded from an Australian Antarctic Division Airbus A319 at Pegasus Airfield on Sept. 8. Three flights brought about 100 people to McMurdo Station in the first week of September. The summer field season begins Oct. 3. |
Season opener
Two-phase winfly operation helps prepare McMurdo for 2013-14 summer
Posted September 13, 2013
The skies above McMurdo Station

once again buzzed briefly with activity, as the prologue operation to the 2013-14 summer field season in Antarctica made five successful flights in August and September.
The first plane to touch down at McMurdo Station's Pegasus Airfield

in five months landed on Aug. 15, ending the winter isolation for 141 people.
The U.S. Air Force

C-17

carried about 50 people south to the main hub of the U.S. Antarctic Program (USAP)

, which is managed by the National Science Foundation (NSF)

. A second flight, also using night vision goggle capability and carrying only cargo, followed a couple of days later.
The two flights represented the first phase of what's known as winter fly-in, or winfly, when a vanguard of support personnel arrive at McMurdo to help prepare the station for the busy Antarctic research season, which begins in October and runs through the end of February.
A U.S. Air Force C17 at Pegasus Airfield in 2011.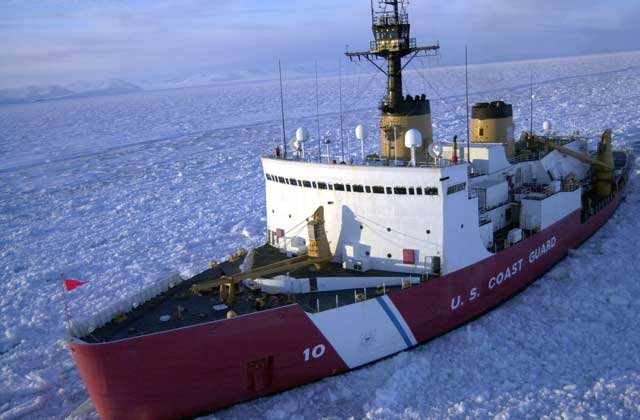 The USCG POLAR STAR cuts a channel through McMurdo Sound in February 2005.
Three more flights carrying about 100 people arrived the first week of September, using the Australian Antarctic Division's Airbus A319

. The next flight won't be until Oct. 3, when a Royal New Zealand Air Force B-757 will kick off the 2013-14 field season. New Zealand's Scott Base is co-located with McMurdo on Ross Island, about two miles apart.
Flights using various airframes during the first week or so of the main season will continue to operate out of Pegasus Airfield, located about 14 miles from McMurdo Station on the permanent ice shelf. Airfield operations will shift to the Sea Ice Runway closer to McMurdo on Oct. 9 through the end of November, and then return to Pegasus for the remainder of the summer field season.
The Air Force C-17 cargo planes will swoop back on Oct. 9, with the last of the mighty military jets for 2013 leaving McMurdo on Nov. 22. They will return by Jan. 27, leaving a gap in heavy air support. Smaller airplanes, including airframes from South Africa, with limited space for passengers and cargo, will be use for about two months.
Flights within the continent will also be limited this season. The New York Air National Guard's

ski-equipped LC-130

will remain the workhorse of the USAP. Five of the cargo planes will be based at McMurdo, with a sixth aircraft stationed at Christchurch. There will be no more than three intracontinental flights per day, with the goal of launching all aircraft within a three-hour window.
South Pole Station

will see fewer flights, which carry fuel and cargo for the remote research base. The shortfall will be made up through overland traverse. For the first time, the tractor train will attempt three visits between McMurdo and South Pole this season. The tractors pull sleds with fuel bladders — a more economical and fuel efficient way to resupply the station than through the air.
The U.S. Coast Guard

icebreaker Polar Star

will be back in action, clearing a channel for the annual fuel and cargo vessels to reach the station, after a $90 million refurbishment.
The Polar Star had been out of commission since 2006. Its sister ship, the Polar Sea

, experienced engine failure in 2010. For several years, the USAP has relied on foreign icebreakers from Sweden and Russia to help cut through the sea ice that fronts McMurdo Station.
As always, a busy research season is planned.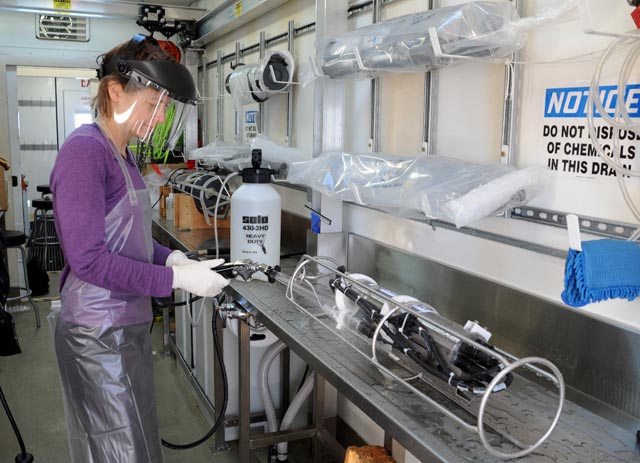 Microbiologist Jill Mikucki from the University of Tennessee cleans an instrument for the Whillans Ice Stream Subglacial Access Research Drilling (WISSARD) program.
Topping the list is the Whillans Ice Stream Subglacial Access Research Drilling (WISSARD)

program, which is returning for a second season. Last year, researchers made history by drilling through nearly a kilometer of the West Antarctic Ice Sheet into a subglacial lake. Initial results suggested they had found microbial life in one of the most extreme environments on the planet. [See previous article — Life under the ice: WISSARD team discovers evidence that bacteria live in Lake Whillans.]
Other major research projects will also be taking a look below Antarctica's ice sheet — but from the air.
McMurdo will host the NASA

airborne campaign called IceBridge

in October. IceBridge is a six-year mission that began in 2009. A NASA aircraft is used to fly sophisticated instruments that monitor and measure ice shelves, sea ice, glaciers and ice sheets in Antarctica and Greenland. Previous mission across Antarctica had been based out of Punta Arenas, Chile. [See previous article — NASA IceBridge: Airborne campaign over Antarctica to continue critical ice measurements.]
Meanwhile, the Center for Remote Sensing of Ice Sheets (CReSIS)

, an NSF-funded Science and Technology Center, will test an advanced autonomous aerial vehicle, as well as fly its specially developed radar systems aboard small field aircraft. Some of the instruments flown by IceBridge were developed by the engineers at CReSIS, which is based at the University of Kansas.
Research will also continue in fields as diverse as climate change, polar biology (think penguins and seals), and astrophysics.