| | |
| --- | --- |
| Photo Credit: Jesse Peterson/Antarctic Photo Library | An aerial view of the South Pole Station, where the summer populaton has dropped from more than 250 peole as recently as 2011-12 to a projected 150 in 2013-14. |
Page 3/3 - Posted October 4, 2013
Growing into the future
The 2013-14 season at South Pole is just around the corner. The plan is to cap the population at about 150 people.
"I think we can get small," Coughran said.
He has a few things working in his favor.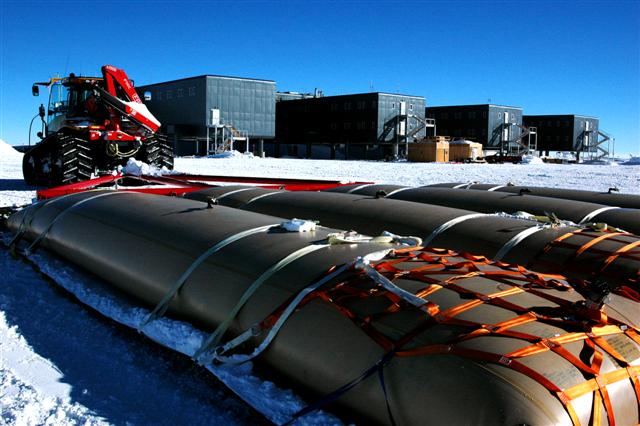 Place caption here.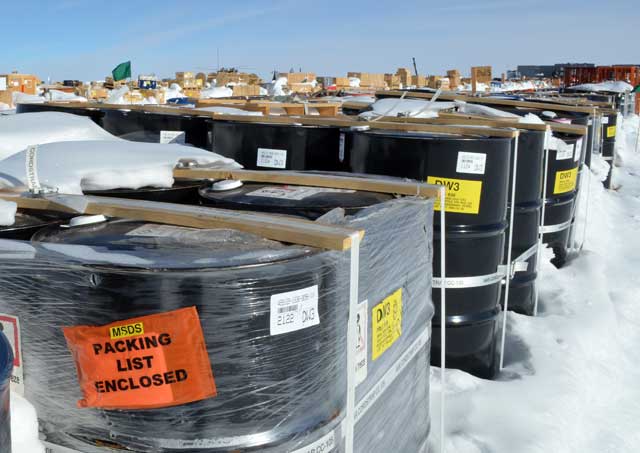 Photo Credit: Peter Rejcek
About 125 acres of used and unused materials await to be transported north from the South Pole.
In recent years, the South Pole Traverse has proven itself to be a reliable way of transporting fuel and some limited cargo from McMurdo Station

. The traverse uses tracked Caterpillar and Case tractors to haul bladders of fuel and sleds of cargo across about 1,000 miles on a snow-compacted trail. [See previous article — Ultimate Road Trip: South Pole traverse covers 3,500 miles during the 2012-13 season.]
"It's a big change," Coughran noted. The traverse reduces the amount of flights that are needed to deliver fuel, allowing the station to operate on a single day shift rather than a full 24-hour tempo.
One drawback thus far has been moving oversized cargo overland, he explained. A decade-worth of unused construction material sits on raised berms less than a mile from the station, alongside rows of other materials that have accumulated over the years.
There's about 125 acres of "stuff" waiting to be moved north, according to Martinez. "Space has always been an in issue here," he said.
Snow is also always an issue. Some outlying science buildings are slowly being swallowed by the inevitable drift.
NOAA's Atmospheric Research Observatory

will need to be jacked up sooner rather than later. Antarctica's blowing snow is also engulfing the Balloon Inflation Facility, which is used to launch balloons that carry weather and ozone instruments into the atmosphere.
Fortunately, there are no plans to add more major science projects to the South Pole Station footprint in the near-term. Last year, an antenna array that monitors auroral activity called SuperDARN

was built not far from the station, but little else is scheduled.
In reality, there's no place to plug in another project, according to Sullivan.
"We are definitely making a shift to operations and maintenance science," he said. "We're really power limited. We couldn't take another SPT or IceCube."
In fact, Coughran would like to see the station footprint shrink further by consolidating buildings and operations – breaking down the departmental barriers that went up as the station population climbed. He would prefer to go back to the days when work was more goal-oriented than job-oriented.
"Once we shift those paradigms, I think we can operate with a lot fewer people," Coughran said. "We'll have some fine-tuning to do in the coming years."