| | |
| --- | --- |
| Photo Credit: Montague Smith/Wikipedia | An Air New Zealand Boeing 767-300 in the air. A similar aircraft is scheduled to land at McMurdo Station later this month as a proof-of-concept. If successful, passenger movement during the beginning and end of each austral summer between Antarctica and New Zealand may be done by commercial aircraft. |
Test flight
Air New Zealand trial run at sea ice runway scheduled in November
Posted November 8, 2013
Every austral summer a mix of different aircraft land at McMurdo Station

, from military jets like the U.S. Air Force

C-17 Globemaster III

to ski-equipped LC-130

cargo planes flown by the New York Air National Guard

and even the Australian Antarctic Division's Airbus A319

.
A possible addition to that Antarctic ad hoc fleet may some day include a commercial airliner. An Air New Zealand Boeing 767-300 is scheduled to land in Antarctica on Nov. 13, as part of a feasibility study for using commercial planes to support research on the southern continent.
The Boeing 767-300 will land near McMurdo on a temporary runway built on sea ice. The airplane, which will originate from Auckland, will not carry passengers. However, if deemed successful, the plane may return in mid-February for two additional flights to ferry passengers from McMurdo back to New Zealand.
The test flight is a joint effort between the U.S. Antarctic Program (USAP)

, which is managed by the National Science Foundation (NSF)

, and Antarctica New Zealand

. The two nations operate year-round stations on Ross Island, about 2,700 miles from New Zealand.
"This is a chance for [Antarctica New Zealand] to offer a new capability to the joint logistics pool," said Paul Sheppard, Operations and Logistics Systems manager for NSF's Division of Polar Programs

.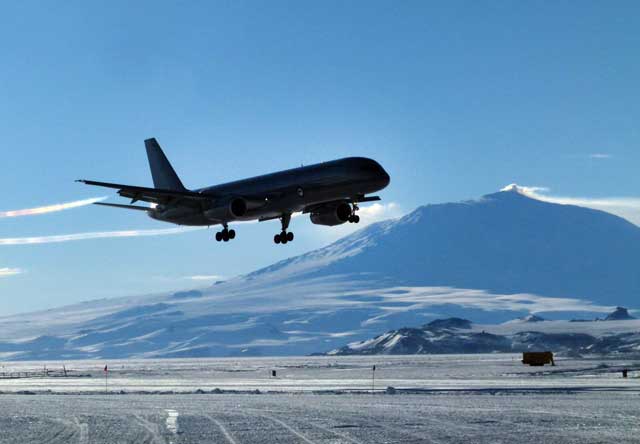 Photo Credit: James Pappas
The first flight of the 2013-14 summer field season was a Royal New Zealand Air Force 757 on Oct. 3. In the background is Erebus Volcano.
The Royal New Zealand Air Force (RNZAF)

currently flies a Boeing 757 and Lockheed C-130 Hercules as part of the air support for the two national Antarctic science programs. The U.S. Air Force primarily uses the Lockheed C-17 Globemaster III for carrying both people and cargo between Antarctica and New Zealand.
"This will fundamentally change our capability on the ice. Unlike the RNZAF 757s, which currently fly to Antarctica, the Air New Zealand 767 can make a return trip without refueling," said Antarctica New Zealand Board Chairman Rob Fenwick in a press release

. "Working with Air New Zealand could provide the New Zealand and United States national Antarctic programs with more operational flexibility."
The Boeing 767 would be used mainly to move passengers, according to Sheppard, a retired U.S. Air Force colonel who was previously part of Operation Deep Freeze, the military's codename for its support of the USAP. Operation Deep Freeze involves U.S. Air Force, Navy, Army and Coast Guard forces in Antarctica, primarily for transportation and logistics.
"Passenger jets are more efficient for passengers and cargo jets are better with cargo," Sheppard said. "We still don't know if there will be substantial savings, but we hope to cut the cost of moving passengers by 25 percent."
Each 767 flight could offset about 1.5 C-17 missions, he added, which would allow the USAP to load the Air Force planes to capacity with cargo.
"We hope to use the 767 for the season opening and closing during passenger surges," Sheppard said. "That is the only time of the year that we can fully utilize the plane's passenger-carrying capacity."
The Boeing 767 can carry about 200 passengers versus the Air Force's C-17, which maxes out at about 120 people. The 767 can also carry significant cargo loads in its lower cargo compartment, Sheppard noted.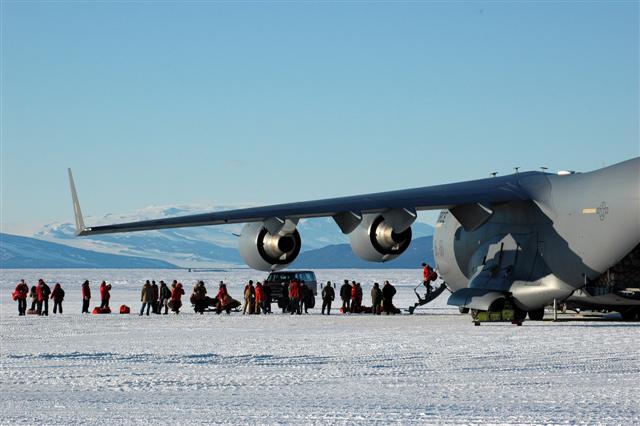 People deplane from a U.S. Air Force C-17 at Pegasus Airfield in 2011.
"We will try using their aluminum shipping containers in February," he said. "We'll rehearse ground operations with those same bins on the proof of concept flight in [November]."
The test flight was originally scheduled to take place in October, but the partial U.S. government shutdown last month delayed the trial run. In addition, a RNZAF Boeing 757 had a close call in early October when bad weather delayed landing in Antarctica by more than two hours

.
The first commercial flight to the coldest continent was actually back on Oct. 15, 1957, when the military chartered a Pan American Boeing 377 Stratocruiser, which carried 37 passengers to McMurdo. The flight included two women flight attendants, the first women to visit McMurdo. (Women wouldn't return to the station for another 12 years.)
The Pan Am aircraft was equipped with a new gyrocompass rather than the magnetic compasses that were prevalent. Navy officials said at the time that the flight was intended to show the feasibility of commercial flights to Antarctica.
Air New Zealand briefly operated touristic sightseeing flights to Antarctica in the late 1970s before a tragic accident on Nov. 28, 1979, when a McDonnell Douglas DC-10-30 crashed into Mount Erebus, killing all 257 aboard. [See related article — Erebus medals: Americans honored for role in New Zealand air tragedy 30 years ago.]
The first flight of the 2013-14 season, a RNZAF 757, landed at Pegasus Airfield on Oct. 3. The first C-17 of the season landed on Oct. 9 at a temporary runway on the sea ice closer to McMurdo Station.
The New York Air National Guard, which flies the ski-equipped LC-130 primarily for intracontinental flights to the South Pole Station

and field camps, began operations on Nov. 1. The Guard will also serve as the primary transportation between New Zealand and Antarctica from December through mid-January during the so-called "gap" when the C-17s aren't flying during the middle of the field season.