| | |
| --- | --- |
| Photo Credit: Freddie Spainhouer | McMurdo Station, circa December 1955, before it became the largest research base in the U.S. Antarctic Program. The photo was taken by Freddie Spainhouer, now 90 and living in Dallas. His son, Steven, recently donated the image to the USAP's Photo Library. |
Memory of McMurdo
Photo surfaces of USAP's largest research station from 1950s IGY era
Posted January 30, 2014
The scanned black and white image shows that the left corner of the photograph had been folded over a couple of times. Four large tents sit on the snowy surface at the right. Three smaller ones are grouped to the upper left. What almost looks like a VW van outfitted with tractor tracks is parked near one of the large tents.
This is McMurdo Station

, circa December 1955. The U.S. Navy Task Force 43 had only just arrived at Ross Island. Its mission: Establish a base camp to support research for the International Geophysical Year (IGY)

, a global scientific campaign that focused on the polar regions.
The Navy referred to the mission as Operation Deep Freeze (DF)

, under the command of Rear Adm. George J. Dufek. More than 1,800 men took part in DFI – including Freddie Spainhouer, the photographer who snapped that nearly 60-year-old photograph.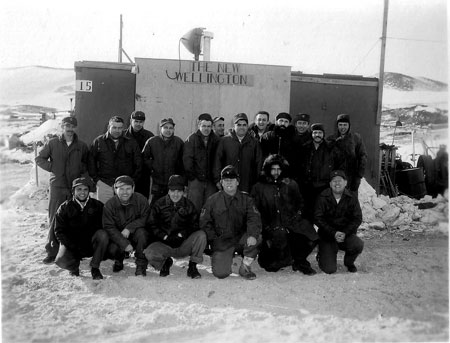 Some of the first McMurdo winter-overs in 1956, including Freddie Spainhouer, fourth from the left standing.
His son, Steven Spainhouer of McKinney, TX, recently donated the image to the U.S. Antarctic Program's

photo archive. The Antarctic Photo Library

contains about 6,000 photographs, from historic snapshots like Freddie Spainhouer's to photos of penguins, planes and the polar plateau.
"[Dad] shared this photo with me this past weekend, a photo that he took before there were any permanent buildings at McMurdo. I thought I'd pass it along for your photo archives," Steven Spainhouer said in an e-mail earlier this year.
The first wave of construction for IGY started in 1955 at McMurdo Station and Little America V. McMurdo was not originally intended to be a major scientific base in its own right. It was primarily an airfield for the planes that would fly to the South Pole to establish a base there the following year.
Little America V would be the country's primary scientific station, as well as the staging area for the crew building Byrd Station farther inland. It wasn't until after December 1959, when Little America was closed, that McMurdo evolved into the main U.S. station.
Freddie Spainhouer was a naval photographer for DFI and was among the 93 men who spent the first winter in McMurdo in 1956.
"Dad was handpicked as the staff photographer by the late Adm. [Richard E.] Byrd to go on the first expedition to Antarctica," Steven Spainhouer said in his e-mail. Byrd had been America's preeminent polar explorer, and he took part in the early stages of Operation Deep Freeze before he died at the age of 66 in March 1957.
Freddie Spainhouer, who turns 91 in February and lives in Dallas, was a Navy Master Chief photographer – a rating that no longer exists, according to Steven Spainhouer.
Freddie Spainhouer's tour of duty in Antarctica wasn't without incident, Steven Spainhouer said. His father was in a plane crash and was thrown free of the de Havilland Otter during the impact. He suffered a herniated disc that eventually required surgery.
"Dad has his Antarctic Deep Freeze Association certificate proudly hanging over his desk at home," Steven Spainhouer said. "Right next to [it] are photos of the crashed [de Havilland] Otter, but he doesn't need the photos to remember. He walks with a stoop because of his back problems."
Still, the elder Spainhouer fondly remember his Antarctic experience. Steven said later during a follow-up e-mail: "I think Dad will get a huge lift when he hears from you or anyone that knows about Operation Deep Freeze I."