| | |
| --- | --- |
| Photo Courtesy: Gary Cardullo | Warm temperatures and dirt have caused melt problems at Pegasus Airfield white ice runway, which is used by wheeled aircraft. Sky-equipped aircraft are still able to use a compacted skiway (not pictured) for takeoff and landing. |
No fly zone
Melt issues at airfield delay wheeled aircraft, shift airlift burden to LC-130s
Posted January 24, 2014
Blue skies and above-freezing temperatures around McMurdo Station

since the end of 2013 and through the first half of January may be a dream for those working a summer season in Antarctica – but it's a nightmare weather scenario for an airfield built on ice.
Severe melt issues at Pegasus Airfield's

white ice runway have caused the postponement of all wheeled aircraft until at least February. A little more than 1,200 feet of the approach end of the primary 10,000-foot-long white ice runway has turned to water up to a foot in depth in places.
A separate compacted snow skiway at Pegasus accommodates airplanes such as the New York Air National Guard's LC-130 Hercules

or smaller turboprop planes called Twin Otters. Those aircraft use skis rather than wheels to take off and land.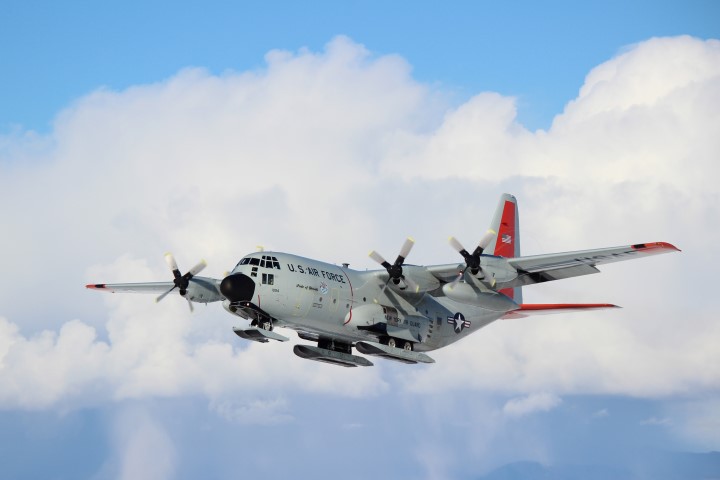 An LC-130 prepares to land at Pegasus Airfield skiway on Jan. 13, 2014.
"The skiway remains in relatively good condition due to the Fleet Operations heavy equipment operators' hard work," said Gary Cardullo, airfield manager for the U.S. Antarctic Program (USAP)

, which is managed by the National Science Foundation (NSF)

.
Dirt periodically blown in from nearby Black Island also compounded the problem at the ice runway, according to Cardullo.
"It's just heat and dirt," Cardullo said. "Dirt is not friendly to a compacted ice runway."
Weather data for the first half of January 2014 shows that the maximum temperature for 12 of 14 days got above freezing, including a streak of four days, Jan. 3-6, when temperatures climbed above 40 degrees Fahrenheit.
The high was 43.2 degrees Fahrenheit on Jan. 3. The average maximum temperature for January is 30 degrees Fahrenheit. The record high temperature for January is 55.4 degrees Fahrenheit, set in 1987.
Cardullo said the white ice runway officially shut down for wheeled aircraft on Jan. 3.
"It went quick," he noted of the ice runway, which consists of a four-inch, highly compacted snow cover capable of supporting the high contact pressure of the C-17 and other large wheeled aircraft.
A similar scenario played out during the 2012-13 field season when a "perfect storm" of warm temperatures and a big blow of dirt from Black Island caused disruptions at Pegasus for nearly two months. [See previous article — Bumpy ride: Melt issues at airfield, snow roads disrupt transportation at McMurdo.]
By March 2013, about 80 percent of the runway had been repaired, but it wasn't until November that the airfield had been completely repaired.
"It's heartbreaking," Cardullo said, referring to the long days worked by heavy equipment operators and others to get the airfield back in shape. He added that it might take a similar amount of time to repair the airfield again.
"We need cold weather," he added. "Our team is focused, and we all will work hard to resume wheeled operations as soon as possible in January or by February."
The impacts to transportation this time around are starting to be felt. Five flights by the Australian Antarctic Division's A-319

, set to begin Jan. 15, have been delayed.
The U.S. Air Force's

C-17 Globemaster III

was still scheduled to land at Pegasus on Jan. 27 at the time of this report, though that date may be pushed to February to allow the runway time to freeze and harden again.
"Historically, things start to cool down again around Jan. 23," Cardullo said.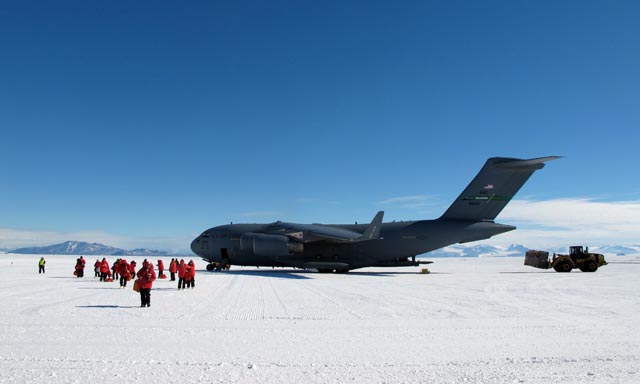 Passengers deplane from a C-17 airplane at Pegasus Airfield in November 2012 before the current melt issues began.
The C-17 can land on what the Air Force refers to as a tactical runway, with a minimum of 8,000 feet long by 90 feet wide. The Airbus requires an airfield of equal length but 10 feet wider.
The lack of wheeled aircraft means the LC-130s will continue to shoulder the workload, which may affect deep-field science support, especially as there are still a number of flights scheduled to the South Pole Station

to complete fuel re-supply. The wheeled aircraft can carry far more passengers than the Air Guard's Hercules aircraft.
Fortunately, the 14 miles of snow roads from McMurdo Station to Pegasus Airfield have remained in relatively good shape. During the previous melt season, the last several miles to the airfield had also deteriorated, with some wheeled vehicles being towed on a sled – nicknamed the "magic carpet" – to Pegasus.
Not so this year. Bill Ames, Fleet Operations supervisor, credited the equipment operators who "groom" the roads for keeping them in shape, as well as the shuttle drivers who must navigate the hour-long-plus ride between McMurdo and the airfield each day. They mainly rely on big trucks called Deltas, sporting wheels nearly as tall as a person, even beating the rubber tires with bats to knock off the volcanic dirt of Ross Island before transiting to the now roads.
"The crews have been doing an awesome job on the roads," Ames said.