| | |
| --- | --- |
| Photo Credit: DigitalGlobe/Antarctic Photo Library | A satellite image of Hut Point Peninsula, Ross Island, shows the Sea Ice Runway at center and Williams Field to center right. |
Page 2/2 - Posted January 24, 2014
Summer season temperatures appear to be normal
Matthew Lazzara

, principal investigator of the Automatic Weather Station (AWS)

project and the Antarctic Meteorology Research Center

, said that his team is still reviewing and awaiting more weather data, but temperatures at Pegasus Airfield in recent years appear to be on par with the longer-term record.
"It may be the warmth runs in waves," said Lazzara at the University of Wisconsin-Madison

by e-mail. "George Weidner in my group recalls that the Pegasus AWS melted out about a decade or so ago in January. So, it sure can get 'warm and melty' out there historically."
Lazzara said Weidner also reported that the ice runway is in an area that was a balance between the snow ablation and snow accumulation. "This zone could be changing due a variety of factors including increased incoming sunshine or [warmer] moist air in the area.
"The cold here in the U.S. makes Antarctica seem mighty appealing," Lazzara added. "It was [minus] 19F at my house in Wisconsin this morning [Jan. 9] – colder than most of the AWS in Antarctica!"
A long-term plan to remedy the situation is still being discussed. One part of that solution may involve reopening Williams Field, which had been the primary airfield for ski-equipped aircraft until the 2009-10 summer season. It became an emergency backup airfield and home to NASA's Long Duration Balloon

facility.
"That's going to take an extensive amount of work to do," Cardullo said of restoring Williams Field, which would involve relocating the LDB facility about two miles away. One advantage of Williams Field is its proximity to McMurdo – it's only about seven miles from the station – which would also save wear and tear on the snow roads to Pegasus. It would also lessen ground transportation time for passengers and cargo.
Airfield operations would likely continue to include a temporary ice runway built on the sea ice in McMurdo Sound near McMurdo Station during the first couple of months of the summer season, which begins in October. It can handle both wheeled- and ski-equipped planes. Pegasus Airfield would be used at the end of each summer for wheeled aircraft.
Blue skies a boon for one science project
The spate of sunny weather that was a bane for the airfield was a boon for one research team that needs cloudless days to perform its high-tech experiments.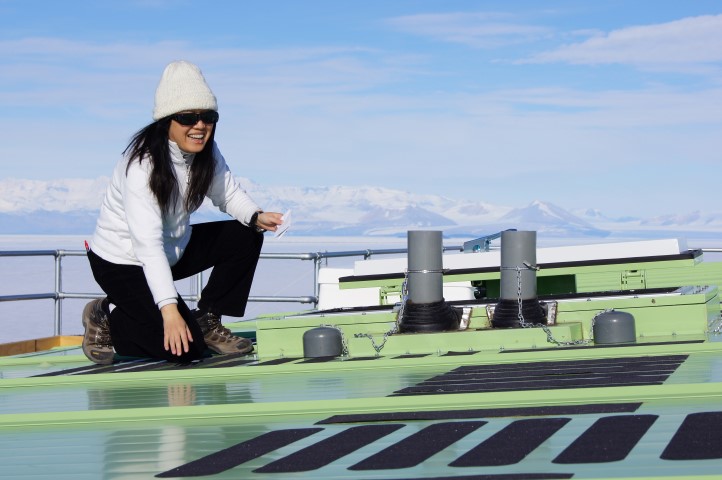 Scientist Xinzhao Chu at Arrival Heights, which houses a LIDAR used to study the upper atmosphere.
Scientists with the Cooperative Institute for Research in Environmental Sciences (CIRES)

and the Department of Aerospace Engineering Sciences

at the University of Colorado at Boulder

is using a special LIDAR system located above McMurdo Station at a place called Arrival Heights to study the upper atmosphere.
The LIDAR sends pulses of light into the sky that can help the researchers, led by principal investigator Xinzhao Chu

, study the chemical and physical characteristics of the mesosphere, lower thermosphere and even higher regions of the atmosphere above Antarctica. [See previous article — Light it up: LIDAR in McMurdo illuminates upper atmosphere characteristics.]
The laser experiment requires open skies to operate. The bluebird skies that contributed to melt at the Pegasus ice runway led to a record run of 174 hours, from 11:30 p.m. on Dec. 29 to 5:30 a.m. on Jan. 6, for the LIDAR, according to Chu.
"Seven days plus six hours of continuous LIDAR observations for middle and upper atmosphere studies in Antarctica – such a record is probably very hard to break," Chu said in an e-mail announcing the achievement. The previous record by Chu's lab had been 80 hours in January 2011.