| | |
| --- | --- |
| Photo Credit: Peter Rejcek | |
Fueling up
Tanker delivers 3.5 million gallons of gas to McMurdo Station
Posted January 31, 2014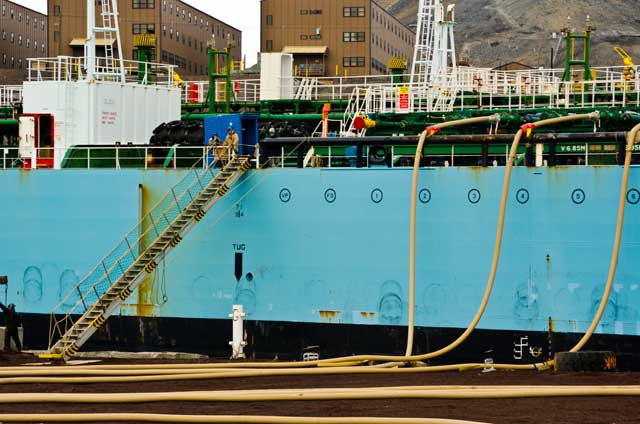 Photo Credit: Peter Rejcek
Fuel hoses snake away from the tanker MAERSK PEARY during offload on Monday, Jan. 27.
The fuel tanker Maersk Peary

, above left, approaches the McMurdo Station

ice pier, escorted by the U.S. Coast Guard (USCG) cutter Polar Star

. Each year a tanker arrives at the U.S. Antarctic Program's

largest research station to deliver enough fuel for both McMurdo and South Pole

stations. This year the station's Fuels department offloaded about 3.5 million gallons of three types of fuel – AN8, JP5 and mogas, for motor gasoline – in about 45 hours.
Mogas is a mid-grade unleaded motor fuel with certain additives that the military requires. AN8 is a special fuel blend unique to the Antarctic and Arctic. It has a lower flash point of 100 degrees Fahrenheit, which also lowers the gelling point when extreme cold temperatures can cause wax crystals to start forming in the fuel. AN8 will remain liquid until about minus 72 degrees. JP5 is also a special fuel blend. It is used by the USCG icebreakers.
The 591-foot-long tanker, named after the famous American polar explorer Robert Peary, is an ice-strengthened, double-hulled ship that can carry 11.4 million gallons of fuel. Chartered by the Military Sealift Command

on behalf of the National Science Foundation

, which manages the USAP, Maersk Peary also supports research in the Arctic, offloading fuel at Thule Air Base

in Greenland.
For more about fuels operations, see the story Riding the line: Fuels department at McMurdo Station keeps USAP running.