| | |
| --- | --- |
| Photo Credit: Jonas Landstrom | Dr. Mark Peterson directs the arrival of patients during a mass casualty incident drill at McMurdo Station during the 2013-14 summer season. The station's medical clinic personnel rely on volunteers to help out in the case of large emergencies. |
Trauma training
Volunteers supplement McMurdo Station's medical staff in emergencies
Posted March 7, 2014
A helicopter crash that injured four South Koreans in December of last year could have easily overwhelmed the small staff at McMurdo Station's

medical clinic.
But thanks to a rotating contingent of medical personnel from the U.S. Air Force

, along with volunteers from the station community, the treatment and evacuation of the four injured persons went as well as could be expected, according to lead physician Dr. Mark Peterson.
"It was one of the reasons it was able to work so smoothly. It wouldn't have worked efficiently without all of those volunteers," Peterson said.
A helicopter reportedly crashed on the deck of the South Korean icebreaker Araon

while near its newly built research base Jang Bogo

, located at Terra Nova Bay

close to Italy's Zucchelli Station

. Injuries included severe burns to at least one of the victims.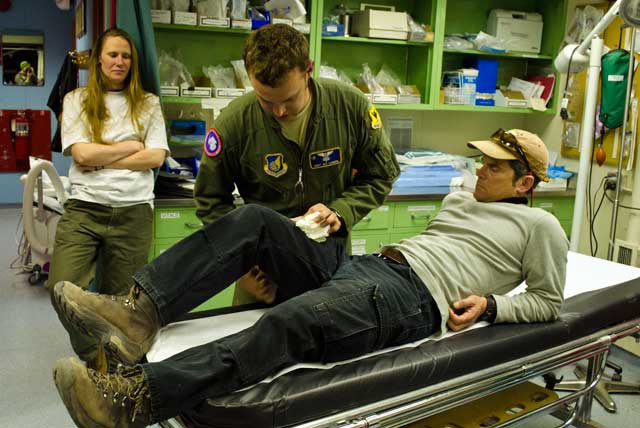 Photo Credit: Peter Rejcek
Staff Sgt. Nic Cardin, U.S. Air Force medic, illustrates how to control bleeding, especially in cold-weather conditions, during a training class for McMurdo Station medical volunteers.
About 20 volunteers turned up to assist with the emergency to supplement the clinic's 11 staff, which includes a military flight surgeon, flight nurse and medic. McMurdo General Hospital, as the facility is informally called, is a three-patient/two-bed emergency room with limited facilities.
"That's a lot of trauma to hit all at once for a facility that doesn't have a lot of resources," Peterson noted. "[The volunteers] knew where to go, they knew their jobs, and they just started doing them."
The clinic had held weekly training in anticipation of a mass casualty incident (MCI) drill that was held in mid-November. In that scenario, there were about a dozen "victims" in a dormitory fire. The clinic staff decided to continue the weekly training sessions after the MCI, drawing a core group of about six to eight people.
The medical backgrounds of the volunteers run the gamut. Some are paramedics. Others are complete novices. Trainings are quite varied, from learning how to start an IV to checking vital signs to doing X-rays and lab tests.
"I've been surprised at just how enthusiastic, helpful and quick studies they've been," Peterson said.
Shannon Keller, a first-year steward from Everett, Mass., had hiked the Appalachian Trail with her husband the previous summer. She said it would have been helpful to have some medical training. She volunteered for the medical auxiliary team, and has continued to attend the weekly training at the medical clinic.
"I've been able to feel more comfortable and confident," said Keller, who spent more than two years in South Korea with her husband, James Lyon, also a steward, a job that splits janitorial duties with stints in McMurdo's dish room. They were called upon to help serve as translators during the December emergency.
Personnel with the U.S. Air Force were also instrumental during that incident. Their specialty is aviation medicine and protocols associated with medical evacuations aboard aircraft.
"There are a lot of physiological changes when you fly," explained. Dr. Andrew Allen, a U.S. Air Force flight surgeon, one of three who rotated through McMurdo Station on special assignment during 2012-13. "The medical equipment has to be configured to work with the airplane."
The U.S. Air Force staff also helps with the daily operation of the clinic, including assisting with the volunteer training. On one Friday in late January, Staff Sgt. Nic Cardin, U.S. Air Force medic, talked about how to control bleeding, especially in cold-weather conditions. He demonstrated various techniques and tools for the volunteers who showed up.
"You don't always have the cool toys available, so you do what you can with what you have, especially here in a mass casualty where you may not have enough bandages and splints to go around," he explained.
Said Annemarie Borden, lead nurse at McMurdo General Hospital, "We have a nice relationship with the Air Force group that helps us out. … We very much appreciate having them here this season."