| | |
| --- | --- |
| Photo Credit: Ron Blevens | |
Coastal erosion
Tip of Hut Point calves off near site of Scott's Discovery Hut
Posted March 7, 2014
Less than a month after a wind storm in McMurdo Sound destroyed the ice pier at McMurdo Station

, the tip of Hut Point Peninsula calved off from Ross Island. The small chunk, above, broke off at the beginning of March. Joseph Levy

, a research associate at the University of Texas at Austin's Institute of Geophysics

, said the event looks like thermo-mechanical block failure, the kind of coastal erosion that now commonly occurs in the Arctic, particularly after large storms in areas with open water. Levy is currently studying permafrost melt in Garwood Valley, located across McMurdo Sound from Ross Island in the McMurdo Dry Valleys

. He said further investigation would be required to determine the exact nature of the break.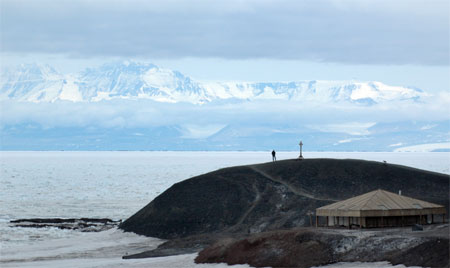 Hut Point Peninsula in 2007.
"It is very Garwood-like," Levy said. [See previous articles — Seeing the light: Rapid permafrost melting in Dry Valleys due to increased solar radiation and Valley of buried ice: Garwood reveals layers of climate history from Last Glacial Maximum.]
Hut Point is an Antarctic Specially Protected Area

under the Antarctic Treaty System

due to the historic significance of the site. Robert Falcon Scott built a small expedition base on Hut Point in 1902 during the National Antarctic (Discovery) Expedition

. A memorial cross also sits on the knob of Hut Point, dedicated to George Vince, who lost his life in McMurdo Sound on March 11, 1902. The New Zealand Antarctic Heritage Trust

recently undertook conservation measures to protect Discovery Hut.