| | |
| --- | --- |
| Photo Credit: David Weimer/www.beyondthebackyard.com | The South Pole Traverse makes its way down the Leverett Glacier in December 2013. The National Science Foundation fiscal year 2015 budget request for the U.S. Antarctic Program includes about $9 million for new equipment for the traverse, which delivers fuel to the South Pole from McMurdo Station. |
Delivering the goods
NSF FY15 budget request earmarks $18.5M to support Blue Ribbon Panel initiatives
Posted March 21, 2014
The National Science Foundation (NSF)

is requesting nearly $7.3 billion for fiscal year (FY) 2015, just a little bit more than a 1 percent increase over the current year budget for what amounts to about a quarter of the nation's total federal support of academic basic research in all science and engineering fields.
"For more than six decades, the core mission of NSF has been to support fundamental research," said NSF Acting Director Cora Marrett on March 9 when she presented President Barack Obama's

FY15 budget request to Congress. "With this budget request, the Administration has conveyed its determination to build on the nation's history of success in leading-edge discovery and innovation."
The proposed FY15 budget for the Division of Polar Programs (PLR)

under the Directorate for Geosciences

remains flat compared to the previous year. PLR is slated to receive about $435 million, about $500,000 more than the estimated FY14 budget, representing an increase of only 0.1 percent, which reflects the total increase throughout the Geosciences directorate.
About $125 million is requested for research in both the Arctic and Antarctic. More than two-thirds of the money for PLR, about $305 million, will go toward infrastructure, facilities and logistics. The U.S. Antarctic Program (USAP)

gets the lion's share of those dollars, with $190 million for contracted support services, which includes everything from operating research stations and vessels to flying helicopters and small fixed-wing aircraft.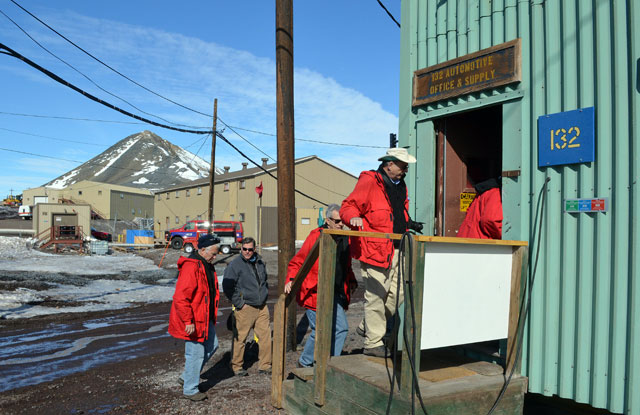 Photo Credit: Peter Rejcek
Members of the Blue Ribbon Panel enter one of the 36 warehouse locations at McMurdo Station in 2011.
Another nearly $68 million goes to the Department of Defense

, mainly to cover transportation costs associated with moving material and people to and from Antarctica, as well as across its vast, icy expanse. Fuel costs, air traffic control and weather forecasting also fall under this line item.
The Antarctic Facilities and Logistics budget includes $18.5 million to support improvements recommended by a 2010 Blue Ribbon Panel

that assessed the current state of the USAP, releasing a report in 2012 called More and Better Science in Antarctica through Increased Logistical Effectiveness. [See previous article — Capital improvement: Blue Ribbon Panel recommends major investment in USAP infrastructure.]
In the report, the 12-member panel, chaired by Norm Augustine

, former chairman and CEO of Lockheed Martin Corp.

who led a similar review of the USAP in the 1990s, identified deficiencies and areas for investment, as well as suggestions on how to pay for improvements in a tough fiscal environment.
The FY15 budget proposes to invest about half of the $18.5 million in equipment needed for the South Pole Traverse (SPoT), a tractor train that primarily hauls fuel between McMurdo Station and Amundsen-Scott South Pole Station

over 1,000 miles of ice. Specifically, the money would purchase equipment required to robotize the SPoT train, allowing it to drive itself, using "robotic" vehicles capable of autonomously following a manned tractor in front of it. [See previous article — Auto pilot: Traverse may employ robotic tractors in the future.]
Another $2 million will be used to upgrade utilities in advance of addressing other future improvements at McMurdo. A project to consolidate warehousing and trade facilities at McMurdo to save money requires the $7 million purchase and shipment of materials to begin construction in FY16, according to the NSF budget request.
"NSF aims to increase the operational efficiency of U.S. activities in the Antarctic … by continuing progress on a multi-year commitment toward more efficient and cost-effective science support as recommended by the U.S. Antarctic Program Blue Ribbon Panel report," Marrett said during her remarks. "Emphases include safety and health improvements, investments with positive net present value, and facilities renewal at McMurdo and Palmer stations.
"Additionally, NSF aims to plan and execute more effective observational approaches to the Antarctic science community, as outlined in the 2011 National Research Council

report, Future Science Opportunities in Antarctica and the Southern Ocean," she added.
The NRC report, chaired by Dr. Warren Zapol at Harvard Medical School

, recommended a continued focus on climate change research with the development of an observation network capable of long-term monitoring of ice, ocean and atmospheric processes around Antarctica. [See previous article — Eye on the future: NRC panel recommends implementing Antarctic observation network.]
Each year, NSF receives about 50,000 proposals, and through its competitive merit review process, awards about 11,000 grants that engage the talents of about 300,000 researchers, postdoctoral fellows, trainees, teachers and students. That support is divided equally among individuals, teams, centers and major facilities.