| | |
| --- | --- |
| Photo Credit: Shelly Finley | Members of the 2014 South Pole winter-over crew carry the flags from the 12 original signatory nations to the Antarctic Treaty inside the station in anticipation of the six-month-long winter season. |
It all adds up
Latest South Pole winter-over crew includes two people with 10 seasons each
Posted April 12, 2014
Some get excited for Oscar nominee lists. Others scrutinize March Madness brackets like they were financial statements.
For the U.S. Antarctic Program (USAP)

, the closest equivalent might be Bill Spindler's

annually update list of South Pole winter-over statistics

. The unofficial historian of everything about the South Pole Station

, Spindler himself has wintered over three times, the first stint coming in 1977 as the winter site manager.
That makes him one of 1,418 people who have wintered over at the South Pole between 1957 and 2014, according to the latest statistics compiled on his website, www.southpolestation.com

, which went live in 1999. By 2004, with the help of another Polie who compiled the data into a spreadsheet, Spindler had established his winter-over database.
"I'm surprised at how anticipated it has become," Spindler said by e-mail. "My Facebook post about it got lots of comments and shares. And, yes, I was bugged about it before I shared it."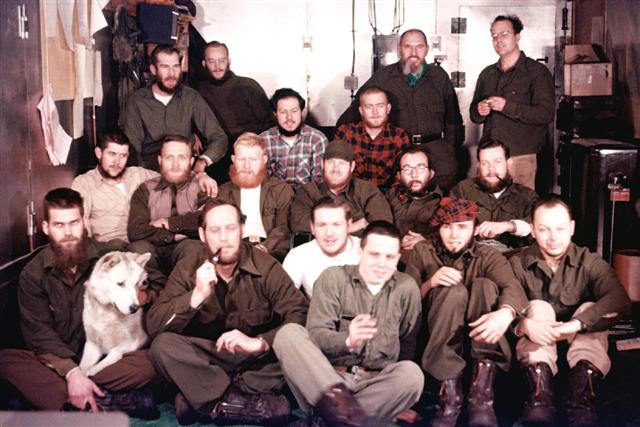 The 1957 South Pole winter-over party with Bravo the dog. Dogs are no longer allowed in Antarctica.
This year there are 41 winter-overs, with eight women joining 33 men. It's the smallest winter-over crew since 1999. The largest winter-over crew was in 2005 with 86 people during the height of construction of the new South Pole Station, which was officially dedicated in January 2008. [See previous article — A new era: U.S. officials join station personnel to dedicate new research facility at South Pole.]
Eleven of the 2014 winter-overs have previously wintered, including Robert Schwarz and Johan Booth, both of whom have wintered 10 times.
"I still love it down here, still love the auroras, and the work is fun and exciting," said Schwarz via e-mail from the South Pole Station, where he oversees the operation of an experiment named SPUD, for Small Polarimeter Upgrade for DASI

.
The telescope is a follow-on to the BICEP (Background Imaging of Cosmic Extragalactic Polarization)

experiment, which made headlines around the world in March when scientists on the collaboration announced they had discovered ripples in space-time that seem to confirm the theory of the rapid expansion of the universe called inflation that is believed to have occurred after the Big Bang. [See related article — Clear signal: Telescope at South Pole detects 'smoking gun' signature of cosmic inflation.]
"[It's] even more exciting after last week's results; it's great to see that we are on the right track, and the data are useful," said Schwarz, now in his fourth consecutive winter. [See previous article on Schwarz — The Ice Man: Schwarz settles in for his eighth winter at the South Pole.]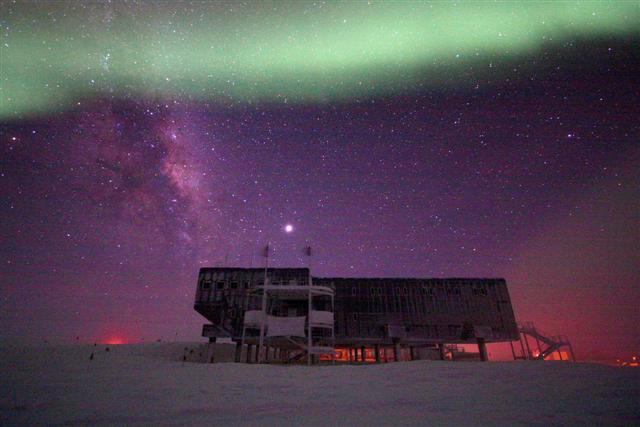 The auroras and star-filled night skies are one attraction to wintering at the South Pole.
Only one other person, Steffen Richter, is close to Schwarz and Booth, with nine winters. He was recently profiled by Science

for his winter-over work on BICEP. Dana Hrubes is next with seven winters, while Barry Horbal has six. Five people are behind them with five winters each. Only one person, Jake Speed, has ever done five consecutive winters – at least for now. [See previous article on Hrubes — Going the distance: One South Pole scientist puts in the miles for astrophysical research.]
Despite Norway being the first nation to reach the South Pole when Roald Amundsen and four compatriots reached the bottom of the world in December 1911, this winter includes the first Norwegian to winter-over at the South Pole – grantee Dag Larsen with the IceCube Neutrino Observatory

. The crew also includes Matthew Krahn from Canada, one of 14 Canadians to winter.
The South Pole winter-over club is a small one, even when measured against other extreme feats. For example, more than 4,000 people have now summited Mount Everest since Sir Edmund Hillary and Nepalese Sherpa mountaineer Tenzing Norgay reached the top of the world in 1953. Incidentally, Hillary led the first party since Amundsen and Robert Falcon Scott to the South Pole in 1957-58.
Perhaps the only more exclusive club of extremes is space travel. As of November 2013, a total of 536 people from 38 countries have gone into space. Only 12 of those have walked on the moon.
The comparison to space travel is not just hyperbole. South Pole Station is isolated from the rest of the world from mid-February to October. Temperatures during the six months of winter darkness can drop below minus 100 degrees Fahrenheit.