For future generations
Effort under way to conserve Scott's first expedition hut near McMurdo Station
Posted April 18, 2014
More than 110 years since it was built on the spit of land that would become known as Hut Point, Robert Falcon Scott's first expedition base is getting an extreme makeover Antarctic-style.
In the case of Discovery Hut

– named after the ship that brought the British naval officer and his team farther south than any before it – conservationists aren't trying to embellish the timber structure of Douglas fir and Scots pine.
"We're trying to make the building weather tight and structurally sound," explains Al Fastier, program manager for the New Zealand Antarctic Heritage Trust

.
A pre-fabricated kit built in Australia for about £360 in 1902, Discovery Hut wasn't exactly the ideal shelter for the Antarctic environment. The walls and pyramid-shaped roof are made up of panels that were never very well secured.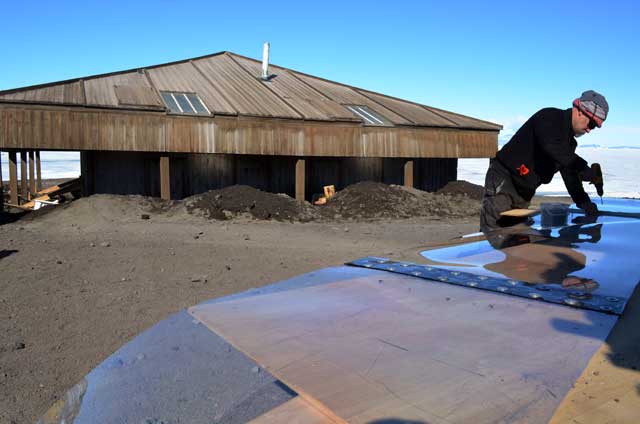 Photo Credit: Peter Rejcek
Al Fastier, program manager for the New Zealand Antarctic Heritage Trust, assembles the polycarbonate dam that was installed in a trench around Discovery Hut to prevent meltwater from getting underneath the building.
Photo Credit: Alasdair Turner
Conservation carpenter Mark "Tank" Adams uses a jackhammer to deepen a trench around Discovery Hut for the installation of a polycarbonate dam.
A verandah better suited to the Outback desert than the polar desert wraps around three sides, intended to be walled in with cases of provisions so the men wouldn't have to go far for supplies in bad weather. The winds are infamously relentless on the point.
"It's surprising that it's lasted this long really," muses Fastier, who sports an overgrown goatee and speaks in a thick Kiwi accent.
Or, as soft-spoken Gordon Macdonald, lead conservation carpenter for the Trust from Vancouver Island, Canada, notes, "You couldn't have picked a worse situation for a hut. It's always miserable here. When the wind rips through the porches, it's like being inside a vacuum cleaner."
Norwegian conservation carpenter Torbjørn Prytz, when asked about the prospect of spending the winter in such a habitation, as some explorers were once forced to do, quips, "I'd rather live in an igloo. They're much better."
Yet the modest 11-meter-square building played a crucial role in Antarctic exploration for about 15 years. It served as science lab, supply depot and even refuge, mainly as men from Scott to Shackleton attempted to make history by being the first to reach the geographic South Pole – or, even more audaciously, cross the entire continent.
"The more you learn about it, the more you realize it's an important hut," says Fastier, who for the last eight years has worked for the Trust as its program manager. He is responsible for planning and executing each season's conservation fieldwork in Antarctica.
The Trust is a New Zealand-based nonprofit organization devoted to conserving the historic structures built during the Heroic Age of Antarctic Exploration at the turn of the 20th century. In 2002, it kicked off its ambitious Ross Sea Heritage Restoration Project to save historic sites from the era.
By the end of the 2014-15 Antarctic summer, Fastier and his team will have completed conservation on not only Discovery Hut, but also expedition bases at Cape Royds and Cape Evans

. [See previous article — Preserving the past: Antarctic Heritage Trust restores Scott's expedition hut at Cape Evans.]
The former was built by Ernest Shackleton during his British Antarctic Expedition 1907-09. Scott established the latter for his second Antarctic adventure, the British Antarctic (Terra Nova) Expedition 1910-13.
"They're very iconic buildings. It's for the international community. The Trust doesn't own the buildings," Fastier explains. Or the thousands of artifacts that a small team of objects conservators have restored and treated for the better part of a decade.
Discovery Hut possesses the fewest artifacts, estimated between 400 and 500 objects, according to Lizzie Meek, program manager of artifacts for the Trust. Items range from biscuit boxes to hand tools to socks.
"The pieces of clothing are some of the nicest objects in a way because of the personal links to the Ross Sea party," Meek says. "You can see handmade trousers and hand-mended gloves. They're really quite beautiful despite being covered in soot."
Members of the so-called Ross Sea Party – a team charged with laying a line of supplies for Shackleton's aborted 1914-17 transcontinental crossing of Antarctica – spent a few miserable winter months in Discovery Hut. By that time, about two-thirds of the building was filled with ice, and greasy black soot covered everything and everyone due to the burning of seal blubber for warmth and lighting.