| | |
| --- | --- |
| Photo Credit: Chris Dean/Antarctic Photo Library | An aerial view of Erebus volcano crater, where in 1979 a tourist flight from New Zealand crashed, killing all 257 people on board. Four former U.S. service members were recently honored for their role in the recovery effort. |
Heroism not forgotten
Additional U.S. personnel honored for role played in Erebus disaster recovery effort
Posted May 2, 2014
Four former U.S. Navy

service members recently received recognition in the role they played nearly 35 years ago in the recovery of more than 250 bodies from a plane crash into the side of a volcano in Antarctica.
New Zealand's ambassador to the United States, Mike Moore

, presented the New Zealand Special Service Medal (Erebus)

to the four men at a ceremony in Washington, D.C., last month, several years after more than a dozen Americans were first recognized during a similar ceremony in June 2009. [See previous article — Erebus medals: Americans honored for role in New Zealand air tragedy 30 years ago.]
The medal was instituted in November 2006 to recognize the New Zealanders and citizens of the United States and other countries who helped with Operation Overdue, the mission to recover and identify the remains of the Erebus victims.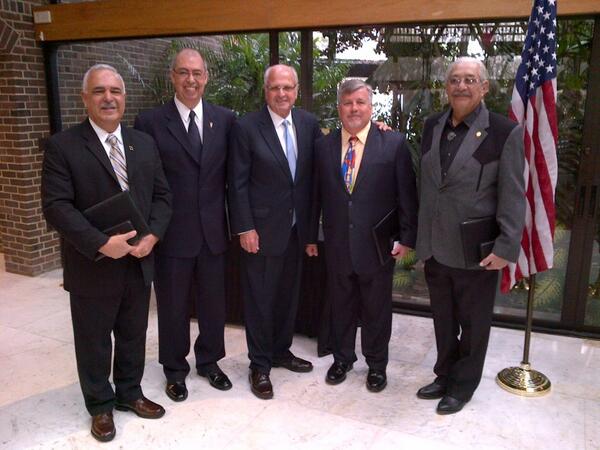 Photo Credit: New Zealand embassy
New Zealand Ambassador to the United States Mike Moore, center, poses with four former U.S. service members who were recently recognized for their role in the recovery efforts following a 1979 air disaster in Antarctica.
Air New Zealand Flight 901, an Antarctic sightseeing plane out of Auckland, had lost radio contact at about 1 p.m. on Nov 28, 1979. Twelve hours later, not long after midnight on Nov. 29, a U.S. Navy plane spotted debris on the lower slopes of Mount Erebus

, an active volcano on Ross Island.
Flight 901 had crashed into the side of the volcano and disintegrated. All 257 passengers and crew died, making it the worst national disaster in New Zealand history.
About 40 Americans are eligible to receive a medal, according to a New Zealand official quoted in a 2009 Antarctic Sun article about the previous medal ceremony. The New Zealand government, working from leads supplied by the U.S. Navy, was still tracking down potential recipients at the time. A further 10 medals were to be presented or issued separately that year.
In late 2012, retired Chief Aviation Electronics Technician Erich Eggers learned that the New Zealand Defence Force was still looking for Americans who had assisted in the recovery effort, according to a Navy Times article

. Through social media, particularly Facebook, Eggers was able to locate four other members from Antarctic Development Squadron Six (VXE-6) who had taken part in Operation Overdue.
The four men who received medals on April 2 included former helicopter pilot Kenneth Becker, search and rescue crewman Robert B. Cox, helicopter crew chief Joseph Madrid and helicopter rescue crewman Hector Rodriguez, according online reports.
"Those of a certain generation of New Zealanders will never forget Erebus. We don't forget those mates who always turn up. You represent the best of New Zealand-American relationships," Moore was quoted to say during the ceremony.
Most of those Americans eligible for the medal were U.S. Navy personnel, which handled most of the logistics for the U.S. Antarctic Program (USAP)

from the 1950s to the 1990s, when civilian contractors took over most science support for the National Science Foundation

. New Zealand's Scott Base

is located only a couple of miles from the USAP's McMurdo Station

.
The cause of the accident is still debated, though whiteout conditions and alterations to the flight plan likely contributed to the crash. The debris and remains from Flight 901 were found just 1,500 feet above sea level on Erebus, which rises 12,448 feet on Ross Island.
The search and rescue party positively identified 213 victims during the recovery operation. The remains of the 44 unidentified people are buried together in Waikumete cemetery in west Auckland.