| | |
| --- | --- |
| Photo Credit: Alasdair Turner | The sea ice appears like a mosaic in early September, with Mount Erebus in the distance. |
Page 2/2 - Posted November 14, 2014
Sea ice expertise requires on-the-job training
Some operations require driving tracked vehicles across McMurdo Sound to the west to resupply field camps. Many of those activities rely on either established routes or reliable reports on the latest ice conditions.
"We're the first ones out of the ice really," notes Alasdair Turner, a mountaineer from Washington state who arrived at McMurdo Station in August to begin the methodical route finding and flagging of the main trail between McMurdo and Cape Evans, a distance of about 14 miles.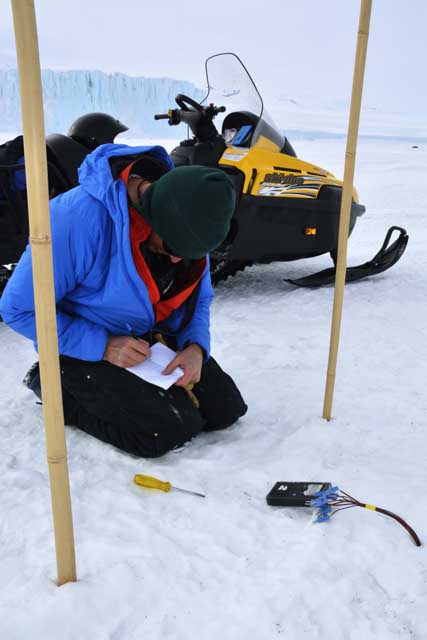 Photo Credit: Peter Rejcek
Mountaineer Ned Corkran records the internal temperature of the sea ice from a probe.
The route can vary year to year, according to Turner, based on several factors. One of the keys is to find the straightest route across passable cracks in the sea ice.
"I like the route to be as smooth as possible," Turner adds.
The route finding during those early weeks of the austral spring – when the sun still sets, casting shades of red and orange across the bone-white ice – involves a lot of driving. Turner collects waypoints with a GPS, marking spots simply as "bad ice" or "good ice," along with data on ice thickness and cracks. All the information is put together to create a map of the area.
"It just takes a lot of time to figure out the route and where it's going to be," he says.
The sea ice has been relatively easy to navigate this year since the start of the summer field season in early October, with few troublesome cracks. One slightly sketchy spot is near Cape Evans, where British explorer Robert Falcon Scott established his second expedition hut in 1910. The wood structure still stands there today.
Several icebergs are frozen into the sea ice between Cape Evans and nearby Inaccessible Island, which pokes through the sea ice like a rock-tipped spear point. One of two cracks in the area, dubbed Evans Middle, has opened nearly four feet since late September, requiring installation of a wood bridge on Oct. 23.
"Cracks tend to start at islands, glacier tongues, points or icebergs," Corkran explains. Pressure exerted by sea ice as it encounters immovable objects like islands finds a release point.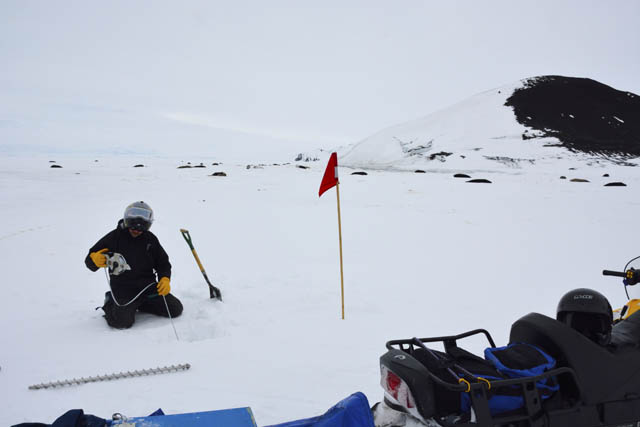 Photo Credit: Peter Rejcek
Mountaineer John Loomis uses a weighted tape measure to gauge the thickness of the sea ice. A colony of seals can be seen in the distance.
A pair of bamboo poles on either side of the crack serves as a way to monitor how far the crack is spreading by measuring the distance between the two markers. However, that requires digging through snow to the ice surface – nearly waist deep during this visit by Corkran and Loomis.
Every year is different. Last summer, quite a bit of the sea ice blew out of McMurdo Sound, leaving only remnants of thick, multi-year ice around the coastline and at the base of the Erebus Glacier Tongue. However, during much of the last decade, a blockade of icebergs at the mouth of McMurdo Sound trapped much of the sea ice for several years. It was more than 20 feet thick in some places.
"Becoming a sea ice expert is not something you can really train to do beforehand", Corkran says.
"It's like nothing you'll do anywhere else," he says. "Most people who do sea ice down here learned it down here. There are not a lot of places to get that experience."
Turner agrees.
"What I've learned about sea ice is all self-taught by reading textbooks and then getting out there," he says, particularly during the months of August and September when the ice is moving and dynamic.
"This time of year [in November] the sea ice isn't as interesting because it has stabilized," Turner says.
Unfortunately, some lessons were learned the hard way. A handful of the men who joined adventurers like Scott and Shackleton were lost during the early days of exploration.
The airfield near McMurdo Station on the Ross Ice Shelf, Williams Field, is named after Richard T. Williams, a U.S. Navy equipment operator who drowned when his D-8 tractor broke through the sea ice in January 1956.
Today's flagging and monitoring program helps ensure no new memorials will be needed in the future.
"We have a process figured out that works amazingly well," Turner says.