| | |
| --- | --- |
| Photo Credit: Laura Gerwin | |
Tanker Weather
Big storm hits McMurdo Station during fuel vessel operation
Posted February 9, 2015
They call it tanker weather.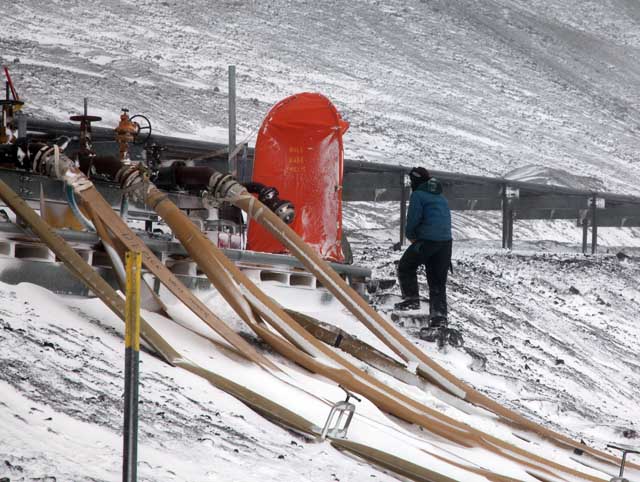 Photo Credit: Laura Gerwin
Every year a fuel vessel, above, arrives at McMurdo Station. Invariably, the weather takes a turn for the worse, with colder temperatures and high winds as the summer comes to an end. This year was no exception, as a nearly four-day storm pummeled the Ross Sea region, beginning on the afternoon of Feb. 6 before clearing out late Feb. 9. Winds peaked on Feb. 8 with gusts of 60 miles per hour and a wind chill of 5 degrees Fahrenheit. The record for peak wind gusts is 75 mph, set in 1962. About 12 to 16 miles of sea ice rushed out of McMurdo Sound from the initial fury of the storm, leaving open water in front of the station.
About five million gallons was unloaded from the fuel vessel Maersk Peary without incident, despite the high winds. The operation required personnel from the Fuels Department, known as fuelies, to monitor the fuel lines (photo above at right) and tanks around-the-clock for the nearly 58 hours it took to offload the fuel. That meant many of the fuelies spent 12-hour shifts outdoors, first being sandblasted by dirt picked up by the wind and then sprayed with snow as the storm dumped precipitation in the area. The weather delayed the departure of the ship by about a day.