| | |
| --- | --- |
| Photo Credit: Sage Asher | More than 60 people participated in the McMurdo Marathon in January 2015. People both run and ski the event, which included a half and full marathon, along with a new ultra-marathon leg for a total of 31 miles. |
Running down a dream
McMurdo Marathon crosses a milestone and finishes strong with new 'ultra' event
Posted February 20, 2015
On a cold, windy Sunday on Ross Island, most residents of McMurdo Station were enjoying the shelter of a warm building and hot food. Hasmin Sherwin, however, was among a group of 64 athletes who braved headwinds and crosswinds, uneven snow, blinding sun reflecting off ice, and capricious weather on the nearby ice shelf.
His destination: a line drawn in the snow between two trail flags and populated by a cheering crowd, marking the finish line of the McMurdo Marathon.
Organized by the station's Recreation Department and staffed by volunteers from the community, the McMurdo Marathon consisted of three events this year: a half-marathon, full marathon, and an ultra-marathon distance race of 31 miles. Each race was open to both runners and skiers.
The marathon has been held annually for about 20 years since its inception on another cold, windy January day in 1995, when Karen Joyce and Nancy Ford ran 26.2 miles, back and forth between New Zealand's Scott Base and Williams Field, an airstrip for ski-equipped planes.
Joyce already had more than 20 marathons under her belt when she first came down to the Ice. "The place was so flat, it looked inviting," she said by e-mail.
This year's course began near mile-marker one on a compacted snow road that crosses two adjoining ice shelves – the McMurdo Ice Shelf and Ross Ice Shelf – that lead to a pair of airfields used by the U.S. Antarctic Program to transport people and cargo to and from the Ice.
Half-marathoners went past Williams Field to a junction with the second of three aid stations along the route. From there, the half-marathoners turned back for the finish line, while the full-marathoners continued on toward their turnaround point near Pegasus Airfield.
Sherwin, who works as a steward in the station's kitchen, learned of the race midway through the summer field season, a five-month stretch of time when scientists arrive to conduct research across the continent, much of it funded and supported by the National Science Foundation.
He decided to try it, despite having never run a marathon before and knowing he would need to intensify his training schedule to accommodate an abbreviated month-and-a-half of preparation time.
Sherwin admitted that staying motivated to run four days a week was, "challenging at times," but he benefited from mentorship offered by more seasoned runners, introducing variety into his workouts, and consulting a training guide.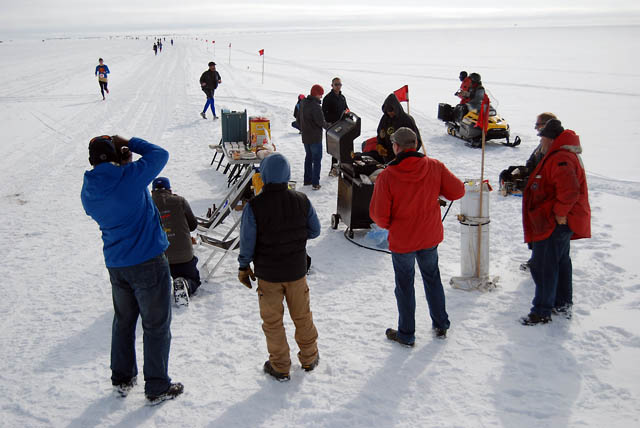 Photo Credit: Sage Asher
Volunteers grill hot dogs while others document the race during the McMurdo Marathon.
"I typically did two short, one medium and one long run each week," recalled Sherwin, "beginning at two, four, and eight miles, respectively, and peaking at five, eight, and eighteen miles."
In addition, he supplemented his core training with one day of alternative activity per week, such as yoga, a fitness class, or hiking. "Start training as close to the recommended three months as possible," Sherwin advised prospective ice marathoners; "Run on the ice," he added, "or at least outdoors, rather than on a treadmill."
In January 2014, air transportation specialist Danny Gregory had run his first-ever marathon in Antarctica. This year, when Gregory crossed the finish line, he did not stop there. He and four others became McMurdo's first ultra-marathon finishers. The course led from the marathon finish line on ice to a volcanic dirt road on Ross Island that took runners past Scott Base and up the hilly track around Observation Hill for a total of 31 miles.
"Putting yourself to the test of a marathon down here can push you past your normal boundaries," said Gregory, who himself admitted that, even in more temperate climates, "marathons are not a normal thing."
A marathon on ice presents its own unique set of challenges, from the monotony of a featureless landscape, often indistinguishable from the cloudy sky above, to the need to re-route the course at the last minute due to melting on the snow road, to the fine-tuning of recipes and aid station supplies to create high-energy snacks that would not freeze or crumble. However, with unique challenges come unique rewards.
"One of my favorite aspects of this marathon," Sherwin recalled, "was the camaraderie amongst the runners and the volunteers. … Everyone was jovial and supportive on race day. Each time I passed a runner we greeted each other and gave one another a high five."