| | |
| --- | --- |
| Photo Credit: Peter Rejcek | Lizzie Meek, program manager of artifacts for the New Zealand Antarctic Heritage Trust, checks a database that tracks the exact location of each item in Discovery Hut. Return of about 500 artifacts in January completed a decade-long effort to restore three historic huts in Antarctica. |
Project complete
NZAHT finishes conservation of three historic huts in Antarctica
Posted February 27, 2015
Lizzie Meek taps away on a laptop screen, wearing fingerless gloves and a heavy coat on a late December day in 2014. The inside of the wood building is frosty cold, and each exhale of breath seems almost ghostly, as conservator Annick Vuissoz holds up a pick with a long wood handle and forged head. It's the next piece to be replaced.
The program manager of artifacts for the New Zealand Antarctic Heritage Trust is all business, but today is anything but a typical day in the office. In less than a week, about 500 artifacts from the Heroic Age of Antarctic Exploration will have been returned to the expedition base known as Discovery Hut. Each item has its place based on the meticulous database of notes and pictures on Meek's computer.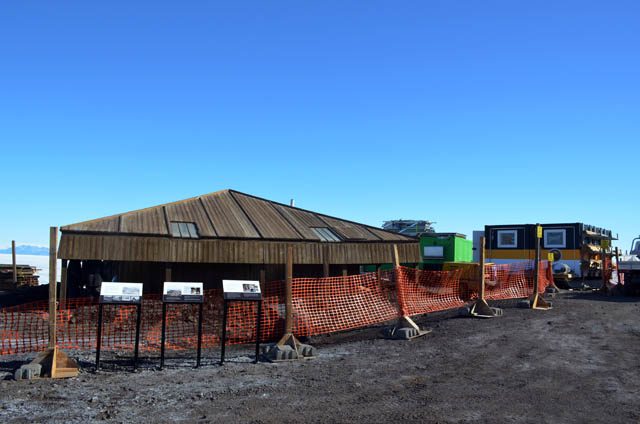 Photo Credit: Peter Rejcek
It took two austral summer to complete conservation work at Discovery Hut, the smallest of the three expedition bases built in the early 20th century.
Built more than a century ago by Briton Robert Falcon Scott and his men, the hut sits on the tip of Ross Island's Hut Point Peninsula like an abandoned vacation home – if one's idea of a holiday involved subfreezing temperatures, hurricane-force winds and months of total darkness in the winter.
The pieces – ranging from crates stamped with expedition names to cloth bags of rations to banged-up metal pots – have been painstakingly repaired and conserved at a lab only a couple of miles away at New Zealand's Scott Base. Return of the artifacts represents the culmination of a two-year project to conserve Discovery Hut that began last year with extensive restoration of the building itself.
[See previous article — For future generations: Effort under way to conserve Scott's first expedition hut near McMurdo Station.]
Completion of the conservation work at Discovery Hut in January of this year also marked the conclusion of a decade-long effort to protect three of the first human-built structures in Antarctica.
"We've done a huge amount of work and we've achieved everything that we said we would do, and it's pretty significant," Meek said.
[See previous article — Preserving the past: Antarctic Heritage Trust restores Scott's expedition hut at Cape Evans.]
The Trust is a New Zealand-based nonprofit organization devoted to conserving the historic structures built at the turn of the 20th century. Since 2005, more than 60 conservators and expert carpenters from nearly a dozen countries, including five from the United States, have labored year-round to save and protect structures built by Scott and his equally famous contemporary Ernest Shackleton between 1902 and 1911.
[See related article — American ingenuity: U.S. conservators help preserve history in Antarctica.]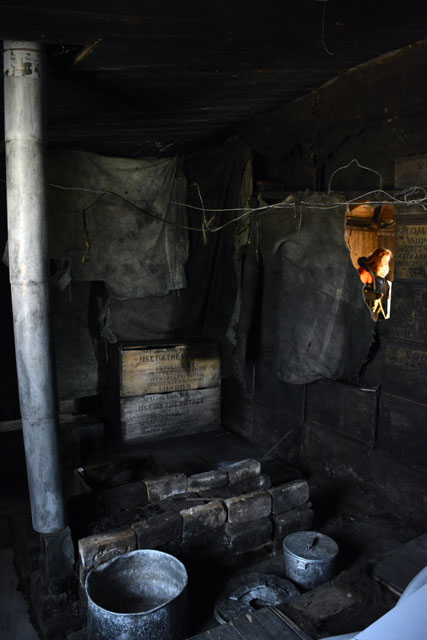 Photo Credit: Peter Rejcek
Annick Vuissoz, a conservator from Switzerland, can be seen through a gap in the 'wall' that separate the main room from the Discovery Hut stove.
"The dedication of the conservation teams and the passion for the legacy that they are saving has been the key to the project's success," said Nigel Watson, New Zealand Antarctic Heritage Trust's executive director, in a press release announcing the completion of the main phase of the Ross Sea Heritage Restoration Project in January.
Named after the ship that delivered the British south to Antarctica, Discovery Hut was the first base built on Ross Island in 1902 but the last of the three structures to be conserved.
First up was actually Shackleton's base at Cape Royds, which is also home to the southernmost Adélie penguin colony. The four-year project began in 2005 and included conserving about 6,000 artifacts dating back to Shackleton's 1907-09 British Antarctic Expedition that attempted to reach the geographic South Pole.
Work on Scott's Hut at Cape Evans, also located along the volcanic coastline of Ross Island, started in 2008. This was the base from which Scott launched his own bid to be the first to reach the South Pole, ending in death for Scott and four of his men on their return journey. Conservation of more than 11,500 items at Cape Evans has taken the last seven years to complete.
Treatment of the objects requires a special touch because the artifacts will remain on site and not in a museum. That's how it should be, according to Annick Vuissoz, a conservator from Switzerland whose expertise includes ethnographic and archaeological objects.
"It feels very natural to preserve the objects but let them live their lives in the places they've been found and supposed to stay in," she said.