| | |
| --- | --- |
| Photo Credit: Peter Rejcek | Six fuel tanks used to refuel helicopters are the main reason that Marble Point exists today. However, at one time, it almost replaced McMurdo Station as the hub of the U.S. Antarctic Program. |
What could have been
Marble Point refueling station once considered as alternative to McMurdo Station
Posted June 1, 2015
History is full of tales about boom towns that went bust when the gold ran out or when the planned new highway went north instead of south.
Such was the fate of Marble Point, a helicopter refueling station on the edge of the Antarctic continent that as early as the 1960s was a serious contender for becoming the main research station in the U.S. Antarctic Program, then known as the U.S. Antarctic Research Program.
Edmund Hillary, right, and an unidentified man stand near the newly constructed runway on Marble Point, circa 1957-58.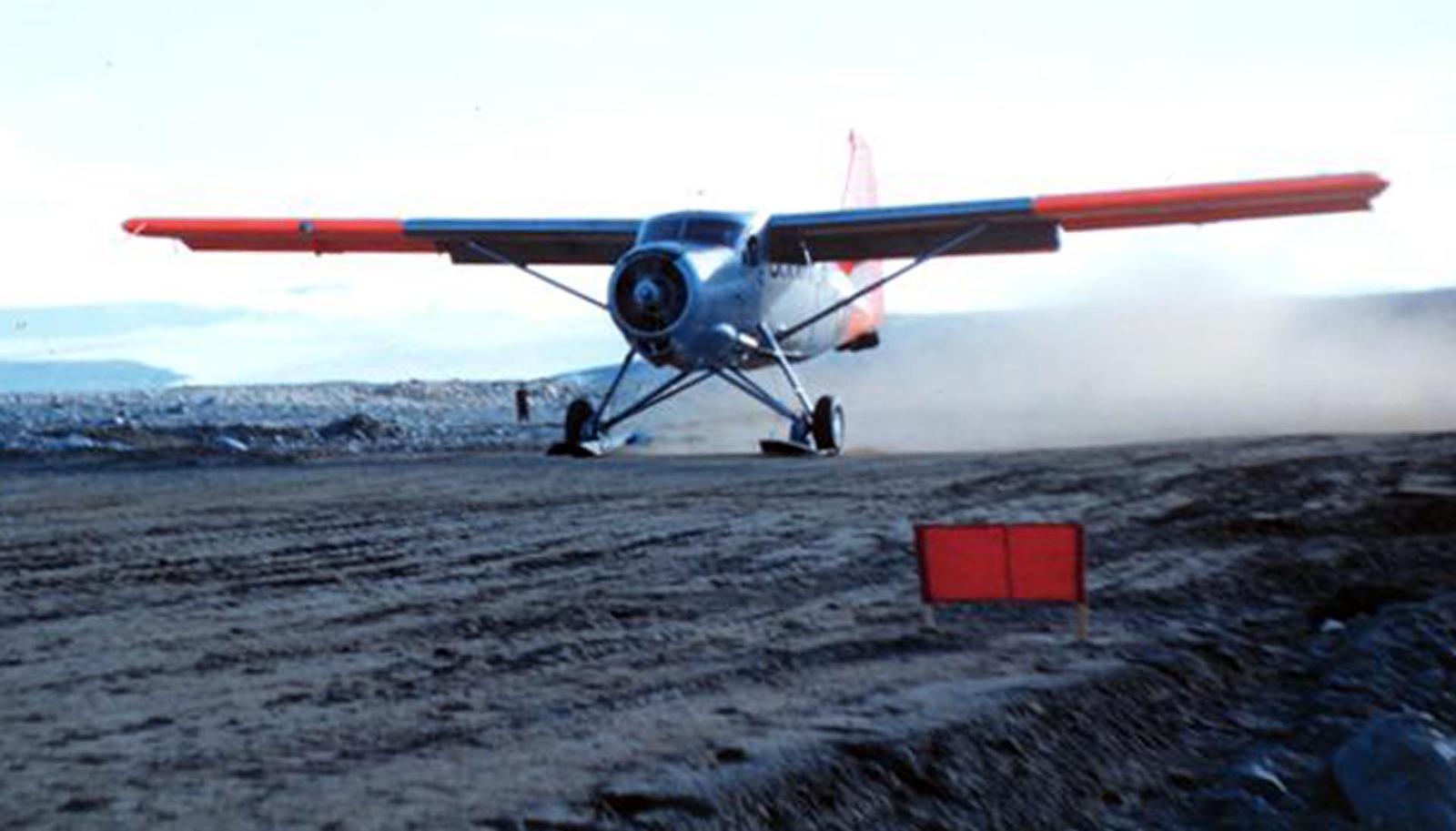 U.S. Navy Adm. George J. Dufek and New Zealander Edmund Hillary were in the first plane, above, to land on a dirt runway at Marble Point in early 1958.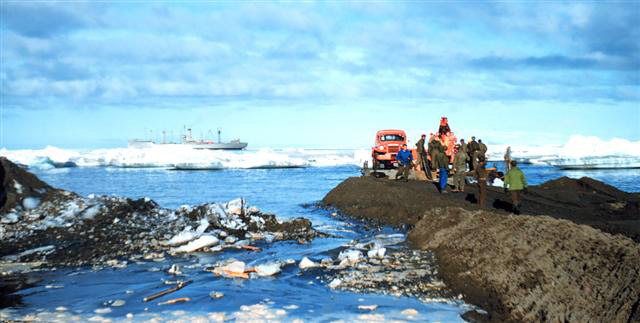 U.S. Navy personnel unload equipment near Marble Point, circa 1957-58.
By default, that role had been assumed by McMurdo Station, which was established around December 1955 to support the International Geophysical Year (IGY), a global scientific campaign that focused on the polar regions.
McMurdo was not originally intended to be a major scientific base in its own right. It was to serve as the launching pad for planes that would fly to the South Pole to establish a research station there the following year.
Present-day McMurdo houses up to about a thousand people during the main Antarctic field season, from October to February, supporting upwards of a hundred research projects or more every year. More than 100 buildings now make up the McMurdo campus, which is often likened to a mining town, particularly when all the snow has melted and dust devils dance through its dusty streets in late summer.
In some way, McMurdo Station just happened – and Marble Point never did.
Initial takeoff
Today, the National Science Foundation (NSF), which manages the U.S. Antarctic Program, is seeking about $3 million from Congress for the next fiscal year to continue work on conceptual designs for the Antarctic Infrastructure Modernization for Science (AIMS) project. One of the long-term goals of that project is to redevelop McMurdo Station to improve efficiency and costs.
The idea to develop a major facility, with a proper runway, had been in the works at Marble Point since nearly the IGY.
"There was an airstrip here. We're sitting on it. Hillary landed here a number of times," said Randall "Crunch" Noring, who has served as the camp manager at Marble Point for 14 Antarctic summers. "It was going to be a year-round runway, and this was going to be the station."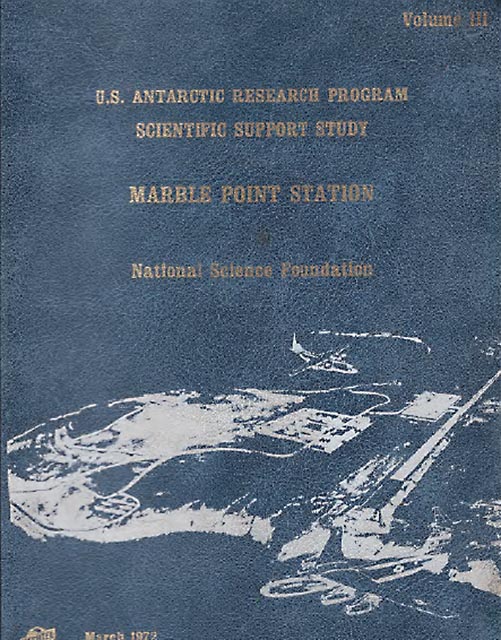 Cover of the 1972 report by Bechtel Inc. on reconfiguring Marble Point as a research station.
The Hillary that Noring is referring to is Sir Edmund Hillary, hero of New Zealand and conqueror of Mount Everest. Hillary also played a starring role in establishing his nation's only Antarctic research station, Scott Base, just a couple of miles from McMurdo on Ross Island.
A 1,700-foot-long dirt runway at Marble Point, built by the U.S. Navy in 1957, proved to be a key piece of infrastructure in moving supplies and people to build Scott Base. Hillary and U.S. Rear Adm. George J. Dufek, who led the military support of IGY called Operation Deep Freeze, were among the men to land the first aircraft on a dirt-only runway in Antarctica. All other airstrips before then were constructed on ice and snow.
Too high a cost
Located about 50 miles northwest of McMurdo Station, Marble Point is a rocky promontory of marble along the Victoria Land coast. It was explored by Ernest Shackleton during the first expedition that he led to Antarctica between 1907 and 1909. The Wilson Piedmont Glacier to its west serves as a natural boundary.
A unit of the Naval Mobile Construction Battalion, often referred to as Seabees, performed detailed surveys of the site during the summers of 1957-58 and 1958-59, according to a 1988 special report, "Hard-surface runways in Antarctica" by Malcolm Mellor, an engineer with the Cold Regions Research and Engineering Laboratory (CRREL).
Signs of a more robust occupation of Marble Point are still visible, such as unpaved roads that cut across the ice-free landscape, though much of the debris left behind from those early days has since been cleaned up. A small rock cairn sits near a 1957 geographic marker just a few hundred few away from the current facility.
Mellor's report, which among other recommendations lobbies for a conventional and permanent runway at Marble Point, provides a brief overview of various studies that looked at the feasibility of building an airfield and research station.
The first series of reports in the early 1960s – by a Boston engineering firm, Metcalf and Eddy, as well as the Bureau of Yards and Docks, a branch of the Navy that was responsible for navy yards, drydocks, and other facilities – concluded that a facility at Marble Point would be feasible. However, the cost estimates were high, and nothing ever happened.