| | |
| --- | --- |
| Photo Credit: Elaine Hood | Antarctic Sun editor Peter Rejcek shoots a photo of scientist David Ainley and field assistant Jean Pennycook attaching a satellite tag to an Adélie penguin at the Cape Royds colony. |
So long, and thanks for all the fine memories
Long-serving editor of the Sun reflects on 'the USAP, the Ice, and the People'
Posted July 6, 2015
I still remember my first trip to the Ice.
I was nervous. I had mostly grown up in Texas. More recently, I had spent the better part of four years living in the Marshall Islands and cycling across desert and tropical landscapes from Australia to Malaysia. I didn't even like driving in snowy weather.
Yet I had signed up to work at the South Pole in Antarctica as a carpenter helper for a year, beginning in the 2003-04 austral summer. It was a serious career detour, as I had been working mainly as a journalist for most of the previous decade when not taking the occasional hiatus and hitting the road for months at a time until the money ran out.
I was a serviceable day laborer, but no one would mistake me for Bob Vila. It was best for both the construction industry and me to part ways after that. The South Pole job was intended to be – as many still working in the U.S. Antarctic Program today after five, 10, 15, even 35 years, will attest – a one-time, one-off experience.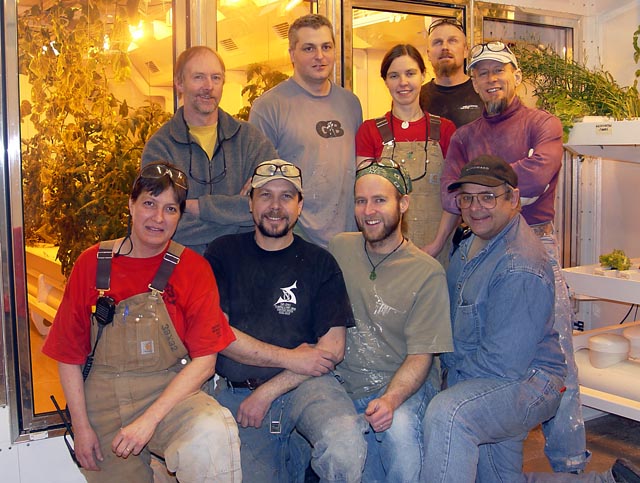 Photo Courtesy: Peter Rejcek
The 2004 South Pole Station winter-over crew that assembled the growth chamber, including Peter Rejcek (bottom row, second from right).
In one sense, it would be. That was my only job at the South Pole. It was enough. It's an amazing place – a testament to how adaptable and ingenious the human species can be when driven by adventure and curiosity. But it's oh so cold and oh so remote. Time is a currency with a higher inflation rate as you get older, and after spending 366 days at the Pole, I wanted to spend it elsewhere.
I certainly didn't think back then at the end of 2004 – when the LC-130 had come to retrieve the last winter-overs from that season, lurching down the skiway in temperatures pushing its theoretical limits on flying – that I would return to Antarctica repeatedly for the next decade.
I would make my comeback in the austral summer 2005-06 in a more familiar role, as one of three contract journalists hired each season to produce a little newsletter called The Antarctic Sun. As the tagline says, we wrote news about "the USAP, the Ice, and the People." It wasn't until then that I saw my first signs of wildlife – the doe-eyed Weddell seal and the Charlie Chaplin-waddling Adélie penguin. And, of course, the cunning and opportunistic skua.
It was also unfamiliar territory. My knowledge of science relied on Texas high school football coaches teaching biology and chemistry classes, and a physics teacher who had to "fudge" the results of every experiment we tried that semester. I was later the liberal arts major cliché, majoring in English and philosophy, certainly not unworthy subjects, but it seems like a college guidance counselor should have done an intervention. Someone should have told me I would have to get a real job at some point.
It was certainly a learning curve – not as steep as the Keeling Curve that has plotted the increase of carbon dioxide in the atmosphere since 1958, but steep enough. But, wow, what a different sort of journalism is science writing. I couldn't imagine going back to reporting on late-night city council meetings, but after two summer seasons I needed a full-time job. In 2007, I again left the program – and was back on the Ice within the year, this time as the one and only full-time journalist for the program.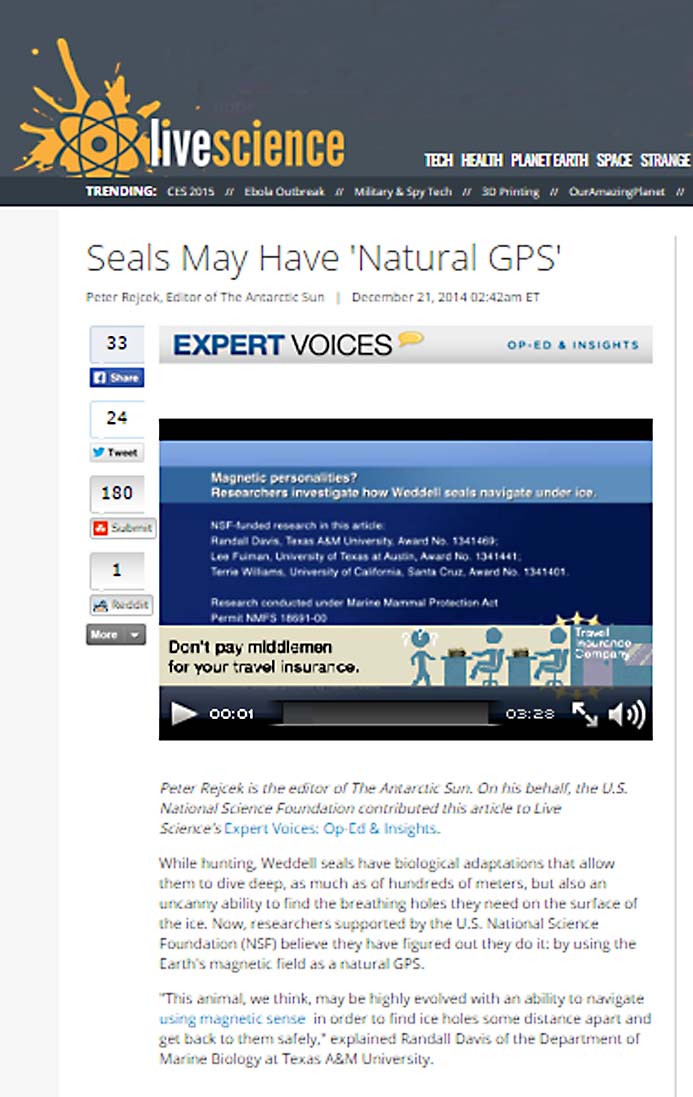 An Antarctic Sun story, with video, that appeared on the Live Science website in December 2014.
It's a job I've had for more than seven years. I would like to think the Antarctic Sun website over the years has become a trusted and intelligent news source not only about USAP science but also about polar research in general for a global audience. We've recently started doing short video stories that I'm particularly excited see progress with my successor.
Yes, once again, I'm leaving the program where I've spent nearly a quarter of my life. It's time. By my own admittedly rough estimates, I've written something close to a million words about "the USAP, the Ice, and the People." Of course, as we in the program know, never say never again.
I've often said that the best part of my job has been the free graduate school-level education that I've received over the years. Where else can one find such easy access to scientists at the top of their respective fields? And the variety of topics is equally amazing. There are the broader subjects like glaciology, geology and biology, but I had the opportunity to go deeper into topics ranging from astrobiology and astrophysics to genetics and geophysics.
I've heard it said that scientists need to do a better job of communicating their science to the public. I can honestly report that aside from very few exceptions, the researchers I've met and interviewed do an excellent job of explaining their science, even for someone more familiar with Descartes than Darwin. Many of them are very eager to share their work with the public. And most have always been generous with their time, especially on the Ice where schedules are compressed and chaotic.
The other truly great thing about being the world's only full-time Antarctic journalist has been the opportunity to learn about the people and the program. I've been privileged to have a ringside seat to one of the best shows on Earth, with some of the best people doing hard jobs in an impossible place.
The word "challenge" is used so often that it has lost any value as a measure of what must be done to support the National Science Foundation's mission in Antarctica. The fact that we do more than 100 science projects each year – despite stormy oceans, impassable sea ice, vast distances an inhospitable continent wide – is truly a remarkable feat in a world that oftentimes seems to prize the rather unremarkable and mundane.
It is the world that I return to now, far better prepared to discover what is still amazing, thanks to my time on the Ice.
Speaking of thanks, I would be remiss for not recognizing a few of the many people with whom I have been privileged to work with over the years. Val Carroll, for the opportunity of a lifetime. Elaine Hood, perhaps the program's greatest champion. Katy Jensen, for her equanimity in all situations. Peter West and Winnie Reuning at NSF, for their support over these many years. Jeff Schmunk, web guru who is always there in the clutch. Ralph Maestas, for our recent collaborations and morning toast.
To all my USAP friends: For me, it was never a harsh continent, thanks to all of you.