| | |
| --- | --- |
| Photo Credit: Michael Lucibella | Jeremiah Clark and Terrell Skafer raise the American and New Zealand flags as Master Sgt. Al Moon plays reveille in a joint Veterans Day ceremony. |
Two Nations Honor Their Veterans
Posted November 12, 2015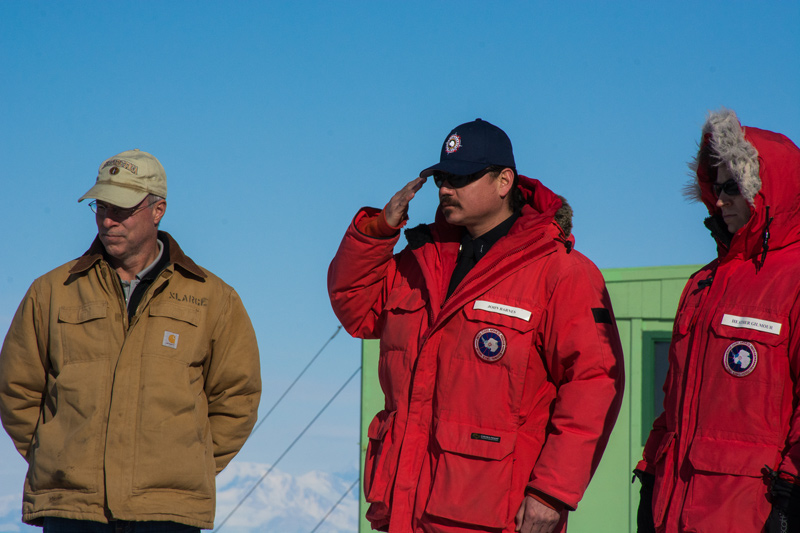 Photo Credit: Michael Lucibella
John Barnes salutes as Heather Gilmour (right) and Dave Scheuerman (left) look on while the U.S. and New Zealand flags are raised at Scott Base.
Residents of McMurdo Station and New Zealand's Scott Base joined together on Veterans Day to honor the service of their nations' men and women in uniform. Through speeches, prayers and a ceremonial flag raising, service members and station leaders from both countries recognized the bravery of those in the armed forces.
More than fifty people gathered at Scott Base for the ceremony.
As taps played, service members brought the United States and New Zealand flags to half-staff, followed by a moment of silence and a recitation in both English and Maori of New Zealand's traditional Ode of Remembrance. Chaplain Lt. Col. Matt Friese of the U.S. Air Force delivered a prayer for the safety of those serving overseas.
After moving inside and a rendition of the two nations' National Anthems, Maggie Knuth, the National Science Foundation's representative at McMurdo Station, spoke about the courage of those in uniform, and Peter McCarthy, the program support supervisor at Scott Base, recalled the history of cooperation between the United States and New Zealand.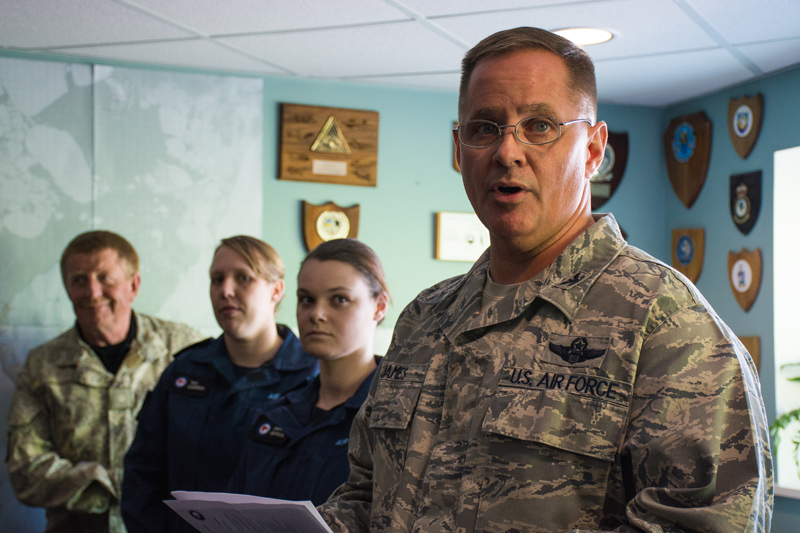 Photo Credit: Michael Lucibella
Colonel Gary James, commander of the U.S. Air Force's 13th Air Expeditionary Group speaks at the annual Veterans Day ceremony, held this year at the New Zealand station.
Colonel Gary James, commander of the 13th Air Expeditionary Group, spoke about his family's five-generations of service, from his wife's great-grandfather who served in World War One, through his son's three tours of duty in Afghanistan.
"Most vets believe their service has made them better citizens," James said. "Please take the time today to thank a vet."
This year's ceremony was held at New Zealand's Scott Base, in accordance with a long-standing tradition alternating between the two stations each year.
"Both countries hold the values of decency, justice and the rule of law," said Major Mac McColl, the Senior National Officer of the New Zealand Defence Force. "Antarctica is a great example of how we can strive for peace."