| | |
| --- | --- |
| Photo Credit: Michael Lucibella | Chef Keith Garrett from New Zealand's Scott Base Shows McMurdo how to prepare lamington dessert squares. |
Baker Swap
Posted December 21, 2015
In a show of gastronomic diplomacy, McMurdo Station and New Zealand's Scott Base swapped chefs for a few afternoons in December, giving the cooks a chance to pick up new tricks and station residents a taste of each other's culinary culture.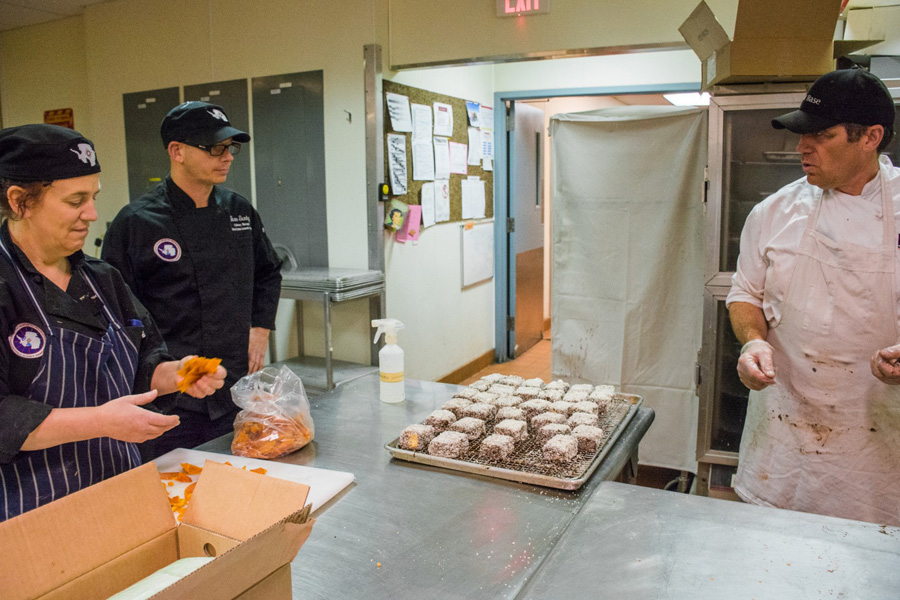 Photo Credit: Michael Lucibella
Keith Garrett from New Zealand's Scott Base talks with culinary manager Tom Senty and chef Betsy Rosengarden.
Tom Senty, the culinary manager at the National Science Foundation's McMurdo organized the swap.
NSF manages the U.S. Antarctic Program, through which it coordinates all U.S. research on the southernmost continent and provides all of the logistical support for the science.
Because working outdoors in the intense and unrelenting Antarctic cold burns vastly more calories than normal workplace, providing a varied daily menu of enticing and nutritious foods is vital to station morale and the wellbeing of both researchers and support staff.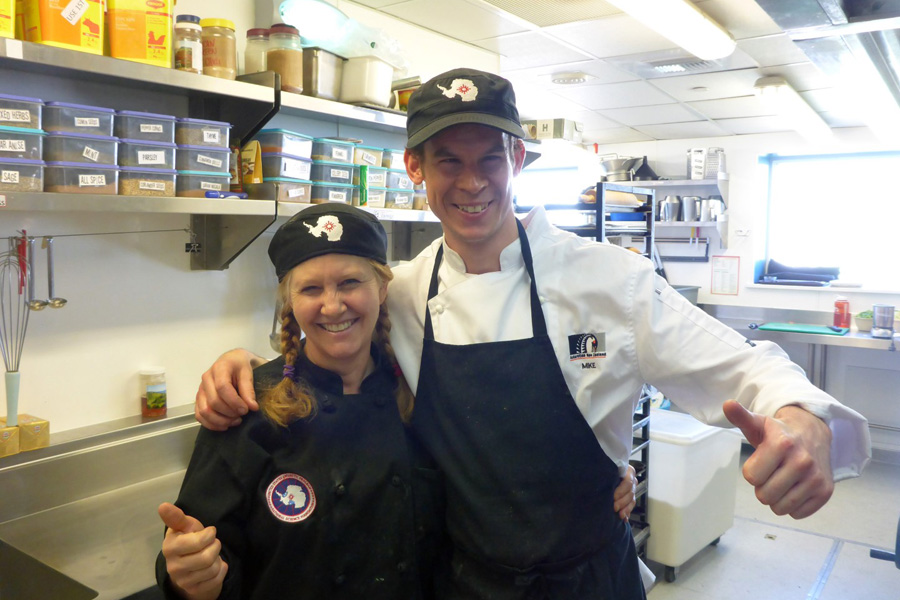 Photo Credit: Tom Senty
Betsy Rosengarden gets a thumbs up from summer chef Mike Allison at New Zealand's Scott Base.
Senty said that the idea for the swap stemmed from conversations he had with Mike Allison, the summer chef at New Zealand's Scott Base, who expressed an interest in sharpening his bread-making skills with the bakers at McMurdo. When Allison came over on the morning of December 10, he helped prepare a selection of sourdough breads and chocolate cakes.
Later in the day, Betsy Rosengarden trekked over the hill to Scott Base and shared some of her expertise with the New Zealanders in the more intimate confines of Scott Base.
"The kitchen is an open kitchen into the dining room, so you interact with the whole community," Rosengarden said. "It kind of looks like you're in someone's home kitchen."
In keeping with the cosy feel of the Scott Base dining room, she prepared her grandmother's rugelach recipe, plus other favorites including macaroni and cheese, meatballs and a flourless chocolate cake.
The two stations organized two swaps this season. The following week, Kiwi chef Keith Garrett visited McMurdo and prepared a dessert of Lamington squares; a sponge cake covered in chocolate syrup and shaved coconut.
"We wanted to do something that's traditional New Zealand for you guys," Garrett said as he added the final touches. "This is a traditional New Zealand sweet cake."
He added that this kind of swap was a good way to foster teamwork and pass skills between the two stations. Later that day, McMurdo's lead baker Kaithlin Hull spent the afternoon at Scott Base learning some of their secrets for making meat pies and whole meal bread.
"It's refreshing," Garrett said. "It's learning different ways to look at things."