| | |
| --- | --- |
| Photo Credit: Mike Lucibella | Driver Manuel Garcia climbs into the driver's seat of the enormous Kress, one of the vehicles specially outfitted for driving passengers around McMurdo Station. |
Podcast: McMurdo Station on the Move
Posted August 2, 2017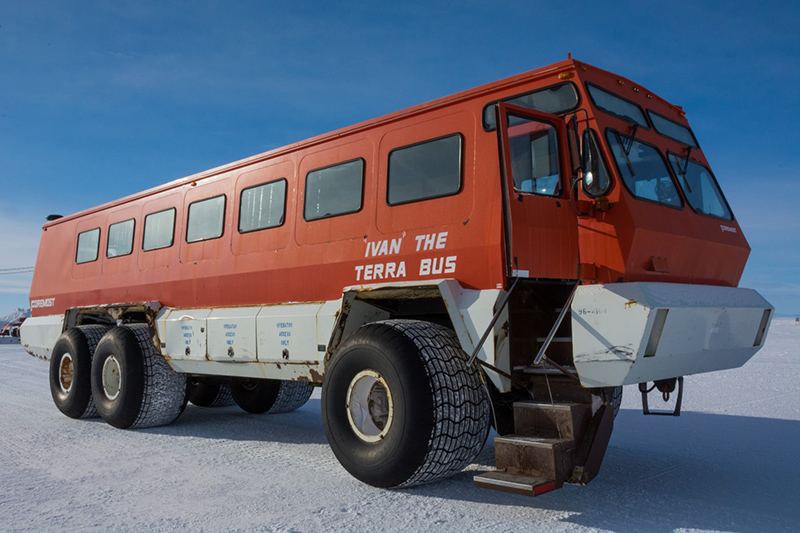 Photo Credit: Mike Lucibella
Ivan the Terra Bus, probably the most famous vehicle on the station, seats 56 people and is primarily used to ferry people to and from the airfields.
In Antarctica, scientists conduct cutting edge research on a harsh and barren continent. It's no easy task, but to help make it happen the U.S. Antarctic Program employs a small army of support staff to get these researchers the supplies they need, transport them to where they need to go and keep them safe throughout.
A lot of the jobs they do are the same that any small town needs to function, often with a specialized twist that comes with working in such a remote place, but others can be less obvious. The Antarctic Sun Podcast is taking a behind-the-scenes look at the workers and what they do to make science at the bottom of the world possible.
This week: The Shuttles Department
One of the first things that nearly everyone sees when they first step off the plane after arriving at McMurdo Station's airfield is the brightly colored vehicles from the shuttles department. It's a few miles from the frozen runway to the station proper, so every day the department's drivers go out on dozens of trips, conveying hundreds of people along routes around town. Mass transit may not be one of the first things that comes to mind when thinking about operations on the icy continent, but without it McMurdo Station wouldn't function.
The vehicles the department uses come in all shapes and sizes, ranging from modified 15-passenger vans to giant tractors pulling a 65-person passenger compartment. Each vehicle's oversized tires spread out their weight over compacted snow, letting them drive safely across the snow roads built on top of the Ross Ice Shelf.
Photo Gallery