| | |
| --- | --- |
| Photo Credit: Mike Lucibella | Devin Reid (far right) and Hannah Roach prepare a hot meal at the Mongolian Grill action station in McMurdo Station's galley. |
Podcast: Feeding McMurdo
Posted October 4, 2017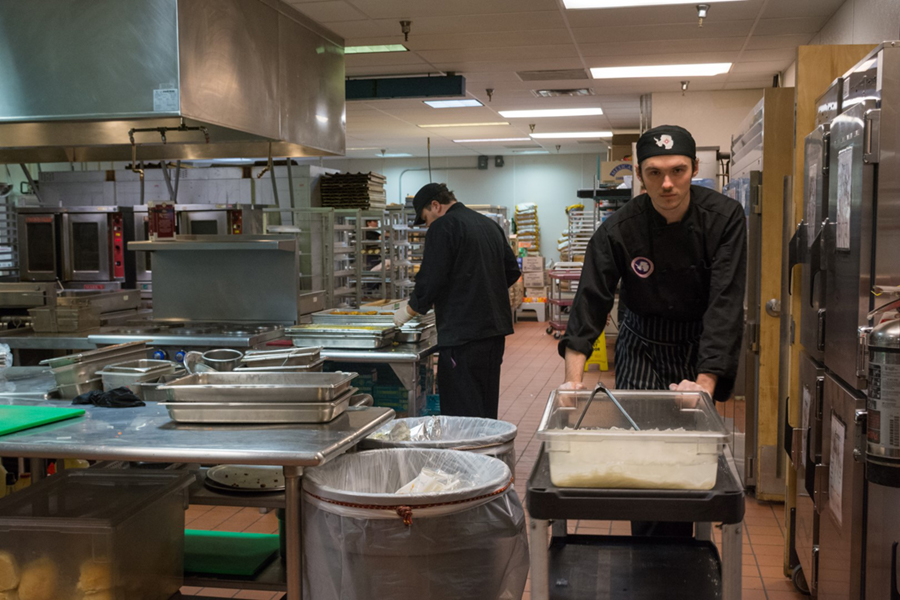 Photo Credit: Mike Lucibella
Devin Reid pushes a trolley with rice through McMurdo Station's kitchen. Each day the kitchen staff prepare meals for up to almost 1,000 people working on the station.
In Antarctica, scientists conduct cutting edge research on a harsh and barren continent. It's no easy task, but to help make it happen the U.S. Antarctic Program employs a small army of support staff to get these researchers the supplies they need, transport them to where they need to go and keep them safe throughout.
A lot of the jobs they do are the same that any small town needs to function, often with a specialized twist that comes with working in such a remote place, but others can be less obvious. The Antarctic Sun Podcast is taking a behind-the-scenes look at the workers and what they do to make science at the bottom of the world possible.
This week: The Galley
It is no small feat to keep more than 800 hardworking people fed, especially when you're at the bottom of the world and the nearest grocery store is more than 2,000 miles away. But despite these logistics challenges, each day the kitchen staff at McMurdo Station's galley serves up a hot breakfast, lunch and dinner for the scientists and support staff working on the frozen continent.
The big challenge for the station's cooks is working with limited supplies that all have to be shelf-stable for a long time. But that doesn't mean the only thing on the menu is hardtack and pemmican. Drawing from their ample stores of mostly frozen, canned and dried food, (plus the occasional shipment of fresh fruits and veggies) the kitchen staff never fails to prepare a range of dishes that are nearly as good as home cooking.
Photo Gallery