| | |
| --- | --- |
| Photo Credit: Mike Lucibella | A Bell 212 Helicopter comes in for a landing at the Lake Hoare field camp. |
Podcast: Helo Ops
Posted December 8, 2017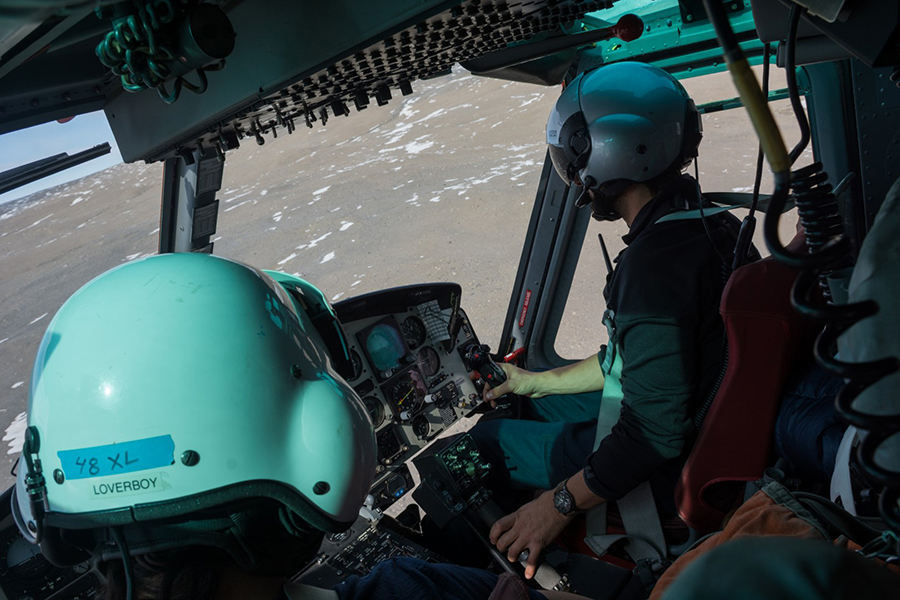 Photo Credit: Mike Lucibella
Mike Tinervia (right) pilots a Bell 212 helicopter over the McMurdo Dry Valleys with Mike Jansen.
In Antarctica, scientists conduct cutting edge research on a harsh and barren continent. It's no easy task, but to help make it happen the U.S. Antarctic Program employs small army of support staff to get these researchers the supplies they need, transport them to where they need to go and keep them safe throughout.
A lot of the jobs they do are the same that any small town needs to function, often with a specialized twist that comes with working in such a remote place, but others can be less obvious. The Antarctic Sun Podcast is taking a behind-the-scenes look at the workers and what they do to make science at the bottom of the world possible.
This week: Helo Ops
Without any network of paved roads, getting around Antarctica's rugged landscape is tough. Helicopters are the primary means to transport people and equipment to the near field, the sites outside of McMurdo Station that are too far or are otherwise inaccessible by vehicles. Every day dozens of helicopters, or "helos" as they're usually called, fly around Ross Island, the McMurdo Dry Valleys and the nearby transantarctic mountains.
It takes a lot of coordination to safely operate a small fleet of helicopters around the continent. With numerous of science groups and support teams needing them on a daily basis, they're being used almost all the time. Making sure that everyone gets to where they need to go takes a lot of planning.
Especially when a day's carefully planned schedule can go completely out the window as the wind shifts.
The weather around the continent is notorious for changing without warning. Still blue skies can turn into a blustery windstorm in the blink of an eye and just like that all the day's flights are grounded until the weather improves. If conditions aren't ideal, no one flies. It's one of the challenges of working in Antarctica, but keeping everyone safe is the top priority of everyone on the helicopter operations crew.
Photo Gallery