| | |
| --- | --- |
| Photo Credit: Mike Lucibella | The Lake Hoare Field Camp in the Taylor Valley in the McMurdo Dry Valleys, at the foot of the Canada Glacier. |
Podcast: The Lake Hoare Field Camp
Posted January 24, 2018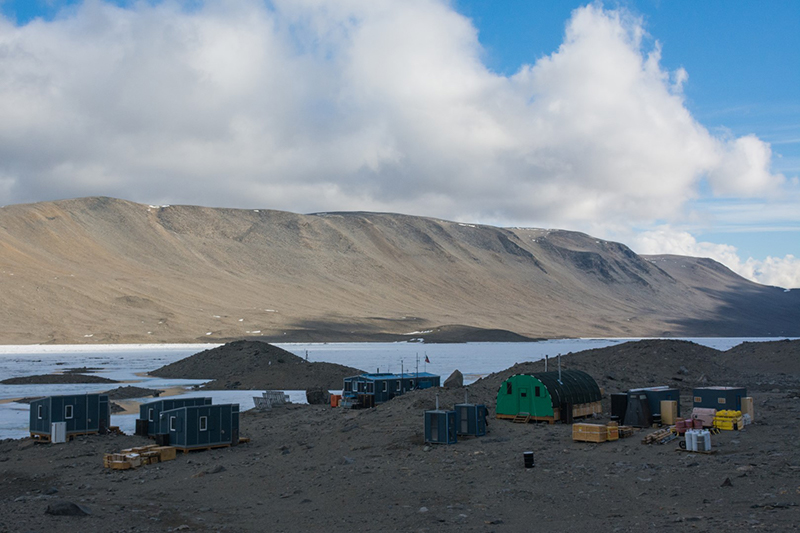 Photo Credit: Mike Lucibella
Though called a camp, Lake Hoare Field Camp is made up of a number of solid structures ranging from a kitchen and common area (center) laboratories (left) and extra storage (right). Adjacent to the camp, the frozen-topped Lake Hoare is made up of glacial runoff from the nearby Canada Glacier.
In Antarctica, scientists conduct cutting edge research on a harsh and barren continent. It's no easy task, but to help make it happen the U.S. Antarctic Program employs a small army of support staff to get these researchers the supplies they need, transport them to where they need to go and keep them safe throughout.
A lot of the jobs they do are the same that any small town needs to function, often with a specialized twist that comes with working in such a remote place, but others can be less obvious. The Antarctic Sun Podcast is taking a behind-the-scenes look at the workers and what they do to make science at the bottom of the world possible.
This week: The Lake Hoare Field Camp
Antarctica is a big continent, and often researchers need to work in regions far away from the main research station. They'll stay up to weeks at a time in small field camps, which can range from a couple of temporary tents, to rigid structures with a kitchen and laboratories that people return to each year.
No matter its size living out in a field camp takes a lot of work as nearly everything needs to be flown in. Camp staff at these field camps keep them running so the researchers can focus on doing their science.
The staff make sure that daily life in the camps keeps going by cooking meals, melting snow for water and making sure waste is properly disposed of. They also make sure the camp's infrastructure is taken care of. This means everything from managing the arrival of people and supplies on helicopters, to maintaining the scientific equipment and labs, to keeping the power on and the vehicles running.
The Lake Hoare field camp is one of the busiest in the McMurdo Dry Valleys. It's a hub for researchers who are coming in to study the unique ecosystems around the valleys, one of the very few areas in Antarctica not completely covered in snow. Camp staff like Rae Spain and Renee Noffke keep the camp operating as helicopters land and researchers cycle in and out.
Photo Gallery