| | |
| --- | --- |
| Photo Credit: Mike Lucibella | Marine technician Amy Belcher guides a load of supplies onto a small Zodiac raft to deliver to penguin researchers at Cape Shirreff. |
Podcast: Marine Operations
Posted May 23, 2018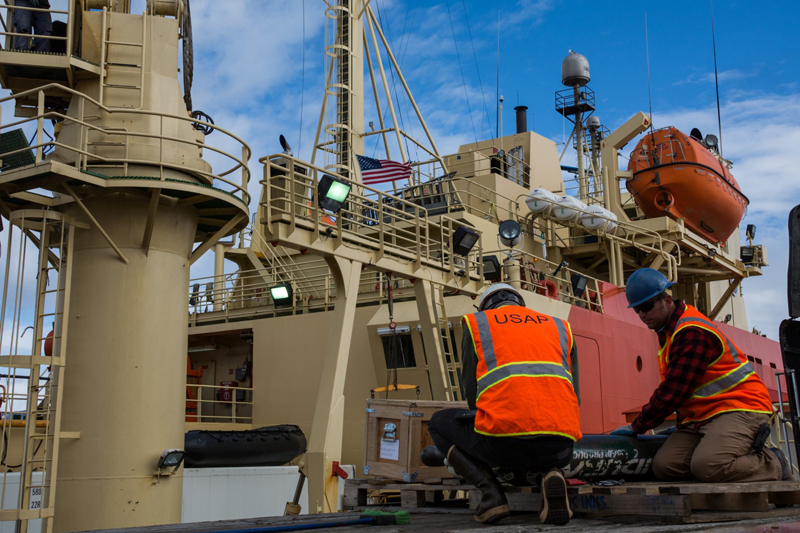 Photo Credit: Mike Lucibella
Before departing port at Punta Arenas Chile, marine techs Dave Moor (right) and Chuck Holloway prepare a condensed gas cylinder for loading onto the research vessel Laurence M. Gould.
In Antarctica, scientists conduct cutting edge research on a harsh and barren continent. It's no easy task, but to help make it happen the U.S. Antarctic Program employs small army of support staff to get these researchers the supplies they need, transport them to where they need to go and keep them safe throughout.
A lot of the jobs they do are the same that any small town needs to function, often with a specialized twist that comes with working in such a remote place, but others can be less obvious. The Antarctic Sun Podcast is taking a behind-the-scenes look at the workers and what they do to make science at the bottom of the world possible.
This Episode: Marine Operations
The U.S. Antarctic Program, operates two research vessels, the Laurence M. Gould and the Nathaniel B. Palmer. The vessels carry scientists and support staff across the Southern Ocean, conducting research and delivering supplies to Palmer Station on the Antarctic Peninsula. On board, the marine projects coordinator and the marine technicians make sure that everything goes smoothly.
On any given cruise there are essentially three divisions of people. The ship's crew operate the vessels, researchers conducting experiments or traveling to Palmer Station and the marine techs who are there to make sure that the researchers are able to conduct their science.
The four-day voyage from the tip of South America to the Antarctic Peninsula crosses the Drake Passage, what many regard as the worst stretch of ocean in the world. Harsh storms can sweep in unexpectedly, tossing the boats around and sometimes delaying their missions for days at a time. Gusty winds prevent the deployment of instruments while equipment can freeze in the sub-zero temperatures. It's up to the support staff on board to manage these obstacles and make sure the research is carried out safely and effectively.
Photo Gallery