| | |
| --- | --- |
| Photo Credit: Elizabeth Delaquess | Matt Kehler (left) and Liz Widen use liquid nitrogen to make raspberry sorbet at the annual McMurdo Winter Science Fair. |
We Are All Scientists
The McMurdo Winter Science Fair
Posted June 7, 2018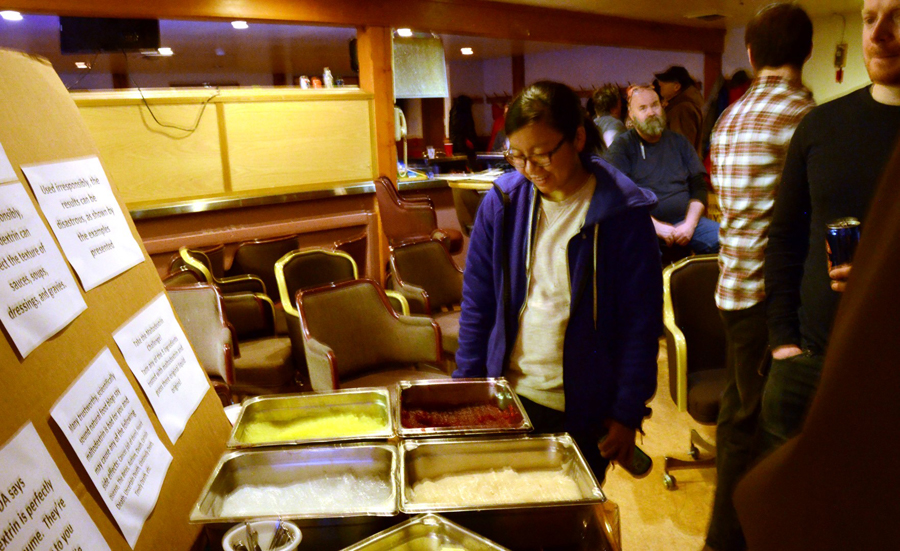 Photo Credit: Elizabeth Delaquess
Station residents look at one science project about the food additive maltodextrin.
In the midst of the austral winter, as total darkness and below-zero temperatures encompass McMurdo Station, the pace of science slows somewhat. Though automated instruments continue to observe the atmosphere and the auroras overhead, all field camps are closed and travel out of the station is limited.
But a science fair organized by station residents in their free time at the end of May helped to keep the spirit of science and discovery at the forefront throughout.
In what's become an annual tradition, wintering residents this year hosted the fourth annual McMurdo Winter Science Fair, and this year's fair was particularly well-attended. Almost half the station's population of 133 gathered at Gallagher's bar to peruse the displays and in some cases participate in experiments, which were put together by community volunteers.
Elizabeth Widen, McMurdo's research associate and organizer of the event, said the event started because people had a lot of questions about the station.
"The science fair was a way for people to investigate quirks about McMurdo that they've always wondered about, and it gave them a unique way to share that information with everyone," she said.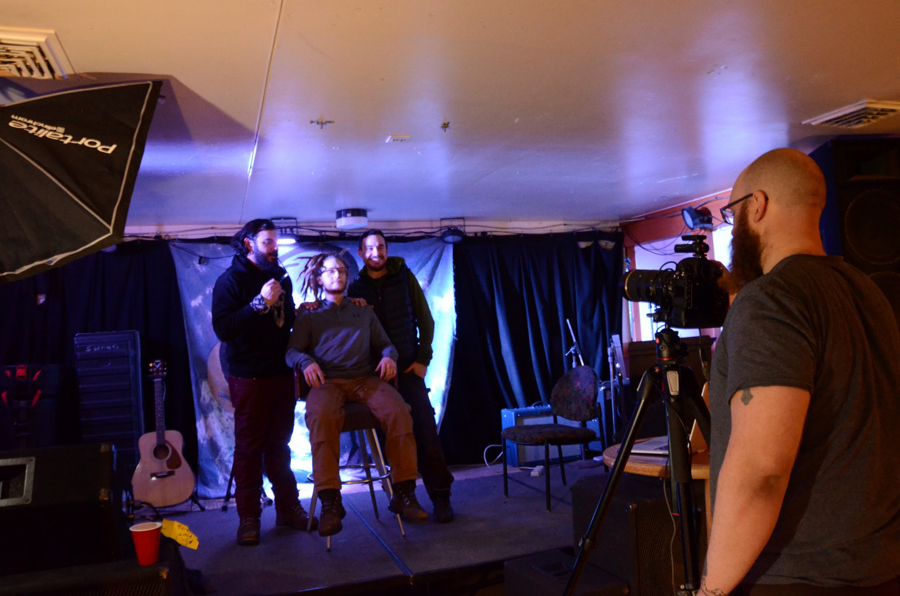 Photo Credit: Elizabeth Delaquess
One interactive projects tested how many photographs it took for someone to like how they looked on film.
Projects ranged from the serious and involved, to the goofy and irreverent. One of the cooks had people try small samples of food flavored with maltodextrin for them to better understand how food additives work. One photography activity measured how many photos need to be taken of a participant before they find one they like. One popular experiment demonstrated how to make raspberry sorbet in five minutes using fruit puree and liquid nitrogen.
Other projects were more light-hearted, such as a survey that revealed the most common names on station (seven Stevens, six Roberts and three Elizabeths), and a survey one of the galley staff put together that showed how McMurdo residents like their eggs cooked.
Heavy equipment technician and science fair attendee Matt Kehler, who helped with the sorbet making experiment, enjoyed the participatory element of the event.
"We [contractors] are all down here in some sort of way to support science. This is one activity that not only brings the community together after hours, but allows us to conduct fun science experiments… and we got to see some actual hands-on science when making sorbet," Kehler said.
Participants said they enjoyed putting their projects together. Retail coordinator Lindsey Clark had a survey that involved lots of participation and input from station store regulars.
"I was initially hesitant to participate because there's nothing really 'scientific' about the store," she said. "It was a bonding experience to have people contribute ideas for questions and fill out surveys."
Echoing this, Widen added also that one of the things she enjoyed about the science fair was seeing people without a formal science background participate.
"Some participants haven't done a traditional science project since middle school or high school. It's cool to see people embrace something that they haven't been able to do, or haven't done in a long time, and go, 'Oh my gosh, I remember this!' and know that they can do science too."