| | |
| --- | --- |
| Photo Credit: Mike Lucibella | Research associate Marissa Goerke looks out at a collection of weather monitoring instruments installed behind Palmer Station. |
Podcast: Research Associates
Researcher's Hands and Eyes in Antarctica
Posted February 20, 2019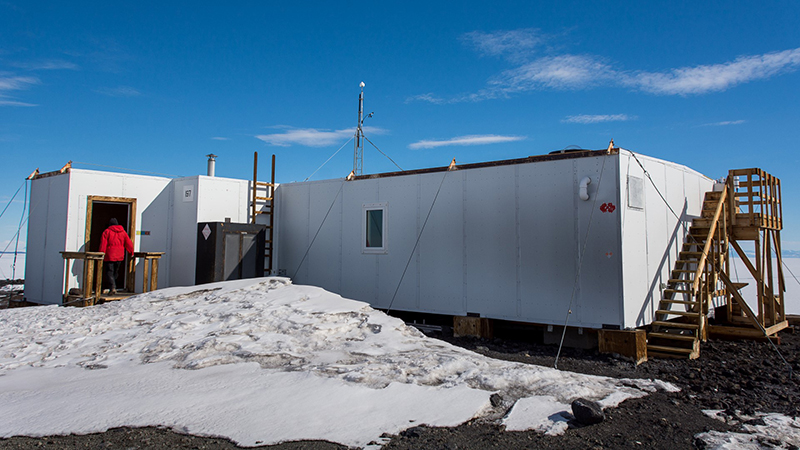 Photo Credit: Mike Lucibella
Research Associate Graham Tilbury enters the Arrival Heights lab uphill from McMurdo Station, home to a wide range of instruments and sensors that need a quiet spot to operate.
In Antarctica, scientists conduct cutting edge research on a harsh and barren continent. It's no easy task, but to help make it happen the U.S. Antarctic Program employs small army of support staff to get these researchers the supplies they need, transport them to where they need to go and keep them safe throughout.
A lot of the jobs they do are the same that any small town needs to function, often with a specialized twist that comes with working in such a remote place, but others can be less obvious. The Antarctic Sun Podcast is taking a behind-the-scenes look at the workers and what they do to make science at the bottom of the world possible.
This Episode: Research Associates
Even scientists need a hand sometimes. At the U.S. Antarctic Program's three research stations, research associates are there to help collect data and keep experiments running, even when the research teams aren't there themselves. When an experiment breaks, they're there to work with the principal investigator to fix it and get it back up and functioning again.
There's a variety of experiments they help oversee, ranging from seismic sensors monitoring the movements of the Earth, air samplers measuring the carbon dioxide in the atmosphere, all-sky cameras watching the aurora overhead and even radio receivers that can listen to lightning strikes thousands of miles away. And just as there's a range of experiments, the research associates come from a diverse set of backgrounds to run this sundry collection of instruments.
Photo Gallery